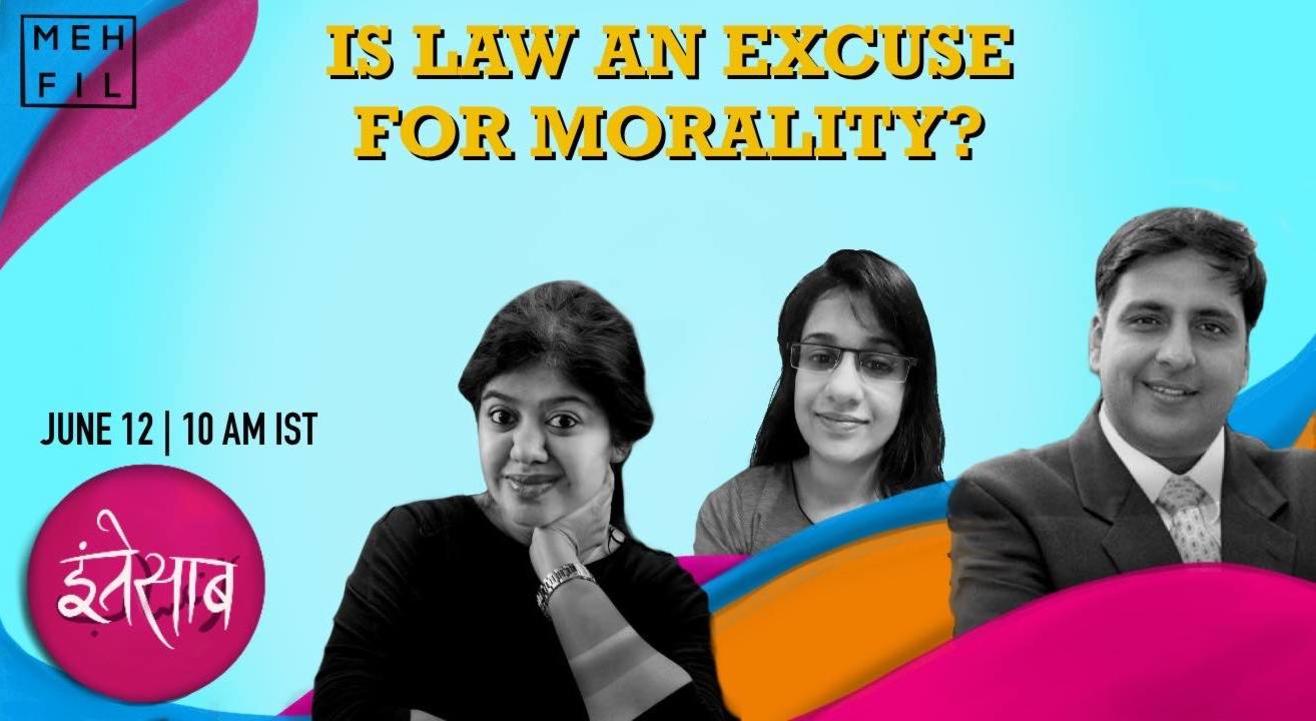 Mehfil: Is law an Excuse for Morality?
Enjoy this event from your home
Invite your friends
and enjoy a shared experience
Invite your friends
and enjoy a shared experience
About the Event
Intesaab 2020 presents a Mehfil on 'Is law an excuse for morality?', a session that questions the role of law in society, its values, and its structures.
This contemporary session will consider recent developments which raise the question of how we define morals, and venture us further towards social awareness of the same. This somewhat philosophical session, while considering how lives are defined by the State and its practices, will end by considering the importance of law in deciding societal morales as well as leave our viewers with a sense of critical observation of their surroundings as they realise the extent to which society and legality and intrinsically linked
Neelanjan Nair
Neelanjan Nair is a lawyer practising law at the High Court of Kerala. Her areas of specialisation includes Civil, Criminal and Family laws. She earned her degree from Karnataka State Law University and took masters from Mahatma Gandhi University. During the beginning of her profession she has worked at various MNCs and has also associated with various eminent lawyers across the state.
Avani Bansal
Avani Bansal is an Advocate in the Supreme Court and an alumni of Harvard Law School and University of Oxford. She is the Founder, Hamara Kanoon (An Online Legal Awareness Project on Youtube). Avani is also an Author (Life At Law School, Published by EBC), a motivational speaker, a legal skills trainer and writes regularly for various online and print platforms, including Bar and Bench, Live Law, Times of India amongst others.
Prof. Kishu Daswani
Professor Kishu Daswani has been teaching law at the Government Law College, Mumbai for over 25 years.He is a teacher at the Masters in Public Policy Program, Human Rights
and Business Law at the St. Xavier's College, Mumbai. Also, a lecturer at several international universities.He has received accreditation as a trained Mediator by the High Court of Bombay and is a Member of LAW COMMITTEE of the Indian Merchants Chamber. He is a Global Peace Index Ambassador and a Rotary International Peace Fellow.
About Intesaab 2020
Intesaab 2020, organised by the Ishan Foundation Trust, Jaipur x Mumbai, marks a new beginning where art and artists find their way to express their inhibitions. Scheduled on the 12th, 13th, and 14th of June 2020, it is India's first virtual festival, where these three days are an amalgamation of panel discussions, talks, events, and workshops, where Intesaab shall diverge into an iconic platform for art across the nation to be rediscovered and cherished.
With the grasping clutches of the COVID-19 pandemic, we also believe in making a change in society that sustains us. Hence all proceeds from the festival shall be donated to NGOS which provide relief to the victims of the COVID-19 crisis. Thus, Intesaab 2020 is a cradle for new avenues to emanate, reorient, and unravel incredible directions that will divulge our past, mold our present, and inspire our future.
Find more about Intesaab on www.ishantrust.org
Follow us on instagram: @intesaabfest
For queries: intesaab@ishantrust.org