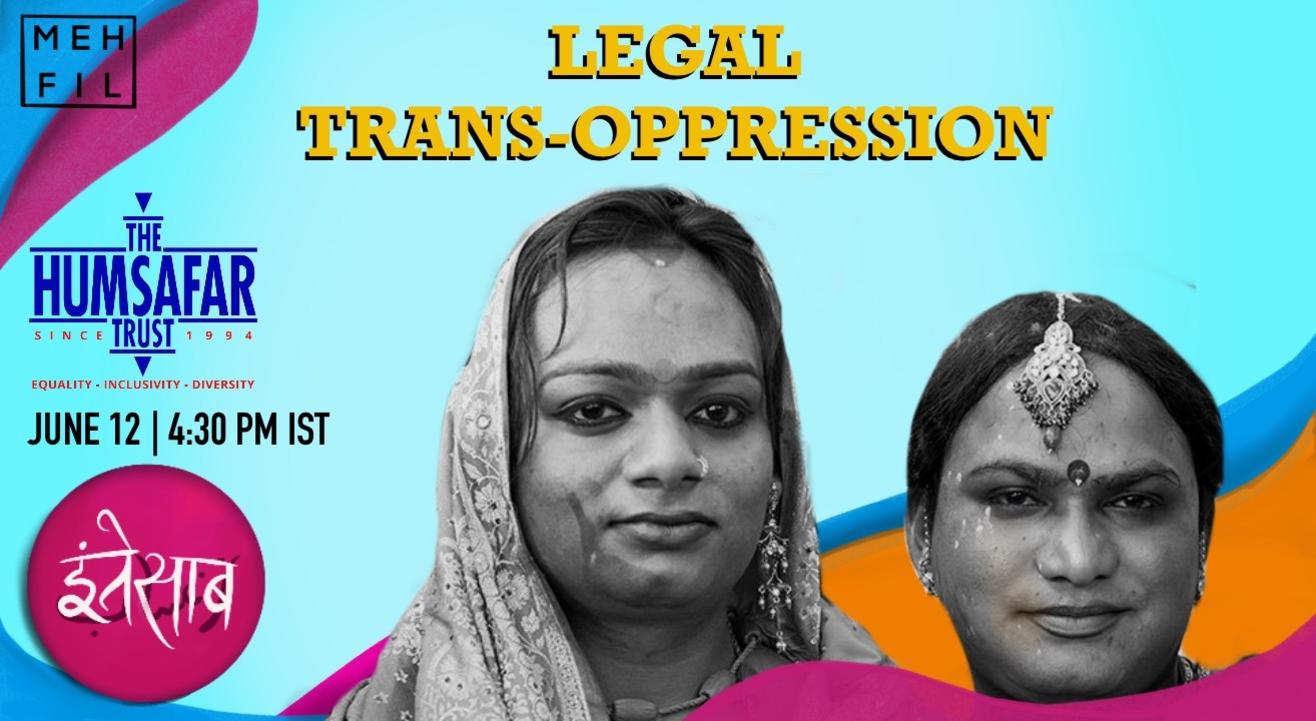 Mehfil: Legal Trans Oppression with Humsafar Trust
Enjoy this event from your home
Invite your friends
and enjoy a shared experience
Invite your friends
and enjoy a shared experience
About the Event
The world is not as beautiful as we think. Discrimination, chauvinism, bias and bigotry taint society with the rotting smells of their evil. This is particularly true in the context of gender acceptance, especially through government structures. Even the most developed of countries such as the USA do not have appropriate transgender rights, and that is the grim reality of our generaiton. Transgenders are considered to be an abomination to society and considered not human enough to deserve basic services such as healthcare, education and livelihood by society and by extension, law. Not only are they forced to do odd jobs but are also subjected to horrendous acts which deny them basic self-respect and dignity. Be it the Parliament opposing the Transgender Persons (Protection of Rights) Bill, 2019 framed for the welfare of transgender people, or the Citizen Amendment Act (2019) leaving the transgender community at the gate of unsolvable problems, the end result is always tragic. The NRC-CAA and the Trans Act combination is deadly for the trans community. That one has to prove one's 'trans-ness' by undergoing a medical check. makes legal acts towards the community a nightmare.
That is why Intesaab 2020 considers it our duty to talk about such issues which are never talked about. To talk about aspects no one considers. To talk about solutions to these issues. Intesaab wants to bring forth this matter and make people understand that Transgenders are as much part of society as 'us', but also tell people how this social effort of making society a more acceptable place is hindered by legal actions.
This session is curated by the Humsafar Trust.
About Intesaab 2020
Intesaab 2020, organised by the Ishan Foundation Trust, Jaipur x Mumbai, marks a new beginning where art and artists find their way to express their inhibitions. Scheduled on the 12th, 13th, and 14th of June 2020, it is India's first virtual festival, where these three days are an amalgamation of panel discussions, talks, events, and workshops, where Intesaab shall diverge into an iconic platform for art across the nation to be rediscovered and cherished.
With the grasping clutches of the COVID-19 pandemic, we also believe in making a change in society that sustains us. Hence all proceeds from the festival shall be donated to NGOS which provide relief to the victims of the COVID-19 crisis. Thus, Intesaab 2020 is a cradle for new avenues to emanate, reorient, and unravel incredible directions that will divulge our past, mold our present, and inspire our future.
Find more about Intesaab on www.ishantrust.org
Follow us on instagram: @intesaabfest
For queries: intesaab@ishantrust.org