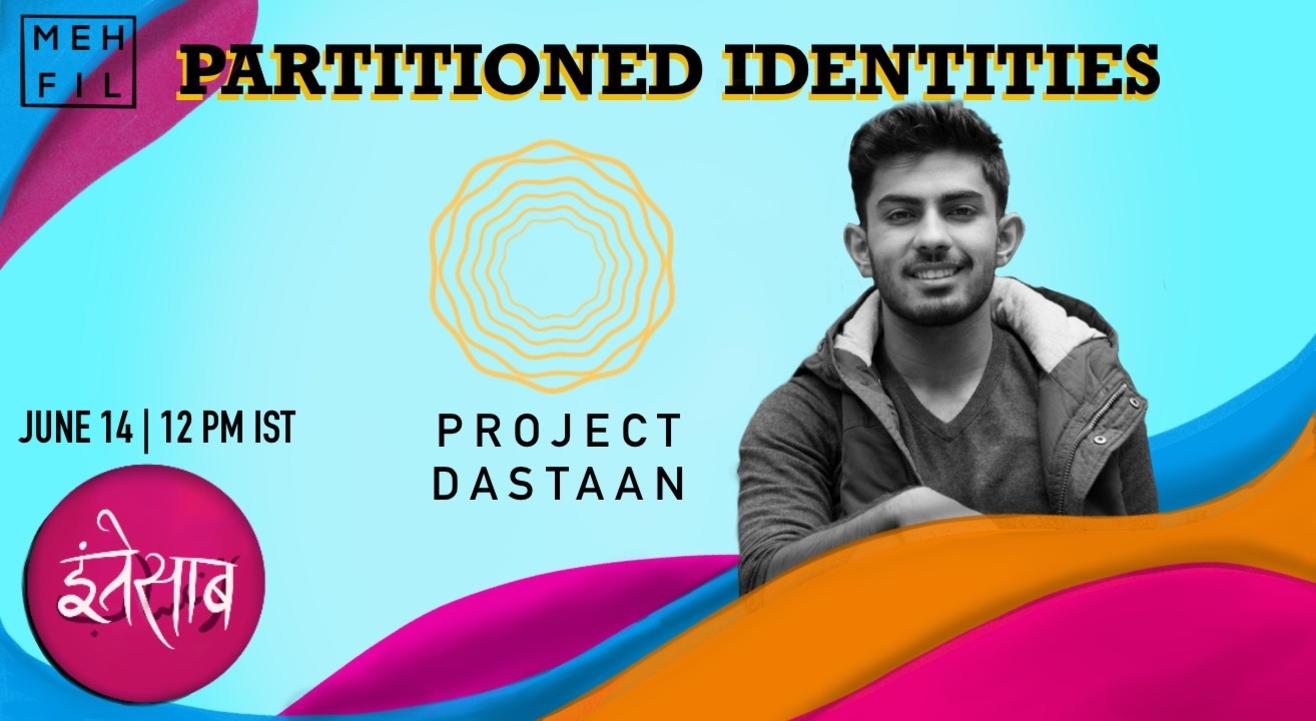 Mehfil: Partitioned Identities with Project Dastaan
Enjoy this event from your home
Invite your friends
and enjoy a shared experience
Invite your friends
and enjoy a shared experience
About the Event
"Partition is the modern identity in South Asia what the holocaust was to the Jewish identity." – William Dalrymple
A quote precisely highlighting the darkest chapter of our history, the Partition of 1947, it captures the gruesome time when both countries, India and Pakistan, were effectively split as a part of the despised british policy of divide and rule. What was called British India, was now reduced into three nation-states, a tragic event which haunts even our current reality.
As hostilities between both countries increased with time, particularly on the Kashmir issue, along with the death of people and soldiers, there was another, forgotten, slow death - the death of culture. The partition of culture. The political penetration in culture. People lost families, friends, neighbours, everything. Everything vanished in front of their eyes - again and again, with each passing war, the hostilities increased, and in the end, all that is left is a war. A war between governments, between histories, between people.
Through the ravages of time, it is we who have created these boundaries in the name of religion and hatred. The more we deny it, the more we run away from the similarities in our cultures and the realisation that we are the same people, but divided by a border and over 80 years of hostility. We are the same families, the same brothers, the same neighbours, just divided. Outside these geographical boundaries, we are not 'Indians' and 'Pakistanis' but humans who dwell on love and compassion. And this contrast between the two situations compels Intesaab. That many people who left their houses to settle in the 'other country' during the crossover, are petrified to reveal their roots in the fear of being labelled as 'refugees' constantly reminds Intesaab that dialogue is needed, for the better of the two countries. We need to understand that we cannot let our past define our present and let this war between governments continue to turn peoples against each other.
About Intesaab 2020
Intesaab 2020, organised by the Ishan Foundation Trust, Jaipur x Mumbai, marks a new beginning where art and artists find their way to express their inhibitions. Scheduled on the 12th, 13th, and 14th of June 2020, it is India's first virtual festival, where these three days are an amalgamation of panel discussions, talks, events, and workshops, where Intesaab shall diverge into an iconic platform for art across the nation to be rediscovered and cherished.
With the grasping clutches of the COVID-19 pandemic, we also believe in making a change in society that sustains us. Hence all proceeds from the festival shall be donated to NGOS which provide relief to the victims of the COVID-19 crisis. Thus, Intesaab 2020 is a cradle for new avenues to emanate, reorient, and unravel incredible directions that will divulge our past, mold our present, and inspire our future.
Find more about Intesaab on www.ishantrust.org
Follow us on instagram: @intesaabfest
For queries: intesaab@ishantrust.org