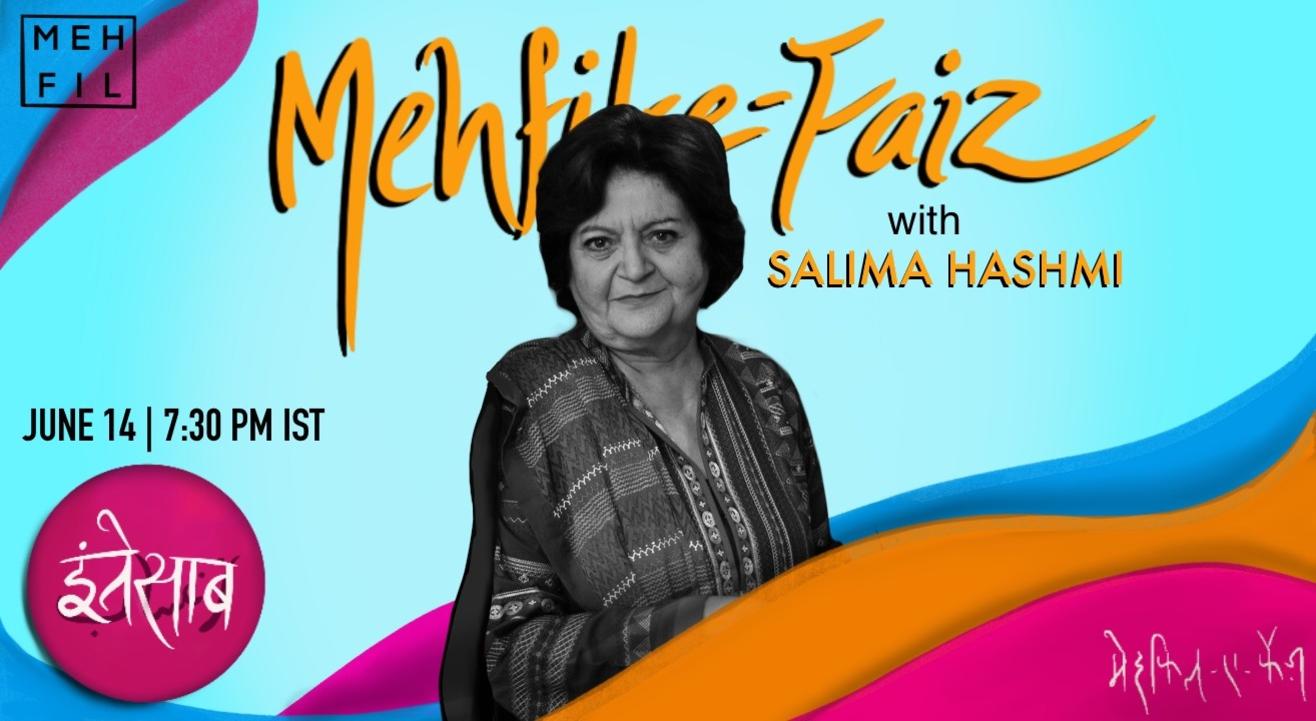 Mehfil-e-Faiz with Salima Hashmi
Enjoy this event from your home
Invite your friends
and enjoy a shared experience
Mehfil-e-Faiz with Salima Hashmi
Enjoy this event from your home
Invite your friends
and enjoy a shared experience
Invite your friends
and enjoy a shared experience
With art flowing through her blood and flourishing through her work, we believe one could possibly understand Faiz Ahmed Faiz better than her. She grew up watching him embark on his journey, adhering to his ideologies. Her own books 'Unveiling the Visible: Lives and Works of Women Artists of Pakistan' and 'Memory, Metaphor, Mutations: Contemporary Art of India and Pakistan', represent her extensive understanding of the transcending nature of art through all cultures. Being a renowned international artist and illustrating Faiz's translated work, Salima Hashmi has had a profound understanding of the meaning her father's words enveloped. We are certain that her inputs would prove to be of the utmost value to our interactive session, and our audience would learn a lot about the ideologies of the great thinker.
Presenting the closing session of Intesaab 2020, Mehfil-e-Faiz with none other than the poet's eldest daughter, Mrs. Salima Hashmi connecting with us from Pakistan.
About Intesaab 2020
Intesaab 2020, organised by the Ishan Foundation Trust, Jaipur x Mumbai, marks a new beginning where art and artists find their way to express their inhibitions. Scheduled on the 12th, 13th, and 14th of June 2020, it is India's first virtual festival, where these three days are an amalgamation of panel discussions, talks, events, and workshops, where Intesaab shall diverge into an iconic platform for art across the nation to be rediscovered and cherished.
With the grasping clutches of the COVID-19 pandemic, we also believe in making a change in society that sustains us. Hence all proceeds from the festival shall be donated to NGOS which provide relief to the victims of the COVID-19 crisis. Thus, Intesaab 2020 is a cradle for new avenues to emanate, reorient, and unravel incredible directions that will divulge our past, mold our present, and inspire our future.
Find more about Intesaab on www.ishantrust.org
Follow us on instagram: @intesaabfest
For queries: intesaab@ishantrust.org
Mehfil-e-Faiz with Salima Hashmi
Enjoy this event from your home
Invite your friends
and enjoy a shared experience