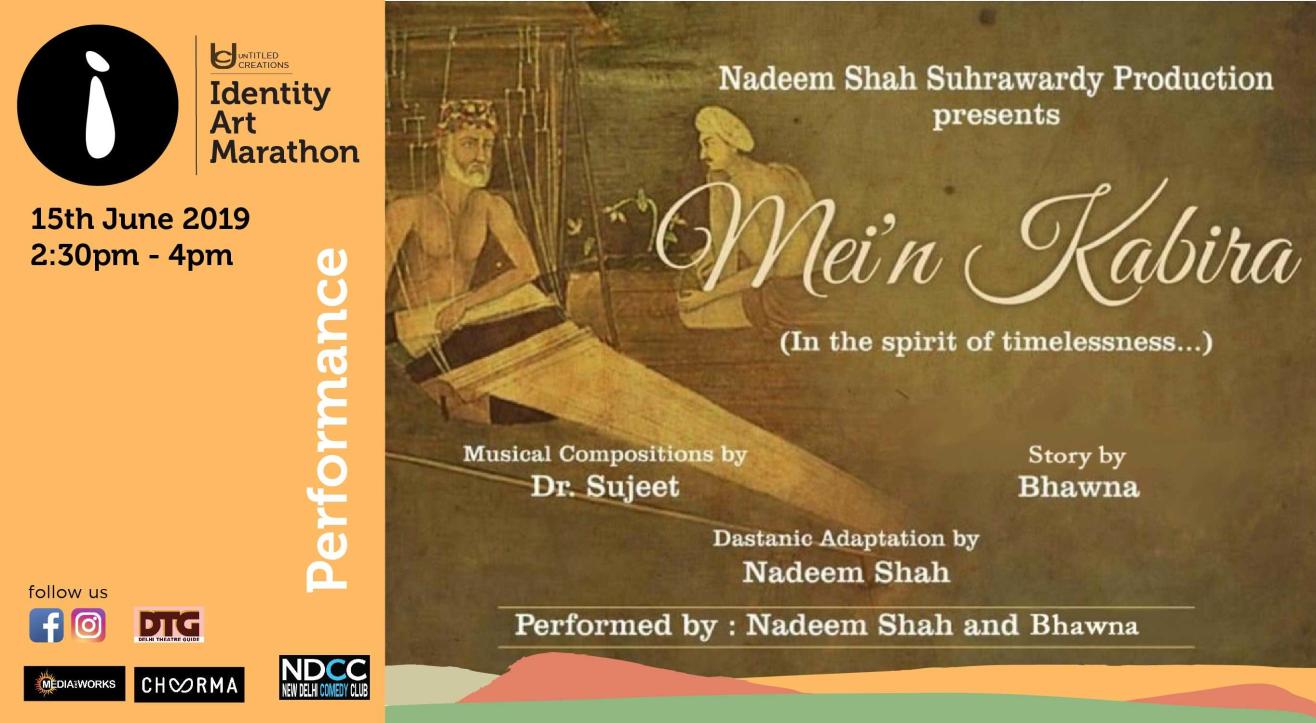 Art
About
Mei'n Kabira by Nadeem Shah
15th June 2019
2.30 - 4 pm
Mei'n Kabira (In the spirit of timelessness....) is primarily a 'dastanic' performance focusing on the timeless message and lived experiences of Kabir Das, a 15th century thinker, poet and an iconoclast. This production tends to dwell on Kabir's powerful mission against religious orthodoxy, caste prejudices and societal hypocrisy. Revolving around Kabir's day to day interactions the 'dastan' through its musical spirit intends to relive the complexities of his times and seeks its reflections in our modern existence!
Conceived and Scripted by :- Bhawna
Music composition by:- Dr. Sujeet
Dastanic Adaptation by:- Nadeem Shah
Performed by :- Nadeem Shah and Bhawna
An initiative of New Delhi Comedy Club (NDCC)
Part of 'I AM - Identity Art Marathon',
24 day multi disciplinary art festival from 24th May to 16th June 2019
Curator: Aakshat SInha
Organiser: Untitled Creations Private Limited
Media partner: Media net Works
Design partner: Choorma
Venue Partner: Arpana Fine Arts Gallery, New Delhi
https://www.facebook.com/identityartmarathon/
https://www.instagram.com/iam.identityart/
Venue
Arpana Fine Arts Gallery
Arpana Fine Arts Gallery, Academy of Fine Arts and Literature, 4/6 Siri Fort Institutional Area, Opp. Gate No. 2, Siri Fort Auditorium, New Delhi 110049. Metro Green Park.