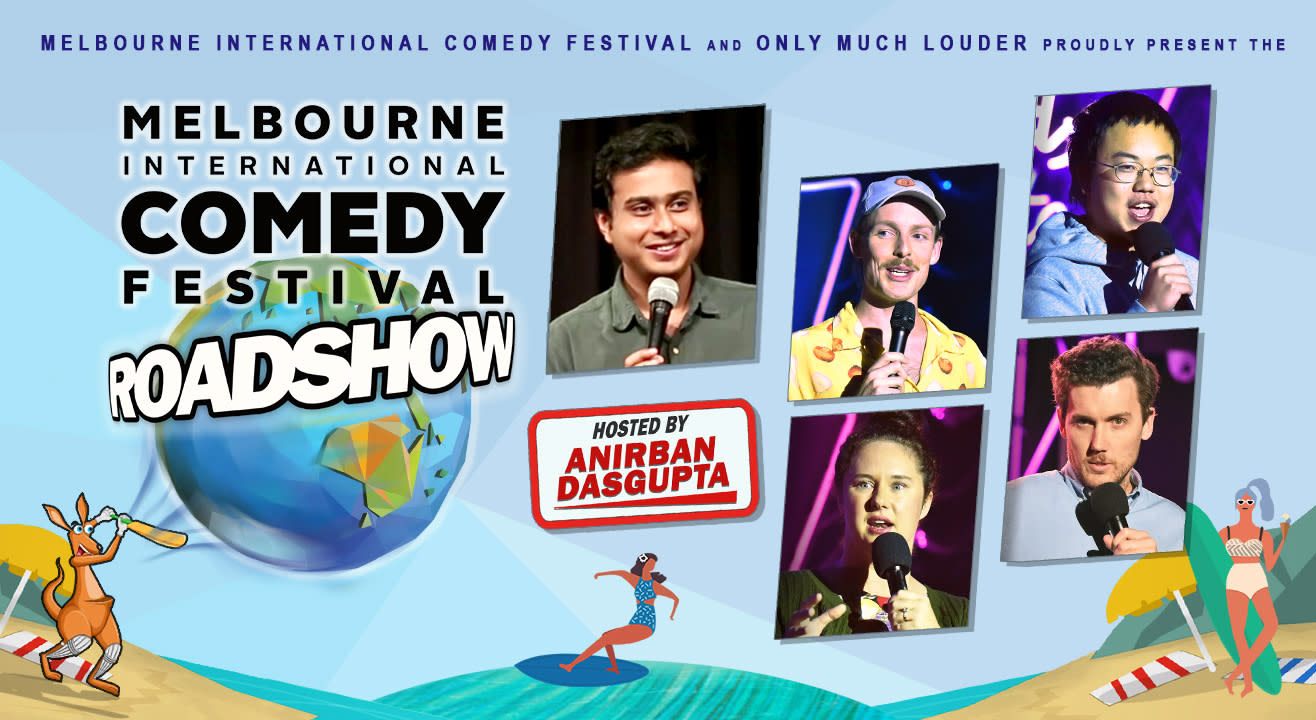 Melbourne International Comedy Festival Roadshow, Kolkata
Club Boudoir,Kolkata, Kolkata
Invite your friends
and enjoy a shared experience
Melbourne International Comedy Festival Roadshow, Kolkata
Club Boudoir,Kolkata, Kolkata
Invite your friends
and enjoy a shared experience
Invite your friends
and enjoy a shared experience
Melbourne International Comedy Festival and Only Much Louder proudly present MELBOURNE INTERNATIONAL COMEDY FESTIVAL ROADSHOW INDIA
Australia's biggest comedy festival is set for India with a huge comedy line up jam-packed into a gala show sure to leave you in stitches! A taste of Australia's largest comedy festival is coming to India! This vibrant showcase of top performers delivers high-quality, high-intensity laughs in one supremely special show. Hosted by superstar locals and featuring some of Australia's best comedians. The Melbourne International Comedy Festival has handpicked a line-up that is bold, brilliant and packed with star power.
Covering stand-up, satire and all manner of silliness, you're guaranteed a comedy experience you'll never forget. Don't miss your chance to join the laughs in this massive special event, sure to leave you in stitches!
A Bengali who decided to get married at the age of 24 (he really couldn't wait to settle down), Anirban Dasgupta is a Kolkata-based engineer turned comedian who has made a career out of making hasty decisions (becoming a stand-up comedian being another one). He was of the founders of Comedified, one of the first legit comedy groups of Kolkata, and was instrumental in establishing a comedy scene in the sleepy city. With jokes, puns and sketches based on stories from his personal life, on stage, he likes to about his inter-community marriage, corporate life, politics (being Bengali), social media and various current affairs. Earlier in 2018, Anirban released his Amazon Prime Special called 'Take It Easy' jokes about the internet era and his experiences in his hometown, Kolkata. If you see him after a show, offer him something sweet and he might tell you a few extra jokes!
Daniel Connell
Daniel Connell could easily be described as the ideal Aussie comedian; affable, loveable and hilarious. His observational, dry, often unanticipated comedy has seen him take to stages all over the country. Since 2010 Daniel has quickly established himself in Australian comedy scene, often sharing a stage with big-name Australian comedians including Jimeoin, Glenn Robbins, Denise Scott and Dave Hughes. Daniel has performed at the prestigious Melbourne International Comedy Festival Gala, Edinburgh Festival Fringe and on the Melbourne International Comedy Festival Roadshow across Australia and Asia.

Guy Montgomery
Guy Montgomery is an award-winning comedian, improviser and screenwriter, best known as co-host of the international smash podcast 'The Worst Idea of All Time'. (LA Podfest 2015, Now Hear This Fest 2016, over 6 million downloads, features on AV Club, VICE, BBC4, the Guardian (UK) and sold out shows in LA, New York, Portland and San Francisco). A stand-up comedian with a surreal take on the everyday, Guy has won praise and awards in his native New Zealand and across Australia. Guy has featured in Just For Laughs Sydney, the New Zealand Comedy Gala, Melbourne International Comedy Festival, Edinburgh Festival Fringe, and toured with the Melbourne International Comedy Festival Roadshow across Australia. He has been on TV the radio and the internet, a genuine triple threat.

Aaron Chen
Sydney boy Aaron Chen is a 'stone cold killer with exquisite mic technique', delivering fresh, funny and often-absurd comedy. Aaron made his mark in 2017 with his debut solo show entitled The Infinite Faces of Chenny Baby, which toured nationally in front of sold out crowds and high critical praise, including the award for Best Newcomer at the 2017 Melbourne International Comedy Festival and Sydney Comedy Festival. Previous to this Aaron had amassed a collection of awards including Melbourne International Comedy Festival's Class Clowns in 2012 and the Director's Choice Award alongside a couple of other 'troubled boys' in 2016. He has supported international comedian Ronny Chieng on his Live Australian Tour, had a featured role in ABC TV's Ronny Chieng International Student and has also starred in his very own tonight show, aptly named Aaron Chen Tonight.

Mel Buttle
Mel Buttle is a hilarious bundle of contradictions, and she's a package that is rapidly making herself felt across television and the live comedy circuit. Alongside hit live shows, Mel is a seasoned writer with a weekly column in Queensland's The Courier Mail and TV writing credits including Please Like Me and This Week Live. Mel has also appeared across Australian TV on programs such as The Weekly with Charlie Pickering and The Project and is a regular on New Zealand's TV3 weekly program 7 Days. In 2015, Mel found out she can have her cake and eat it too scoring the job of co-host on The Great Australian Bake Off for Foxtel's LifeStyle Channel.
Club Boudoir,Kolkata
Shakespeare Point, 3rd Floor, Near Bhajanlal's, 40 Shakespeare Sarani, Elgin, Kolkata, West Bengal 700017
GET DIRECTIONS
Melbourne International Comedy Festival Roadshow, Kolkata
Club Boudoir,Kolkata, Kolkata
Invite your friends
and enjoy a shared experience