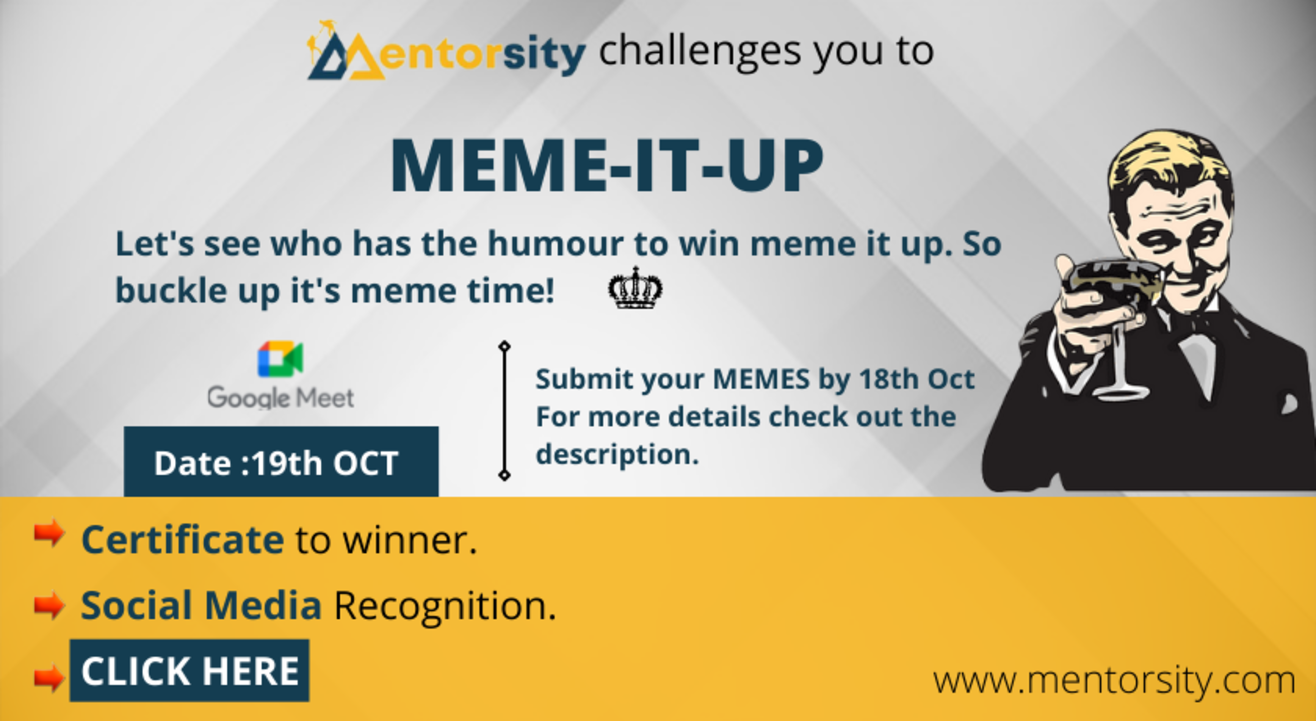 October 9 | 11:02AM - October 18 | 11:59PM
Enjoy this event from your home
Event Guide
For Age(s)
Family Friendly
Online Game
Participate and have fun
Invite your friends
and enjoy a shared experience
October 9 | 11:02AM - October 18 | 11:59PM
Enjoy this event from your home
Event Guide
For Age(s)
Family Friendly
Online Game
Participate and have fun
Invite your friends
and enjoy a shared experience
Event Guide
For Age(s)
Family Friendly
Online Game
Participate and have fun
Invite your friends
and enjoy a shared experience
Attention People
If you had a bad day but you are too creative
+ humorous that you can make those bad news
into a humorous joke,
than my friend congratulation
You are a memer
In Mentorsity we are giving a fun chance to all those people who can make a funny meme with any controversy...
The MEME-IT-UP will have two rounds
1). MeMe battle: In this the competitors will make two memes. They are free to choose the topic of their like.
2). Guess The meme: In this we The organisers will show some memes to the selected competitors from 1 round and they will have to guess the main topic of that specific meme which we show them.
Submit your memes here:
https://forms.gle/TscAyPLtH8M8USuo6
Rules and regulations:
1). The competitors have to post 2 memes at the given platform..
2). The memes should not contain any vulgar images or jokes..
3). Plagrism is not allowed. If found then that participant will be disqualified.
4) Submit your memes by 18th October.
5) Participants who will get selected for the last and final round should maintain the decorum.
For more information about such fun games, competition, quiz kr games follow our discord server : https://discord.gg/nhJWrBRRV4