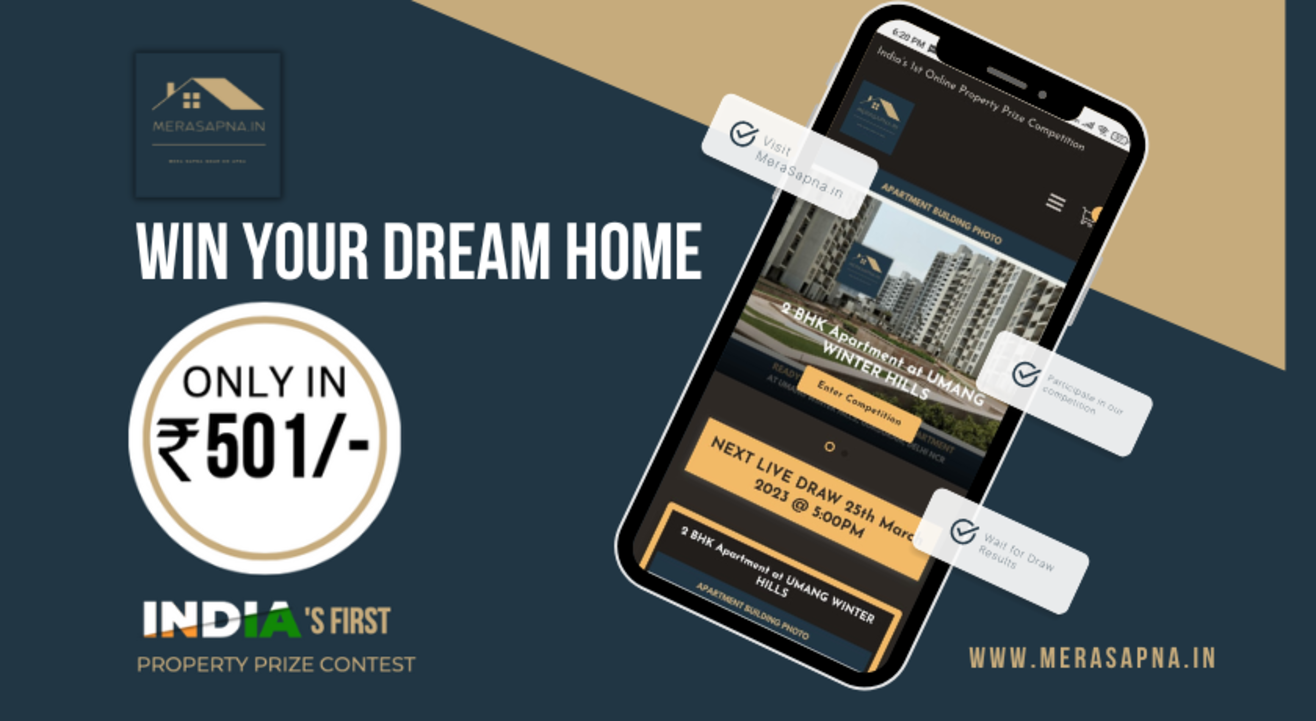 MeraSapna.in - India's 1st Property Prize Competition
Enjoy this event from your home
Event Guide
Online Game
Participate and have fun
Invite your friends
and enjoy a shared experience
MeraSapna.in - India's 1st Property Prize Competition
Enjoy this event from your home
Event Guide
Online Game
Participate and have fun
Invite your friends
and enjoy a shared experience
Event Guide
Online Game
Participate and have fun
Invite your friends
and enjoy a shared experience
INDIA's FIRST ONLINE PROPERTY PRIZE COMPETITION
Are you looking for an opportunity to win an apartment in India for just Rs 501?
Look no further, as Merasapna.in presents India's first online property prize competition.
5000+ Tickets Sold already, Grab Your Ticket Now !!
How it Works on Merasapna.in
Property Prize Listing
Explore our Latest Prize Properties on our website and mobile app, and select your favourite to enter that competition.
Eligibility
Indian citizens aged 18 and above, with a valid PAN Number and Aadhaar Card, can participate. However, residents of Andhra Pradesh, Assam, Gujarat, Odisha, and Telangana are not eligible.
Entry Tickets
To participate, answer the quiz question on our website or app and purchase tickets. Single tickets or bundle options are available, with discounts on purchases of over 5, 11, 21, and 51 tickets.
Ticket Distribution
All tickets will be emailed to entrants, and you can also check your ticket numbers and order history in your account.
Entrant List
The list of entrants for each competition is updated in real time on our website showing their Ticket Numbers and names.


What Happens Next
The competition closes on the date mentioned on our website, and the live prize draw will take place on the closing day.
A minimum number of tickets must be sold to cover the property cost, including legal fees and stamp tax. The maximum number of tickets is capped and mentioned in each competition.
There would be a Winner declared in all Competitions so someone will win for sure.
Early Bird Advantage for 1st 10,000 Entrants
We've collaborated with PVR Cinemas to give you a coupon redeemable for a movie ticket worth up to Rs. 501! And here's the best part – you can get this coupon by simply purchasing an entry ticket to our property prize competition at MeraSapna.in for Rs. 501. That means your investment technically comes back to you as a coupon! Plus, you get a chance to win a 2-bedroom apartment worth over Rs. 75 lakhs! But hurry, the first 10,000 entrants will get this amazing offer. So purchase your ticket now before it's too late!
Live Draw
The winner will be drawn at random using a RNG-approved Random Number Generator, in the presence of a renowned dignitary and legal representative. The draw will be live-streamed and a video will be posted on our social media. The winner will be notified on the same day, and their name and city of residence will be displayed on our website and social media.
Property Transfer
The property will be transferred to the winner free of stamp duty and legal fees, which will be borne by us. The intention is to sign over the deeds of the property once the winner submits the verification documents.
For more information, read our FAQs and Terms and Conditions.
Get Your Dream Home in Rs 501 Only
MeraSapna.in - India's 1st Property Prize Competition
Enjoy this event from your home
Event Guide
Online Game
Participate and have fun
Invite your friends
and enjoy a shared experience