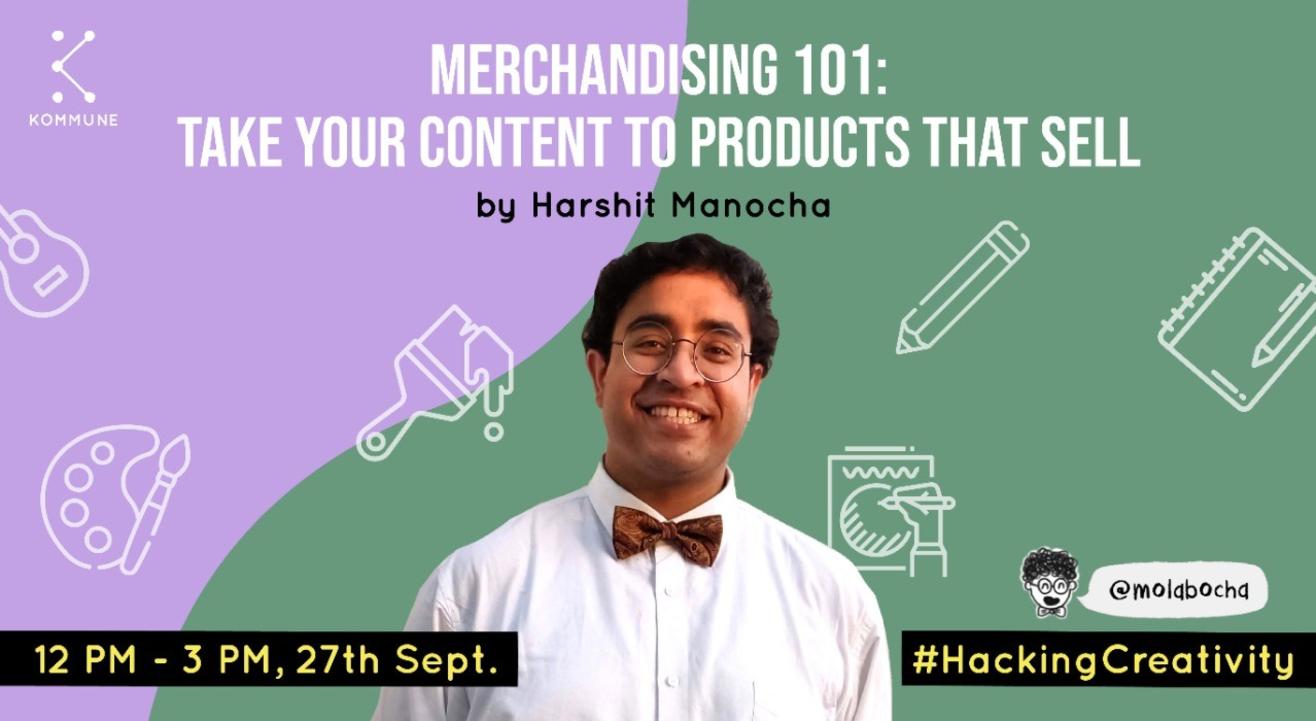 Merchandising 101 by Harshit Manocha || Kommune
Event Guide
Digital Event
Watch on Zoom
For Age(s)
Family Friendly
Masterclass
Learn from an expert
Invite your friends
and enjoy a shared experience
Event Guide
Digital Event
Watch on Zoom
For Age(s)
Family Friendly
Masterclass
Learn from an expert
Invite your friends
and enjoy a shared experience
About the Event
Merchandising 101 is a session designed for all creators who want to convert their works into merchandise that sells. No matter what kind of content you create, Merchandising is for everyone! Merchandise has become a way how the audience "buys into" their favorite artists, how they feel a part of the "inner circle"! From a creator's point of view, it's a way of leaving a part of yourself with you Fam, or how I like to think of it- Merchandise makes an artist live forever. From an entrepreneurial aspect, It's a wonderful way of monetizing your brand value and creating a passive income source, there by allowing you to create more and explore more. Have a look at the key takeaways and book your tickets right away.
Key Takeaways:
- Why Customers Love Merchandise & How to get started.
- Curating Products from your Content
- Formats & Trends of Merchandising
- Well Researched Resources to Source Quality Products
- Where & How to Run an Online Store: Platforms & Hacks
- Creating a Product Brand from your Content / Art Brand.
- Best Practices & Insights
Who should join:
The Session is designed to include Creators & Artists of multiple Genres. Especially - Illustrators, Designers, Doodlers, Painters, Poets, Storytellers, Copywriters, Comedians, Photographers, Musicians &, etc. Basically anyone looking to convert their thoughts, ideas & concepts into a product brand. The session is also useful for someone looking to understand overall Brand Building & How Products can play a huge role in it.
About the facilitator:
I am Harshit Manocha, and I go by the Instagram name @molabocha. I am a full time independent creator, performer and event curator. I also run an event collective / space called Safe Space Studio which is active in Delhi, Bangalore, Mumbai and Kolkata.
Over the last two years I have done over 75 workshops + events ranging from open mics, art workshops, games nights, movie screening, summer camps for kids, artist gatherings etc.
During the quarantine, I have done over 50 Live Steam Workshops and partnered with brands for the same too. I currently organize 3 separate offerings which are full fledged Courses with 8 batches in totality till date.
My idea to design & host the mentioned session is to be able to transfer some of these skills, experiences and insights to fellow creators who want to start something online in the Quarantine.