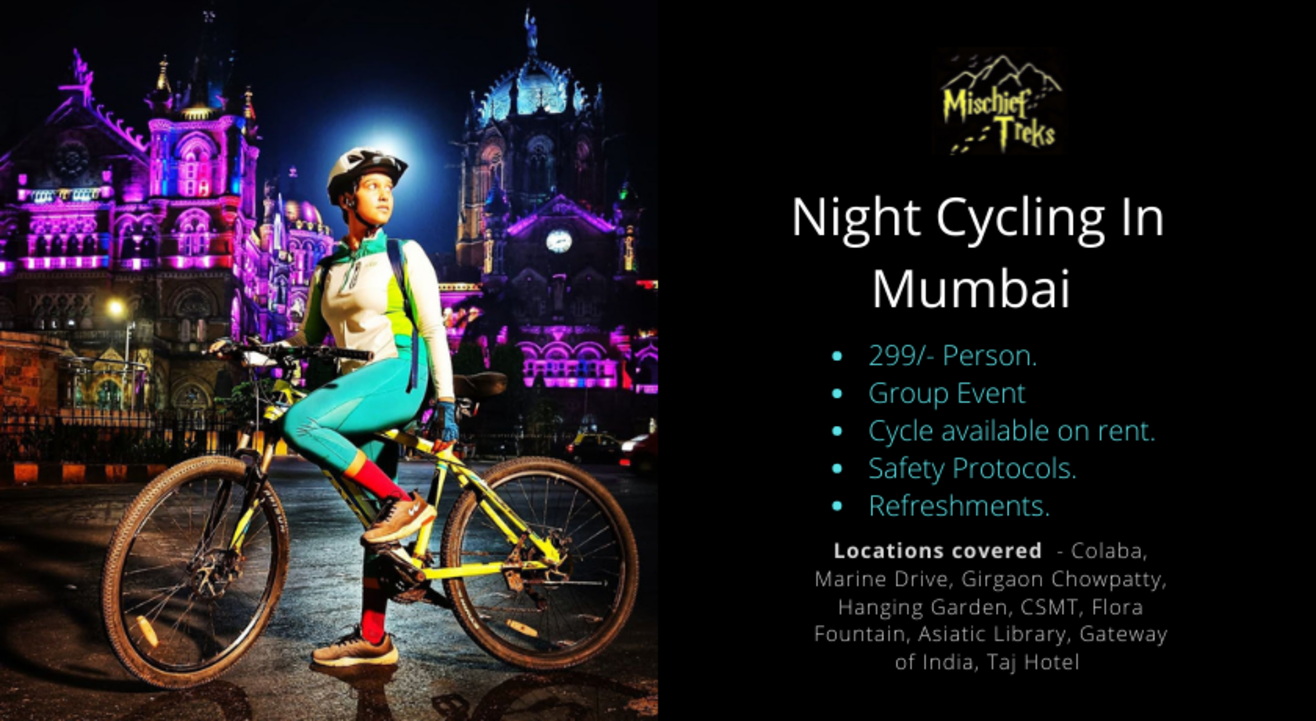 Midnight Cycling | Night Cycling In Mumbai | Mischief Treks
November 12 | 11PM - January 1 | 4AM
Step out and enjoy this event
Event Guide
For Age(s)
Family Friendly
Getaways
Enjoy the outdoors
Invite your friends
and enjoy a shared experience
Midnight Cycling | Night Cycling In Mumbai | Mischief Treks
November 12 | 11PM - January 1 | 4AM
Step out and enjoy this event
Event Guide
For Age(s)
Family Friendly
Getaways
Enjoy the outdoors
Invite your friends
and enjoy a shared experience
Event Guide
For Age(s)
Family Friendly
Getaways
Enjoy the outdoors
Covid 19 Safety Measures
This event adheres to the following

Health & safety measures
Invite your friends
and enjoy a shared experience
Covid 19 Safety Measures
This event adheres to the following

Health & safety measures
MUMBAI MIDNIGHT CYCLING | NIGHT CYCLING IN MUMBAI
Mumbai is the city that never sleeps, the city that makes you feel safe at night, and the city that makes every dream come alive. The nighttime Mumbai is truly a sight to behold. Right from the moment the stars come out to the time moon finally bids goodbye, there are a lot of things to do in Mumbai at night. When the pace of this amazing city slows down, we give you a chance to slow down with it. Hop on to a cycle and stroll along the lanes and experience lively Mumbai. Bring out your cameras and roll with us at Mischief Treks. Ride from Colaba along the Marine Drive, mesmerizing queen`s necklace all the way to Gateway of India. The route is planned for you to check out various heritage sites. We will be taking small breaks and will take time to stop by and experience the nightlife of Mumbai. If you like a non-crowded experience, Mischief Treks is the best-suited Team for considering any outdoor activity/events.
Venue: Colaba, Mumbai.
Address: Colaba Market, Mumbai, Maharashtra.
Category: Weekend getaway. Easy cycle ride suitable for beginners.
Duration: 5 hours
Distance: 24 km
Cycling Route: Colaba, Marine Drive, Girgaon Chowpatty, Hanging Garden, CSMT, Flora Fountain, Asiatic Library, Gateway of India, Taj Hotel
Batch Size: 25 Participants only
(We do not take 70-80 people for the cycling event, it`s against our safety policy.)
What does the Ticket Include?
Without cycle Ticket: Charges exclude rented cycles. Participants need to bring their own Cycle, Helmet, and Safety Jacket. It includes Refreshment and a lot of fun too.
With Cycle Ticket: Charges include Cycle rent, Safety Jacket, Helmet and Refreshment, and a lot of fun.
Night Cycling timeline:
Reporting Time: 10:50pm
We`ll be Creating a WhatsApp group 3 hours prior to the event time for the event coordination, the exact GPS location of the Meeting point, Event Leader details etc.. will be shared in the WhatsApp group. All the Other details are already present in the Itinerary.
●We`ll be waiting for everyone till 10:50 at the Colaba Meeting point (exact map location will be shared with you on whatsapp).
●We`ll be then having After a short briefing and a quick introduction round we will gear up and start cycling.
●Follow our route expert on the pre-planned route to various attractions of Mumbai. As this is not a race, we will be taking good time to rest at regular intervals so that you can enjoy every minute spent cycling.
●02.00 am Snacks and refreshment break to recharge your energy levels.
●04:00 am: Reach back at the start point, hand over cycles and riding gear, and the ride ends with memories. After this, you may choose to chill out at Marine drive - Girgaon Chowpatty until sunrise or head back home.
Note: We do not welcome people who waste the time of other participants, So please reach before the Reporting time mentioned in the Itinerary, if you do not reach by 11.00 you will be considered dropout and no refund will be provided.
Points Covered during night cycling:
Colaba
Marine Drive
Girgaon Chowpatty
Hanging Garden
CSMT
Flora Fountain
Asiatic Library
Gateway of India
Taj Hotel
Note : We will be creating WhatsApp group at 7pm on event date for coordination purpose
Inclusions of night cycling event:
Gear/Non-Gear cycles (as per ticket opted)
Helmet and other safety gear as required.
Refreshments and soft drink.
Mischief treks expertise and administration charges.
Exclusions:
Any personal expenses.
Cost incurred to carry cycle in taxi in case of issues during the ride.
Anything not specifically mentioned above.
Things you need to carry for Night Cycling:
Identity Proof (Mandatory)
Helmet (For participants who have their own cycles)
Riding gear and accessories (optional)
Water Bottle 1 Ltr (Mandatory)
Medicines that you might require (We do carry a general First Aid kit)
Chocolates or candy or things too munch on. You need to keep your tummy happy.
A Sling bag or or backpack to carry your stuff
IMPORTANT NOTE: Once you book your tickets from Book My Show please connect with us on WhatsApp Chat on 7719800777. After you make payment and send us participant details, KYC details form link will be shared with you on whatsapp, it needs to be submitted 24 hours prior to meeting time. You need to submit accurate, correct, and authentic details while registering. Your name, phone, email needs to be your own. Without this authentic info, you will "Not" be allowed to participate in the event and no refunds will be provided in such case.
Please do not book this event if you are not physically fit to complete the event OR you do not have sportsmanship spirit. Outdoor activities are based on teamwork, and by registering for this event you will be part of a team. We haven`t hired any slaves/servants to cater to anyone, this is an outdoor sports event wherein every participant is responsible for his/her place in the team. We do not welcome latecomers, so please report on time.
Cancellation, Rescheduling & Refund Policy.
90% will be refunded if canceled 15 days (360+ hrs) in advance.
75% will be refunded if canceled 10 days (240+ hrs) in advance.
50% will be refunded if canceled 05 days (120+ hrs) in advance.
0% refund if canceled in less than 05 days (120 hours) of the event date and time.
0% refund if the participant drops out, or does not reach the meeting point on the scheduled date and time.
If the event itself gets canceled, you will be given the option to switch to any other event or any other date, Or you can opt for 100% refund. If you need to cancel your current booking and/or reschedule your booking to any other date, it can be done free of cost if the rescheduling request is sent 120 hours prior to the event. From 0hrs - 120 hours prior to event date and time, free rescheduling is not permitted. It will be counted as cancellation done in less than 120hours of the event date and time. It's a humble request, please do not give medical reasons, crib, argue or try to blackmail us if you drop out or cancel/reschedule the trek in the last 5days. The basis of the cancelation policy is to protect the participant and the organizers from undue financial losses arising out of unforeseen situations. If the event gets canceled due to the medical/personal emergency of the organising team member, the participants will not have to suffer financial loss. Similarly, if there is a medical/personal emergency at the participant's end, the organizing team will not have to suffer financial loss.
Night Cycling In Mumbai - Mischief Treks
Happy Cycle Shop
9/A Sukhnivas Building, 3rd Pasta Lane, Colaba, Railway Colony, Apollo Bandar, Colaba, Mumbai, Maharashtra 400005, India
GET DIRECTIONS
Midnight Cycling | Night Cycling In Mumbai | Mischief Treks
November 12 | 11PM - January 1 | 4AM
Step out and enjoy this event
Event Guide
For Age(s)
Family Friendly
Getaways
Enjoy the outdoors
Invite your friends
and enjoy a shared experience