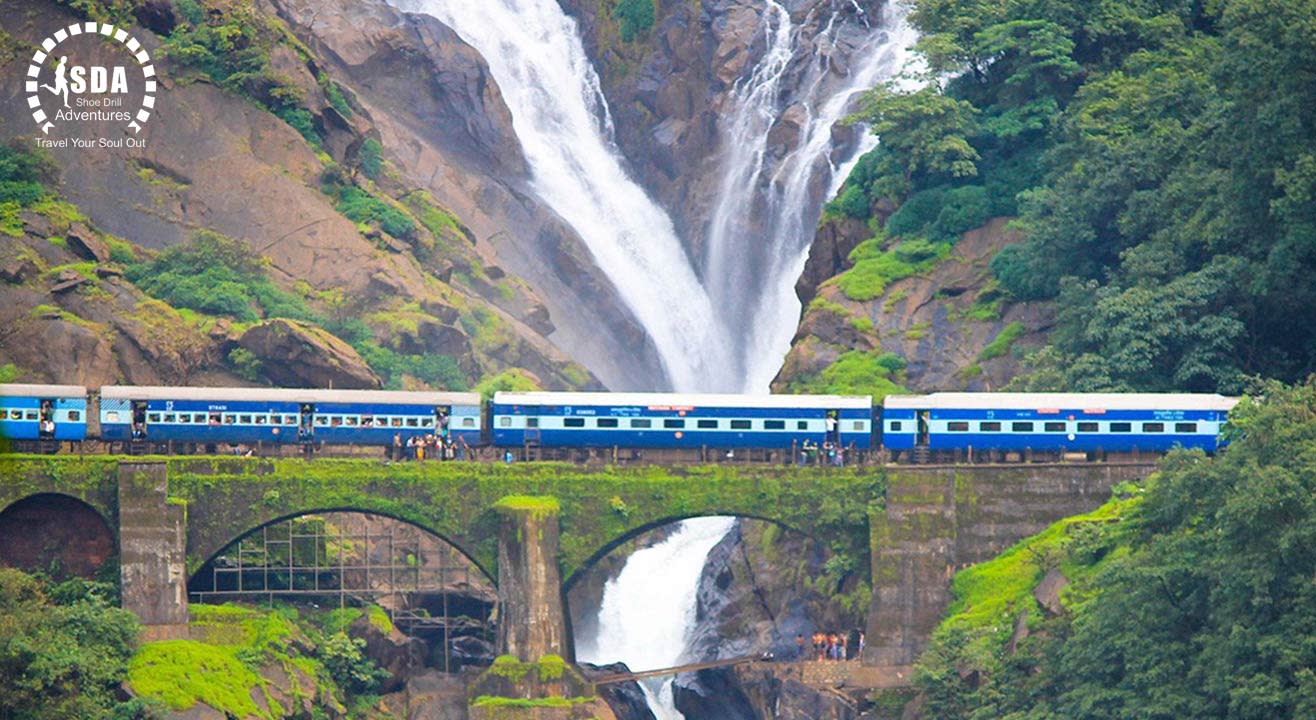 Mighty Dudhsagar Waterfalls Goa
Pune Railway Station, Pune
Step out and enjoy this event
Invite your friends
and enjoy a shared experience
Mighty Dudhsagar Waterfalls Goa
Pune Railway Station, Pune
Step out and enjoy this event
Invite your friends
and enjoy a shared experience
Invite your friends
and enjoy a shared experience
Dudhsagar Waterfalls- springing from from a lofty height of 600m is located on the Goa-
Karnataka border. It lies at a distance of 60 km from Panaji and 10 km from Colem Railway Station.Dudhsagar Falls (literally Sea of Milk ) is a tiered waterfall located on the
Mandovi River in the Indian state of Goa on Goa's border with Karnataka state. It is four-tiered. Dudhsagar is one of the world's most exquisite falls. It lies high up in the Mandovi River's watershed and so are not particularly spectacular during the dry season. During the monsoon season however, the falls are transformed into one of the most powerful falls in India. Dudhsagar Falls is listed as India's fifth tallest waterfall and is 227th in the world at 310 m. The water plummets hundreds of metres (over a thousand feet) in large volumes during the rainy monsoon season, forming one of the most spectacular natural phenomena in Goa. It is a major part of the Goa ecosystem. It is a four-tiered waterfall with a total height of 310 metres (1017 feet) and an average width of 30 metres (100 feet)
One has to get down at Kulem (Collem) railway station and walk towards the falls which is about 11 km away. It normally takes 2–3 hours to reach. The famous photograph of Trains passing through before the waterfalls can be seen in this route and also the complete stretch of the falls will be visible while you hike towards the waterfalls.
Meeting point at Pune Railway station at 04:00 pm on Saturday
Day 1:
Mumbai people can travel to Pune by 11017 / LTT Karaikal Express as per given time or Take a bus
12.05 pm LTT ( Lokmanya Tilak Terminus )
12:31 pm Thane
12:53 pm Kalyan
03:30 pm Pune Junction
We will be catching the Goa Express at 4.35 pm
Overnight Journey toward Dudhsagar

Day 2:
Reach Dudhsagar by 4.30am
Introduction and breakfast
Start trek towards dudhsagar waterfall
Visit Dudhsagar Waterfall between 06:00 – 8:00 am
Start walk from Dudhsagar Waterfall towards Kulem – 3 hours
Reach Kulem by 02.00pm
Lunch
Mumbai people will head to Madgaon to catch Matsygandha/Manglore express for Mumbai/Panvel
Pune People will catch Goa Express for Pune from Kulem.

Day 3:
Reach Pune/Mumbai early Morning
Non AC Sleeper Coach Train Reservation from Pune to Pune or Pune to Kulem and Madgaon to Mumbai.
1 Breakfast and Lunch. (Veg).
First aid medicine.
Bhagwan Mahaveer Sanctuary Jungle Entry Charges.

Mineral water.
Any kind of insurance, Softdrinks etc.
Anything other than above mentioned inclusions.
3 liters of water (Must)
Raincoat / Poncho / Umbrella (Must)
Torch with extra batteries (Must)
Full sleeve T-shirts and full pant. For girls full neck t-shirt.(Must)
Good trekking shoes, extra pair of socks (Must)
Warm cloths / shawl
Towel, a napkin, Extra Pair of clothes (Must)
Carry 3-4 extra carry-bags
Packs things properly to protect from rain
Bedding / Shawl / bed-sheets (for rest)
Camera, Cap etc. (Optional)
Electrolyte packets as energy drinks (optional)
Carry eatable like fruits, dry fruits to munch on during trek and to avoid dehydration.
A haversack to put in all the things.
Good to have stick for support.
Smoking or Drinking alcohol is strictly prohibited
No plastic littering.
Wear full sleeves, full track suite to avoid mosquito's.
Proper footwear/shoes are essential for trek.
Conserve and preserve our heritage.
SDA reserves all right to change/deviate the plans.
No Extra adventure/out of itinerary behavior during trek.
Trek leader's decision will be final and binding for all.
Photographs taken during the activity which can be used for publicity purpose.
Each member will be responsible for his/her own safety, Jewellery, Cash and baggage.
It is most essential to be fit and fine before heading for trekking.
While planning your trekking trip, it is preferable to have a medical fitness check up done.
If suffering from any kind of allergy or ailment, do carry proper prescribed medicines to prevent serious health problem including heatstroke, sever headache, cough, dehydration and hypothermia.

Refund and Cancellation Policy
If cancellation done prior to 20/10/7 days of outing 70%/50%/30% will be refunded respectively .
Before 5 days or less No refund will be provided.
No cancellation amount will be refunded on Advance Payment.
All the activities & programs carry an amount of risk of injury and you are aware that outdoor activities have an inherent risk of personal injury.
Mighty Dudhsagar Waterfalls Goa
Pune Railway Station, Pune
Step out and enjoy this event
Invite your friends
and enjoy a shared experience