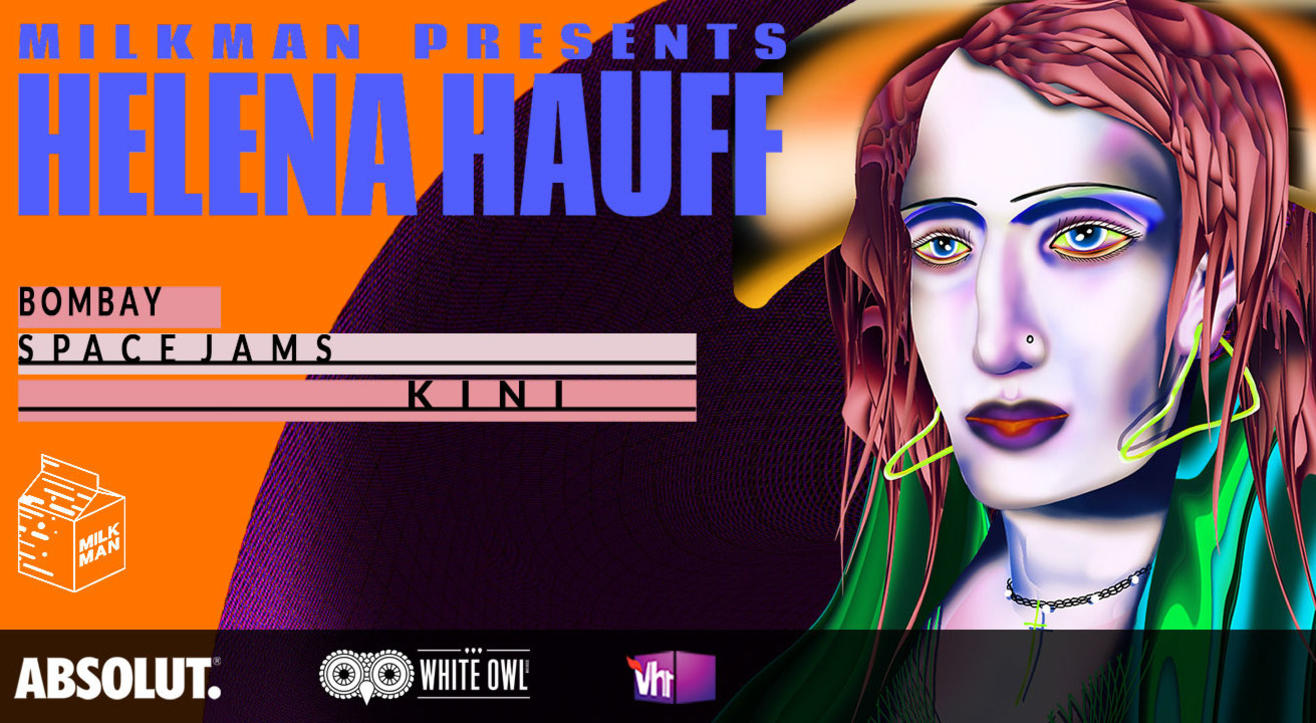 Music
Milkman Presents: Helena Hauff India Tour – Mumbai
About
Hamburg based DJ & producer makes her way to Mumbai for a special warehouse party at Famous Studios with another level of light production and state of the art sound at Famous Studios in Mahalaxmi. Parties like this in India are rare, unheard of and unlike any other - one that cannot be missed.
About Helena Hauff
First appearing on the scene as a resident at Hamburg's beloved Golden Pudel, Helena Hauff has quickly ascended the DJ ranks in recent years. These days, her uncompromising blend of stripped-down techno, electro, acid, industrial and goth sounds are something of a can't-miss proposition, while her releases for a variety of labels, including Actress' Werk Discs, have proven her studio acumen.
Her 2015 album "Discreet Desires" embodied Helena's deep-seated beliefs about music as a radical force and unifying movement. Something that is evident from her growing stature as a selector and her enthusiasm for musical subcultures from punk to nu wave, industrial, krautrock and avant garde electro – all of which were rooted in raw experimentation and existed in polar opposition to the perfect, polished mainstream.
In addition to being a highly respected producer, at the core of Helena's personality is her commitment to, and innate talent for, the craft of DJing. Acclaimed for her skill and unique selection, her profile has rocketed in the last two years as she has taken on a BBC Radio 1 Residency, delivered her debut BBC Radio 1 Essential Mix which ended up winning #EMOTY 2017, played a legendary B2B set with Ben UFO at Sonar 2017, graced the covers of Crack Magazine, DJ Mag, and earned herself the #12 spot in Mixmag's "Top 20 DJs of 2016."
Drawing influences from acid house, EBM and industrial music, Helena Hauff brings her signature sound to India for a 3 city tour in Bangalore, New Delhi and a special warehouse party for his Mumbai leg of the tour.

About Spacejams
Yohann Jamsandekar, is one of those artists – fun loving, laconic, and always ready for the night. His appreciation for varied genres of music can be traced back to many dynamic events in the past. To anyone familiar with his eclectic taste in music, this should come as little surprise. Known for blending tracks of various genres ranging from early acid house, pounding techno, unadulterated tech, bass, new wave, indie, dance, disco. His music has a journey to offer with deep, sophisticated, fresh, grimey sounds.

About Kini
With rhythm in her soul, funk in her attitude, Kini has been steadily creating waves in the house music scene in India. Starting off as resident DJ at Poison Hyderabad, Kini rose through the ranks to open for massive headline acts such as dOP, Dale Anderson & Anil Chawla (Global Underground), Djuma Soundsystem, James Harcourt (Twisted Frequency) and Jody Wisternoff (Way Out West). Her popularity continues to grow- performing at festivals such as GO: Madras as well as opening the party at India's biggest electronic music event – Sunburn in Goa.
Her passion for a deeper sound was showcased on a regular basis at Zenzi Mills (Bombay). Her other notable gigs include an afterhours set at Bar25 (Berlin), Villian's Club & Oakroom (Copenhagen) & Public Life (London). Doing complete justice to her cheeky self, Kini's sound can best be described as an ambivalent mélange of distorted kicks, crispy hats, funky basslines & quirky melodies. With four releases already under her belt on respected labels such as Maktub and Whose Haus and more to come, Kini is quickly becoming a force to be reckoned with.
MILKMAN is a hybrid of ideas, emotions and sounds that come to life through live events and extraordinary experiences. Milkman offers live music and entertainment experiences for all of mankind.
Being music enthusiasts and experiencing live music events across the world, Milkman strongly believes in creating happy and dance friendly environments for essential music lovers.
Since November 2017, Milkman has toured the likes of Baba Stiltz, Ben UFO, BAKE, Interstellar Funk, San Proper, David Vunk, DJ STINGRAY and the electro queen Helena Hauff coming up in June.