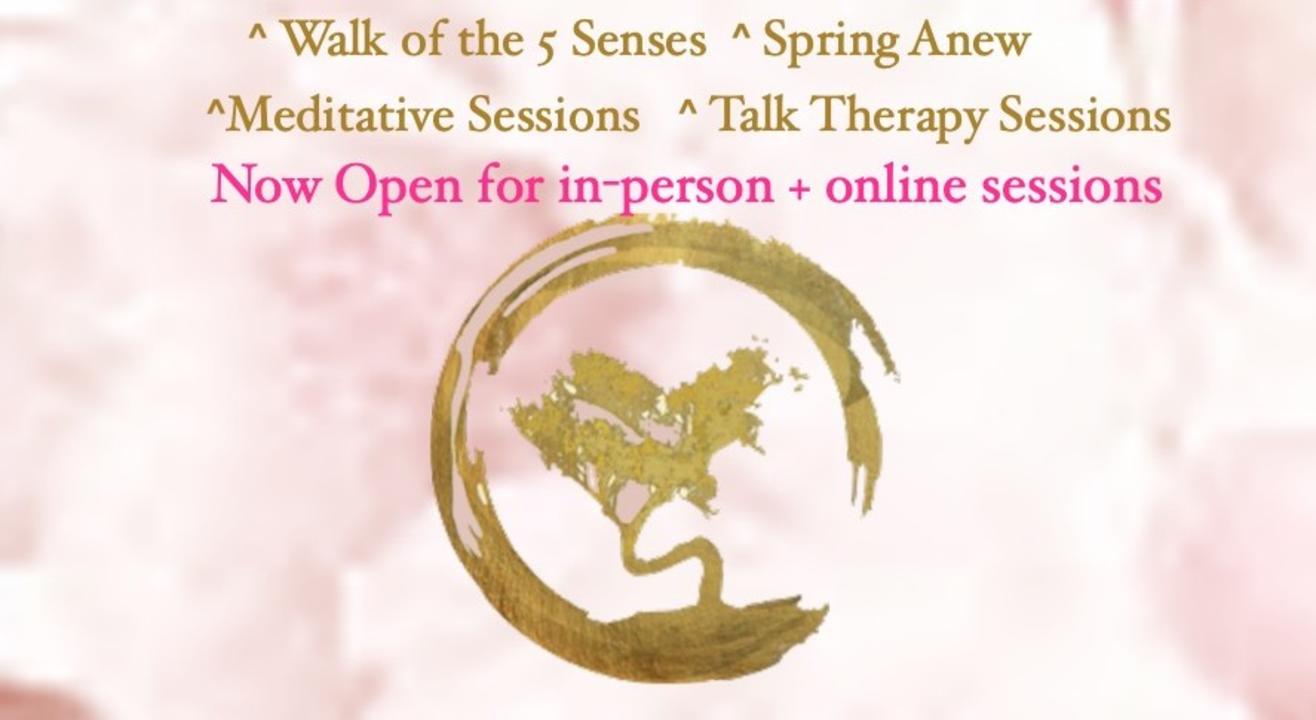 Mind Body Spirit Alignment Practice by Shamah | शम:
September 1 - 30 | 7AM - 6PM
Invite your friends
and enjoy a shared experience
Invite your friends
and enjoy a shared experience
About the Event
In Person Sessions are Back!
We are as relieved as you are. We're restarting our mind body spirit alignment sessions that range from walking meditations to meditative and talk therapy sessions as well as a targeted single session module that's designed to help you cope with change. Remember to choose the kind of session you want when you book your ticket.
You may have noticed that we've shifted from calling ourselves a counselling practice to an alignment practice, that's because we've done ALOT of meditating during lockdown (tell us about it, yeah?) and come to the conclusion that we all need tweaks and direction on where we're going whether or not we need counselling or therapy. So we're going broader. (Come in for the hug, YESSS)


You can schedule:
Walk of the 5 Senses
- meditative personalised walks. 1 hour duration. Yeoor hills or a place near you.
Meditative session
- learn the basics of meditation, bust myths of meditation, meditate with guidance.
Talk Therapy session
- regular talk therapy session, except each of ours includes a mind+body+spirit integrated focus
Spring Anew
- a targeted single session especially designed to help you cope with change


Who We Are
Shamah | शम:, which means the quiet space in Sanskrit, is an integrative mind+body+spirit therapeutic practice. We use principles of meditation (Vipassana, Tibetan, Zen) using our humanistic counselling skills and body grounding techniques (Yoga, Qi gong, Tai Chi, body work) in a unique blend to help you cope with the stressors you may be facing. We are strictly LGBTQIA+ affirmative and if you're a parent looking to 'talk sense into' anyone, we are not the right practice for you. We aim to help every client align to their truest self, which only they as individuals get to decide.
What Rules Apply
All sessions are for 50 minutes each.
We follow timings strictly. If you show up at 10.30 for a 10 am appointment, your session will still end at 10.50. We do not make exceptions to this rule.
Your identity, and everything you say is confidential.
The session will not be recorded though the therapist will take notes.
You are not obliged to tell anyone you're attending a counselling session.
Your session is a safe space.
You will be required to fill out our client intake form that will have some personal details - these will only be accessed in an emergency and you will be asked for your informed consent before they are.
Once you purchase a ticket we will coordinate with you for the time and venue.
No shows are not compensated and we don't allow for cancellations.
We will reschedule a ticket if you let us know at least 24 hours prior.
Where are sessions held
You can visit us in our Thane office
You can schedule a session at a mutually convenient spot
You can schedule a individual or group session in your home or workplace.
Walking meditations are held outdoors at the nearest mutually convenient starting point.
Online sessions on Zoom still continue so if you're in another city or can't reach us due to the commute, timings, that annoying boss, etc no worries, just login.
Session Led By Gayatri Jayaraman
Gayatri Jayaraman has been a senior journalist in the Indian media for over 20 years. She is the author of the just released book Sit Your Self Down and also of Who Me, Poor?. She holds a PG Diploma in Counselling Psychology from St Xavier's Institute of Counselling Psychology, and is a student at NYU Steinhardt's Masters in Counselling & Wellness for Mental Health programme with a dual certification in LGBTQ counselling (deferred to 2021).She holds a previous Masters in English Literature, and a PG Diploma in Journalism and Media. She is a regular Vipassana meditator and a student of Buddhist Psychology.
Contact us
Email: shamahwellness@gmail.com
Twitter: https://twitter.com/ShamahbyGayatri
Insta: https://www.instagram.com/shamah_by_gayatri/
Facebook: https://www.facebook.com/ShamahbyGayatri/