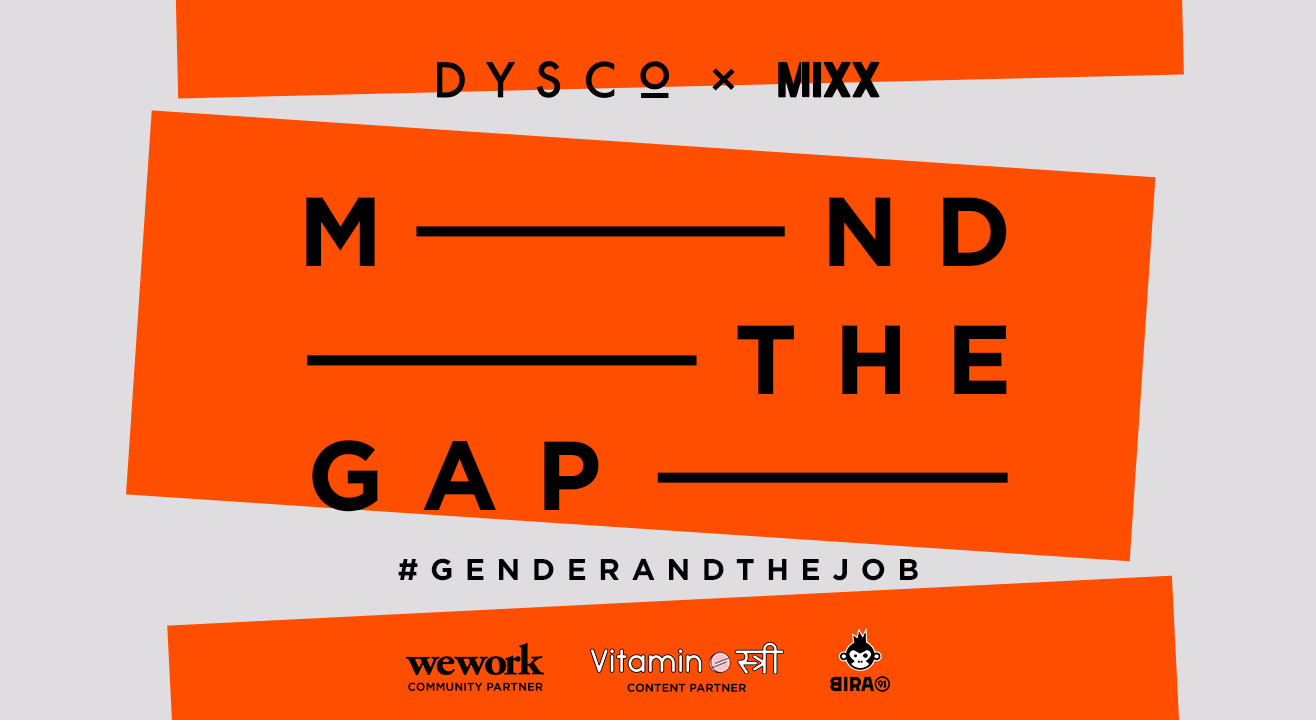 Interactive Session
Mind The Gap by Dysco X Mixx
About
#GenderAndTheJob
Let's mind it. Let's take issue. Let's kick up a fuss. Let's not be polite, let's not shrug, let's not 'oh well', let's not walk past, pretending it doesn't exist. Because the genderisation of jobs affects us all.

Mind the Gap, presented by MIXX & Dysco is intended to be an intellectual, digital and tangible exploration of gender equality within professions and workplaces. A discourse bringing together creatives and professionals to talk about challenging gender stereotypes, trends and norms in the workspace and in their practice.

A curated selection of people, industries and conversation topics, aimed at bringing diversity of perspectives and opinions to the table. Spanning creative and non-creative industries, roles where women are entering traditionally male dominated spheres, spaces where men are experimenting with what's normally considered a woman's job, and sometimes going beyond the binary, raising questions about representation of all genders. Confronting eventually how workplaces are divided up and why.

On June 3rd, at WeWork BKC, Mind the Gap will bring together panel discussions, art and photography exhibits, storytelling sessions, music performances, interactive displays, stand up comedy and other mediums, to spread awareness of one of the most compelling issues of our generation, in a manner that is both wildly appealing and wonderfully engaging – a real celebration of progressive minds and impassioned hearts.
Limited tickets at a special rate for Dysco App users and WeWork members.
General Ticket offers full access to the event including stalls, installations, and talks.
All inclusive ticket offers full access to the event and any / all workshops
Tea, coffee and water are included available for free.
1 beer included in ticket price.
The venue is accessibility friendly.
Those who have purchased workshop tickets separately are guaranteed access to the workshop.
Speakers & Panelists
Social Sector: Volunteering, Gender & The Social Sector - Masterclass by Manna Kanuga, ConnectFor
Art & Culture: Aahana Kumra, Karen Dias, Skye Arundhati Thomas, Abhinit Khanna, Karanjeet Kaur (curated by Arre Siren)
Sport: Suhail Chandhok and Ayesha Billimoria
Aviation: Janaki Subramaniam
Theatre & Performance:Rytasha Rathore
Transport: Revathi Roy
Media & Advertising: K V Sridhar aka Pops; Tara Kapur; Josy Paul, Malvika Mehra
Music: Amit Gurbaxani; Supreet Kaur; Aditi Ramesh; Komorebi; Ashutosh Phatak, Shilpi Gupta
Comedy: Rohan Joshi; Sumukhi Suresh; Sonali Thakker, Niveditha Prakasam
Film & Content Creation: Reema Sengupta and Akshat Gupt

Performances
Nush Lewis, Harpist
Ankur Tewari, Singer-Songwriter
Princess Pea, Performance Artist
Shyenne Pepper, Stand Up Comedy in Drag with Tropical Marca

Installations & Screenings
Body Positivity & Challenging Gender Norms Photography Installation by Roshini Kúmar
Gender Neutral Clothing on the Body Form by Purushu Arie
Ice Hockey in the Himalayas Photography Installation by Indrajeet Rajkhowa
Boys of Safdarjung Short FIlm Screening by Nikhil D
Women Metro Drivers Photography Installation by Riddhi Parekh
'Gender is what I feel at the moment, fluid but lucid' featuring Suruj Rajkhowa

Brand & F&B Stalls
Framroze Deli
The Fromagerie
Third Wave Coffee Roasters
Second Nature Juice
Rubberband Products
Two Point Two
Platform Magazine
Verve Magazine
Bombay Underground

Event Partners
WeWork BKC - Community Partner
Vitamin स्त्री - Content Creation Partner
Bira 91 - Beverage Partner
Creative Conceptualisation & Photography Workshop by Riddhi Parekh Photography
Conducted by National Geographic Your Shot photographer Riddhi Parekh, this workshop will focus on building ideas, breaking the stereotypes and coming up with concepts; storytelling through photography and a photo series; technical aspects: How composition, colour and light plays an important role in story telling and concepts.
Duration: 2 hours

'Mardon Waali Baat' - Gender Sensitisation Workshop by Chintan Girish Modi
Chintan is a writer, researcher and educator based out of Mumbai. 'Mardon Wali Baat' is a workshop that aims at involving boys and men in deeper conversations about gender norms, body image, patriarchy, sexuality and gender equality. The project began with a survey of men's attitudes, needs and perceptions, and is currently in a nascent stage.
Duration: 2 hours

Design & Illustration for Social Causes - Workshop by Shreya Gulati
Are you passionate about social issues that you want others to be aware of? Join Shreya as she talks about her own artworks, and explores illustrations used to create social commentary​ about gender and equality​. The workshop will focus on understanding the context and relevance of creating art for social issues and will give you an opportunity to conceptualise and create your own.
Duration: 2 hours

More information on workshops available here: https://www.dyscoapp.com/discover/features/details-workshops-mind-gap/

Songwriting Workshop by Ankur Tewari
Ankur Tewari is a storyteller. He has spent the better part of his life discovering different mediums to share his tales. At times his stories find their way through his music and at other times through his films. His songs are simple and evocative; they come from an honest and at times vulnerable space, which makes them easy to form an instant connection with. Highlights of his career include opening for world-renowned artists like Raul Midon, Fink and Norah Jones.
Duration: 1.5 hours

Deconstructing Gender by Gender Fluid Artist Durga Gawde
This workshop is designed to bring people together to have an open and honest conversation about gender and gender roles in society and the effects it has on our day to day lives. The participants will converse to dissect the gender construct in our society creatively and together create a live art piece by the end of the session. Durga Gawde is an artist, sculptor, and educator, who identifies as gender fluid. They have collaborated with individuals and organisations like Vice India, Lufthansa and NH7 among others. Duration: 1.5 hours
Venue
WeWork BKC, Mumbai
C - 20, G Block, Bandra Kurla Complex, G Block BKC, Bandra Kurla Complex, Bandra East, Mumbai, Maharashtra 400051