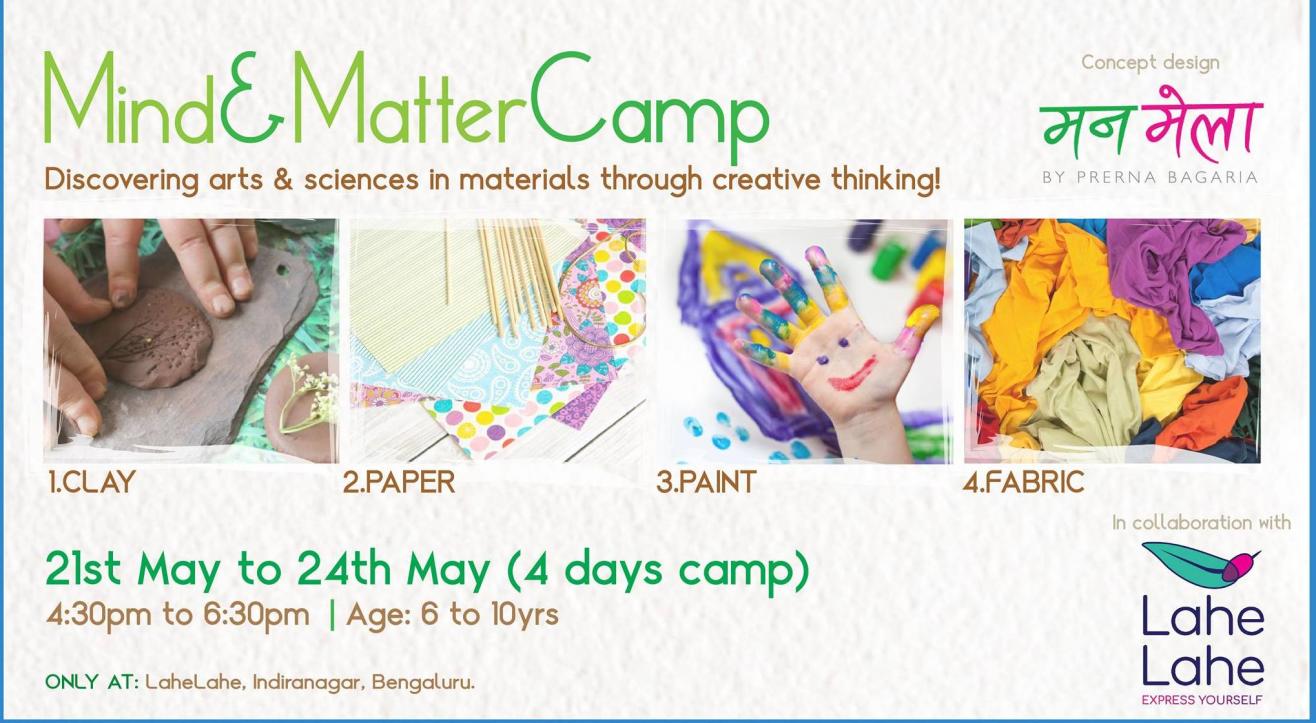 Kids Festival
Mind&Matter Camp At Lahe Lahe (6 to 10yrs)
About
About the Camp:
~
This camp is designed to merge the line between Art & Science for the young brains, hands, eyes & souls.
The sessions are facilitated to encourage children to explore various scientific & artistic aspects of the material like: visual, sound, aesthetic, structural, poetic, touch & feel.
Children will create many works & carry some home. Focus of the session however will be to encourage children to observe more & express more individually & in groups.
Camp Duration:
21,22,23,24 MAY 2019
~
4:30pm to 6:30pm - (6 to 10yrs)
_______
About Facilitator:
~
Prerna is a communication designer who loves being with children. She draws her inspiration & energy from various forms of art & as much from daily life. She has over 9 years experience with children's projects like Book Design, Toy Design,Films, Performance & Curriculum design. Currently all the work she is doing is focused and offered as MannMela, an organisation she found in 2015.
About MannMela:
~
We explore, invent & design new ways of learning for children while keeping instructions minimal. Considering that, each mind is unique & has multiple possibilities, basic aim of all the work we do is to encourage children to observe, explore & express more. MannMela works with parents, teachers, schools & activity centres that are willing to adopt child centric method of education.
Venue
Lahe Lahe, Bangalore
No.2906 & 2907, 80 Feet Road, Kodihalli, HAL Stage II, Indiranagar, Near BSNL compound HAL 3rd Stage, Kodihalli, HAL 3rd Stage, Kodihalli, Bengaluru, Karnataka 560078, India