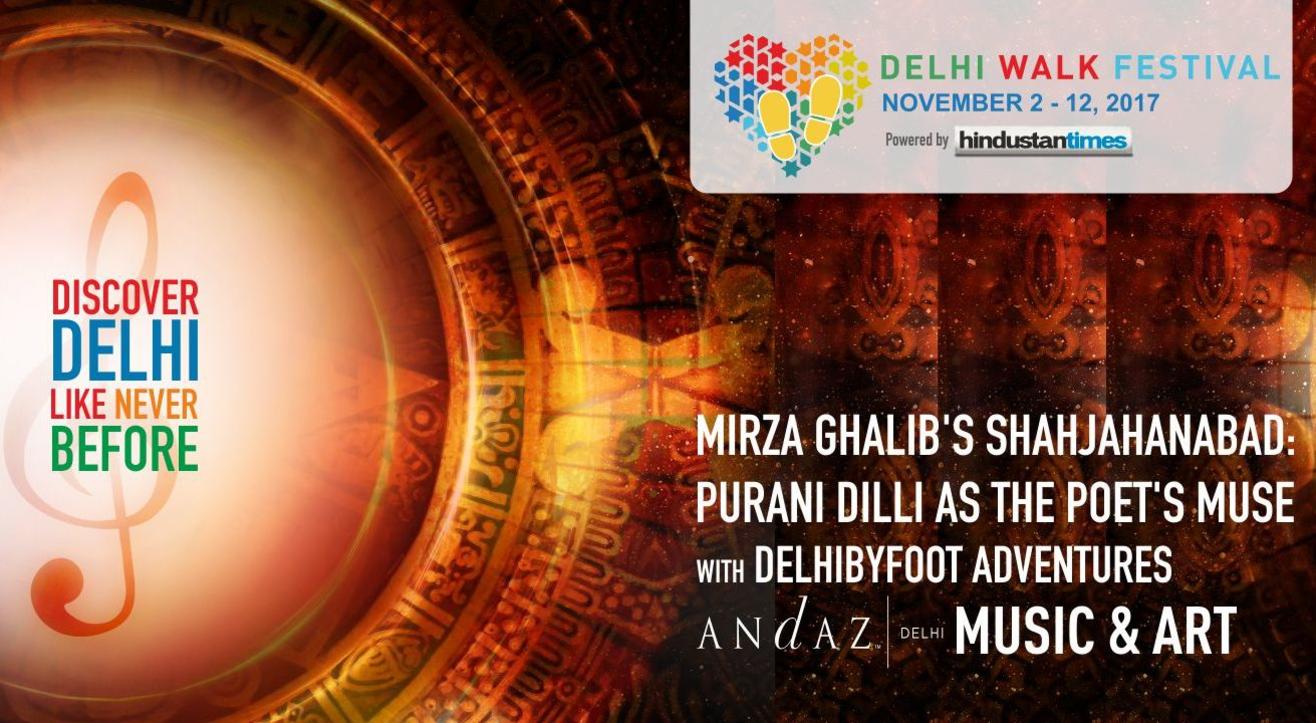 Art & Music
Delhi Walk Festival - Mirza Ghalib's Shahjahanabad: Purani Dilli as the Poet's Muse
New Delhi Metro Station Gate No. 3
About
Welcome to the DELHI WALK FESTIVAL!
Put on your walking shoes – and join us.
Choose from Nature Walks, Ecology walks, Design Walks, Photography Walks, Alternative and Experimental Walks, Culture Walks, Heritage Walks, Art Walks, Music Walks and Food Walks.
Discover a city that is brimming with experiences that are rich, diverse, vibrant, inclusive, unique and unforgettable.
ABOUT THE WALK
"हैं और भी दुिनया में सुख़न-वर बहुत अच्छे कहते हैं िक 'ग़ािलब' का है अंदाज़-ए-बयाँ और
Mirza Ghalib was a phenomenon and the best way to describe him is with his verses and couplets. With his ghazals and couplets, our very own 'Chacha Ghalib' still breathes in the by lanes of Purani Dilli! His verses are heard very often in speeches in Parliament, he is quoted by historians and by commoners who appreciate his spirit. This walk will enthral you as we discuss his poetry and literature. Join us on the journey to explore his haveli and listen to anecdotes about him. The intellectual glory of the period will surprise you as much as you feel his sadness on the destruction of the city. "
ABOUT THE WALK PARTNER
MOHD. MEHTAB, a 5th generation resident of Old Delhi, is a heritage conservation & community-projects activist, working to create awareness and a sense of pride in the shared ownership of Old Delhi's rich cultural & historical legacy among residents of his locality.
Contact Number of walk Leader-Mehtab 9212800220
1. Wear comfortable walking shoes. Dress conservatively, keeping in mind that we shall be visiting a few religious spots. Shorts are not allowed.
2. Men and women must carry headwear as visits to shrines are involved.
3. Our city is choking on plastic waste, we wish to avoid adding further to the city's woes, hence please carry drinking water in your own bottles
4. You may carry sunshades/sunglasses/hats if the sun bothers you

Rs 100 to be given to the Walk Facilitator as contribution for Tea & traditional Shahjahanabadi Breakfast

Venue
New Delhi Metro Station Gate No. 3
185, DB Gupta Road, Kamla Market, Ajmeri Gate, New Delhi, Delhi 110006