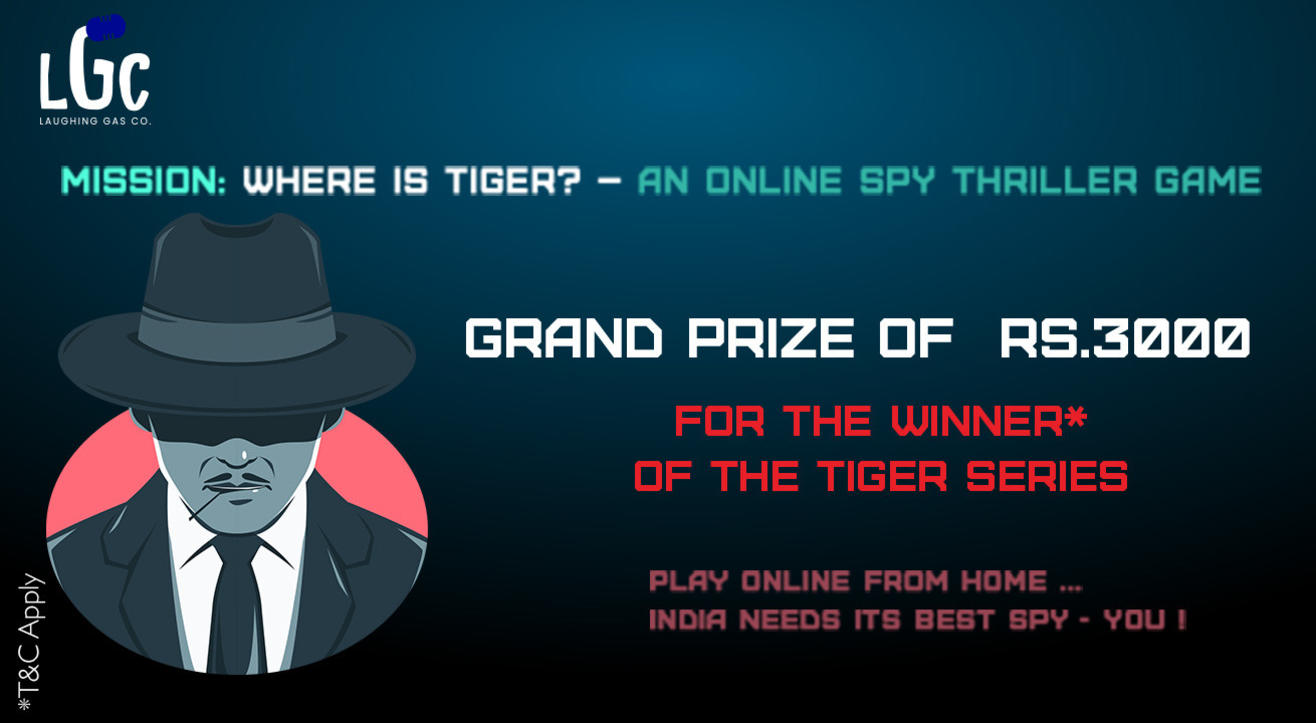 Mission: Where is Tiger? – An online spy thriller game
June 2 | 7PM - June 7 | 8PM
Invite your friends
and enjoy a shared experience
Invite your friends
and enjoy a shared experience
About the Event
"Where is Tiger ?" is a spy thriller game at its core. In the game you will be in the shoes of a secret agent who needs to find India's super agent/spy -"Tiger", who has gone missing from a secret mission abroad. You have to find him or extract his diary which contains the details of evil masterminds/terrorists who plan to attack our motherland. You will be required to solve 10 puzzles/ clues/ mysteries which will each lead you closer to the goal. And wait there is more, you will soon uncover that this mission is just the starting and you may be later required to crack more codes. So put on your thinking hats. Make sure you solve it fast. Boast about your timing on social media or compete with your friends as to who can clock the best time. Determine who is the sharpest mind of your group.
TERMS AND CONDITIONS
DISCLAIMER: The puzzles involved and the story line including names of characters and all other aspects are for entertainment purposes only and is fictitious in nature, strictly not to be construed as any true past or present event. Any resemblance/similarity to a person, group of individuals, community, etc is purely co incidental.
The game has been created by LGC and any sharing of details of the game like answers or puzzles on whatsapp, facebook or any other communication medium shall be considered as an infringement of our rights and will attract legal actions.
Instructions to play the game:
Each purchase allows you to log-in on one system. If you want to compete with friends we suggest that each team purchase its own tickets.
We shall contact you 1 hour prior to the game and you will receive your log in details. The link to the game will be shared 15 mins prior to the start.
The game can be played on any device such as a Phone/Tablet/Laptop/PC. Having more than 1 device at your disposal will make it easier for you to scan the QR Codes in the game.
The duration of the game is 45-60 minutes. After 60 minutes all users will be logged out.
The game will be a series of puzzles based on your Mission. You will have to solve each level, submit a response, and move to the next level. You can use any apps you like, to assist you in completing these puzzles. We also recommend taking notes. Teams of 2 are ideal for the game.
On submitting the correct answer to the final level (10th level), your mission will be complete. In order to be eligible for the first prize you can take a screenshot of the final page with your timing mentioned and share it with us on whatsapp. The team completing the game in the fastest time will be declared as the winner. The winners will be decided by us and will be in our discretion.
The puzzles are based on logic and deduction and no prior information of stories of any movie / event / videos, etc are required to solve this.
LGC will take all decisions regarding winners and any other matters pertaining to the game. Our decision pertaining to the game and related matters will stand final and binding.
Winner & Prize: The team which is the fastest to solve the entire puzzle will get a refund of booking amount. To be eligible for this the team has to follow our page @laughinggas.co on instagram and facebook prior to the game. As we launch more games in this series, we shall also maintain an aggregate leader board and the team which has the best performance over the entire series of games will win a special prize which will be announced on social media.
Note: If any team takes a hint a 5 min penalty will be added to their time. No more than 3 hints shall be given to one team.
FAQ
What is this game and its duration ?
This is a spy thriller which should not take you more than 45 mins. It consists of a series of 10 puzzles.
How to participate?
Are the charges per person?
No, it is Rs. 99/- per team. A team could have as many people as you like, we feel that the game is best enjoyed in teams of 2.The full team has to at the same location. You can also compete with your friends and post the details of the time you took to finish the game. Finish it in record time and your friends will also know the genius you are.
What is the deadline to register for the game?
The registration stops 3 hours prior to the game.
Will any hints be given during game?
We can give upto 3 hints. Also note that in adjudging the final winner we will add a penalty of 5 mins per hint taken.
Can I share my login details with others ?
It is a one time login only and no one will be able to login the second time or re login. So kindly keep your login details a secret.
If I like the game can I share it with my friends?
We recommend you tell them about us and ask them to follow our pages as we might have re runs of this game and will also launch more interesting games in the Tiger series. Any sharing of game details on whatsapp or another Social Media platforms will attract legal action.
Kindly note that in case of a small chance that there is a technical issue from our end we shall have the right to reschedule the game with no advance notice.