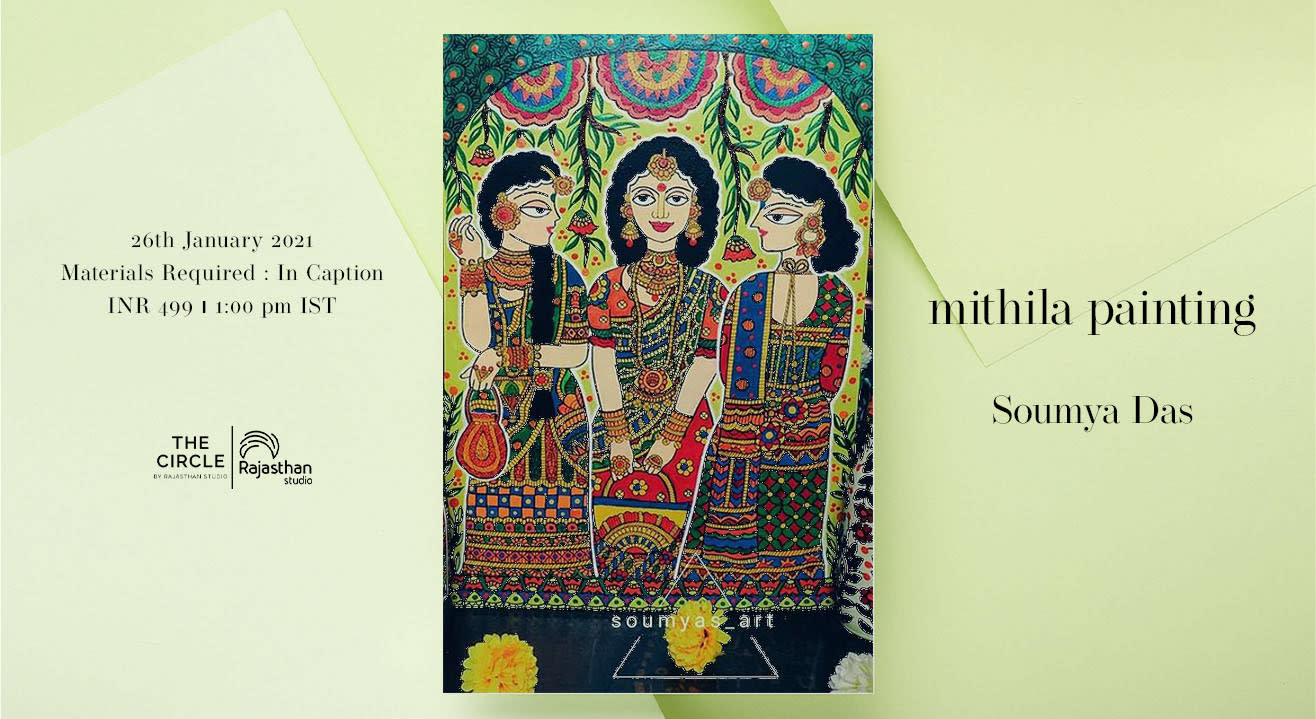 Mithila Painting Workshop by Rajasthan Studio
Enjoy this event from your home
Invite your friends
and enjoy a shared experience
Invite your friends
and enjoy a shared experience
About the Event
Mithila Painting is also known as Madhubani Painting is originally from Bihar. This painting can be done using fingers, twigs, matchsticks, natural dyes, and pigments. But don't worry, we have no plans of getting you all messy. We plan on sticking to our regular brushes and pens. These paintings often have complex geometrical patterns. But let's be honest it can't be more complex than our lives.
So, come join us for this workshop with our artist Soumya Das (@soumyas_art) and learn some new content for our festivities and religious rituals.
We're sure you don't wanna miss out on one of the most famous art forms that originated from India.
Date:26 January 2021
Time:1 PM IST
Venue: Online Workshop over Zoom App
Price: INR 499/-
Materials Required:
1. Paper 380gsm thickness
2. Brushes set (Camlin)
3. Acrylic Colours
4. Palette
5. Glass for water
6. Fineliner Black pens
7. Tissue Paper
8. Pencil, Eraser
9. Sharpener
P.S. No entries will be accepted after 11 PM on the day of the workshop.
See you!
#rajasthanstudio, #onlineworkshop #onlinelearning #artofindia #folkartsofindia #madhubaniart #mithilapaintings #madhubaniartist #painting #creativity #art #virtualexperience #artistsoninstagram #explore #design #rajasthan #thecircle #thecircleexperience #artist #artists #artbaje #eksoart