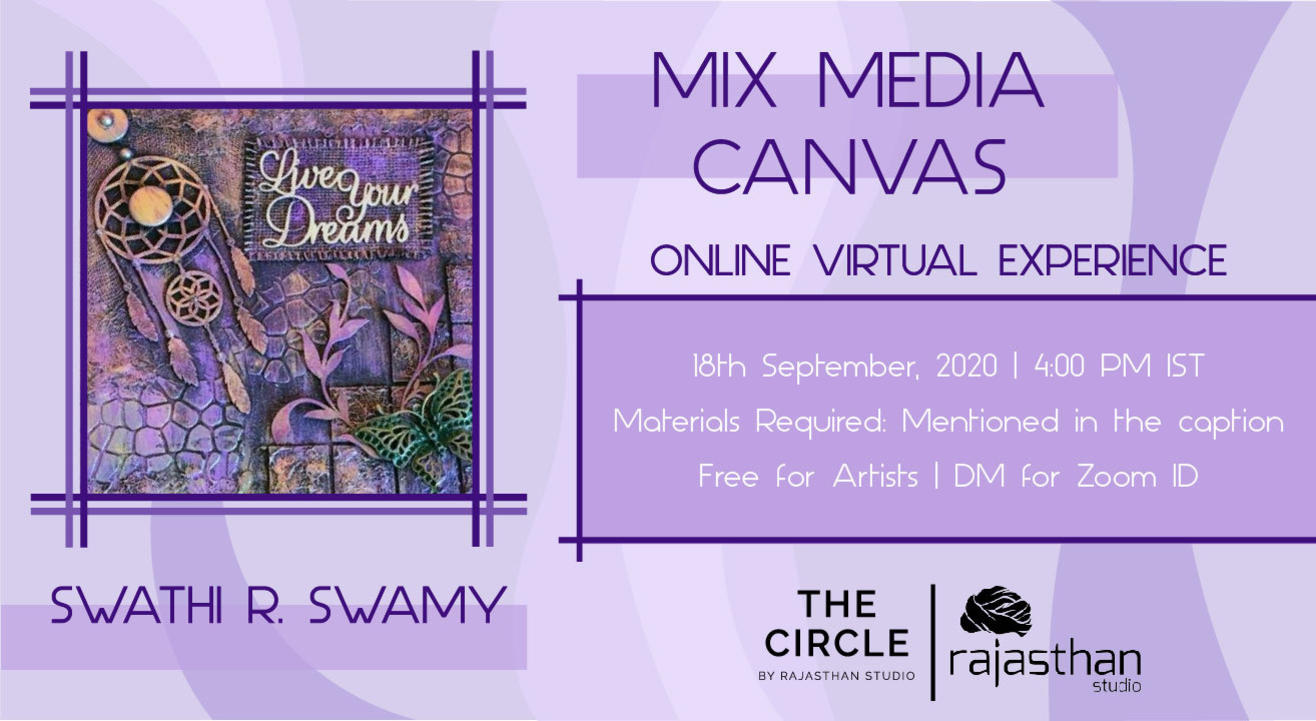 Mix Media on Canvas Workshop with Rajasthan Studio
Invite your friends
and enjoy a shared experience
Invite your friends
and enjoy a shared experience
About the Event
Imagine watercolours, acrylic paints, oil paints, colour pencils, crayons all on one canvas - what a crossover it will be! This is what is called Mixed Media on Canvas. It is a visual art form that combines a variety of media in a single artwork. But again, it requires a lot of knowledge about what works on what medium.
To clear all your Mixed Media dilemmas, we will be joined by artist Swathi R Swamy (@sankrithi13 ) on:
Date: 18 September 2020
Time: 4:00 PM
Venue: Online Workshop over Zoom App (DM us on our Instagram handle @rajasthan.studio for details)
Price: Free for Artists and Circle Members (DM us to register for The Circle Membership on our Instagram handle @rajasthan.studio)
Materials Required:
1. Canvas - 5*7 inches or as per your requirement
2. Chipboard
3. Cheese cloth
4. Corrugated sheet or any cardboard piece
5. Small buttons or jewelry findings
6. Stencil
7. Modelling paste or gesso
8. Black gesso
9. Acrylic paint
10. Metallic paint
11. Gel medium
12. Fevicol or any normal glue
13. Metallic waxes
P.S. No entries will be accepted after 1 PM on the day of the workshop.
See you!
#rajasthanstudio #onlineworkshop #workshop #mixedmedia #mixedmedium #mixedmediaart #mixedmediaartworkshop #mixedcolourspainting #watercolours #watercolors #gesso #acrylicpaint #metallicpaint #onlinelearning #virtualexperience #artistsoninstagram #explore #creativity #design #rajasthan #thecircle #thecircleexperience #artist #artists