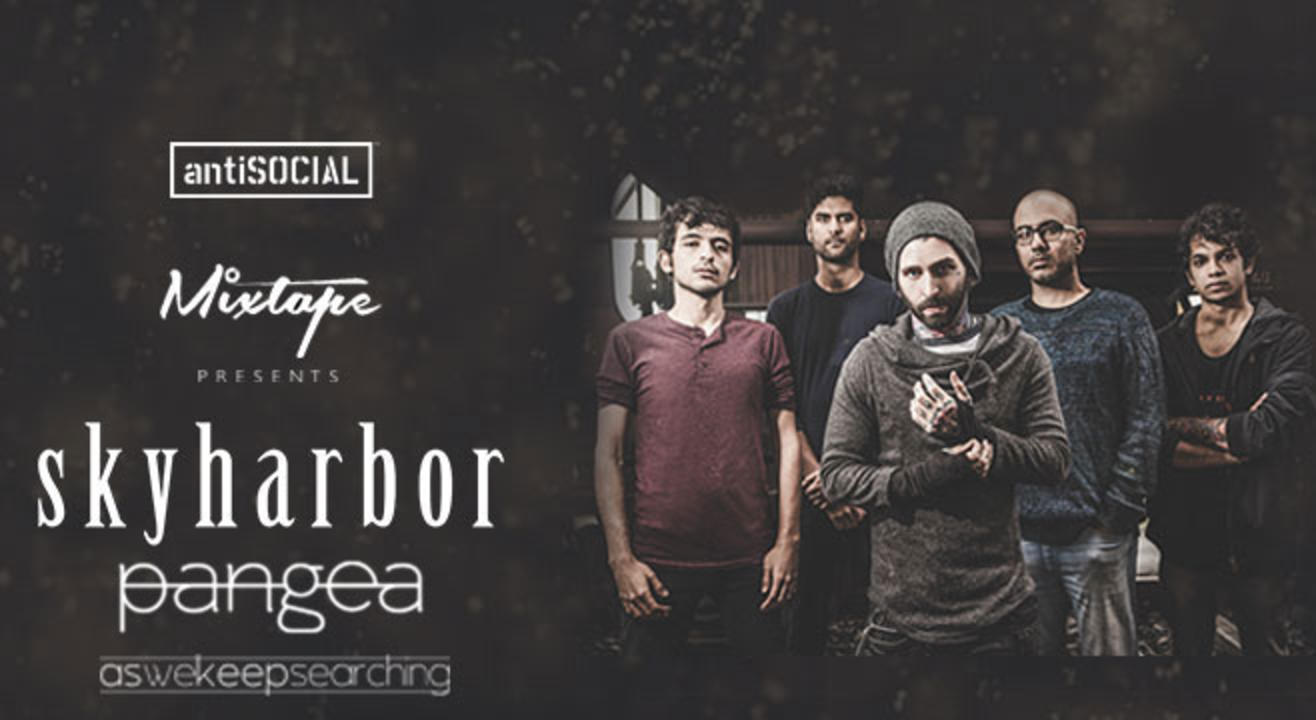 Mixtape Presents Skyharbor, Pangea & aswekeepsearching
Step out and enjoy this event
Invite your friends
and enjoy a shared experience
Invite your friends
and enjoy a shared experience
About the Event
Head over to AntiSocial and watch Skyharbor, Pangea & aswekeepsearching Live!
Pangea
The Mumbai based star-studded Progressive Metal/Soundtrack /Drone powerhouse Pangea, first started as 'Orion J9 Foundation' which was the Alt. Rock/Experimental studio project started by Akshay Rajpurohit(Aqua Dominatrix, Scribe). Since then they have turned into a 5 piece instrumental live band of incredibly talented and proven musicians consisting of Akshay Rajpurohit on guitar/synth, Shadaab Kadri on guitar/synth, Kuber Sharma on guitar/sound, Jai Row Kavi (Amit Trivedi, Karsh Kale, Blackstratblues, Indus Creed) on drums and Krishna Jhaveri (Skyharbor, Goddess Gagged) on bass. They now journey through a genre-free space, challenging conventions and pushing musical comfort zones through experimentation!
Skyharbor
From a fledgling studio project, to a full-fledged touring band with members from around the world formed over the internet - Skyharbor have defied conventions, making waves with their distinctive brand of sweeping, ethereal Prog-rock, fronted by Eric Emery's powerful vocals! They have established themselves as one of the leading progressive bands from the Indian subcontinent with accolades coming in from current & former members of Lamb Of God and Megadeth. In 2012, Skyharbor band was hand-picked by Lamb Of God drummer Chris Adler to support them in the Bangalore leg of their world tour. In 2014, Skyharbor was nominated in the Global Metal category at the prestigious Golden Gods Metal Awards. The band has spent most of the last 4 years travelling around the world performing at eminent festivals like Euroblast Festival (Germany), UK Tech Fest, Download Festival(UK), Dissonance Festival (Italy) and Graspop Metal Meeting (Belgium) to name a few. In Nov-Dec 2015 they toured 28 cities in North America & Canada with TesseracT, The Contortionist, and ERRA.
Aswekeepsearching is a post-rock/ambient band expressing emotions, life experiences and feelings in the form of instrumental music with some vocals. As we keep searching's music has always had a sense of 'otherness' to it. An amalgamation of electronic, ambient and post-rock styles, their work has been difficult to pin down from the very beginning.
The debut album 'Khwaab' from Gujarat based four-piece aswekeepsearching is a sparkling piece of melody meets groove euphoria. Stylistically the heir and ancestor to last year's 'Growing suspicions EP', Khwaab is a different approach to that otherwise festive "debut record". Whereas 'Growing Suspicions' partially defied its hype in being more experimental than straight up post-rock, and at times even more focussed towards a niche sound, 'Khwaab' can be discordant and more mainstream in nature.
antiSOCIAL Khar, Mumbai
Rohan Plaza, 5th Rd, Ram Krishna Nagar, Khar West, Mumbai, Maharashtra 400052
GET DIRECTIONS