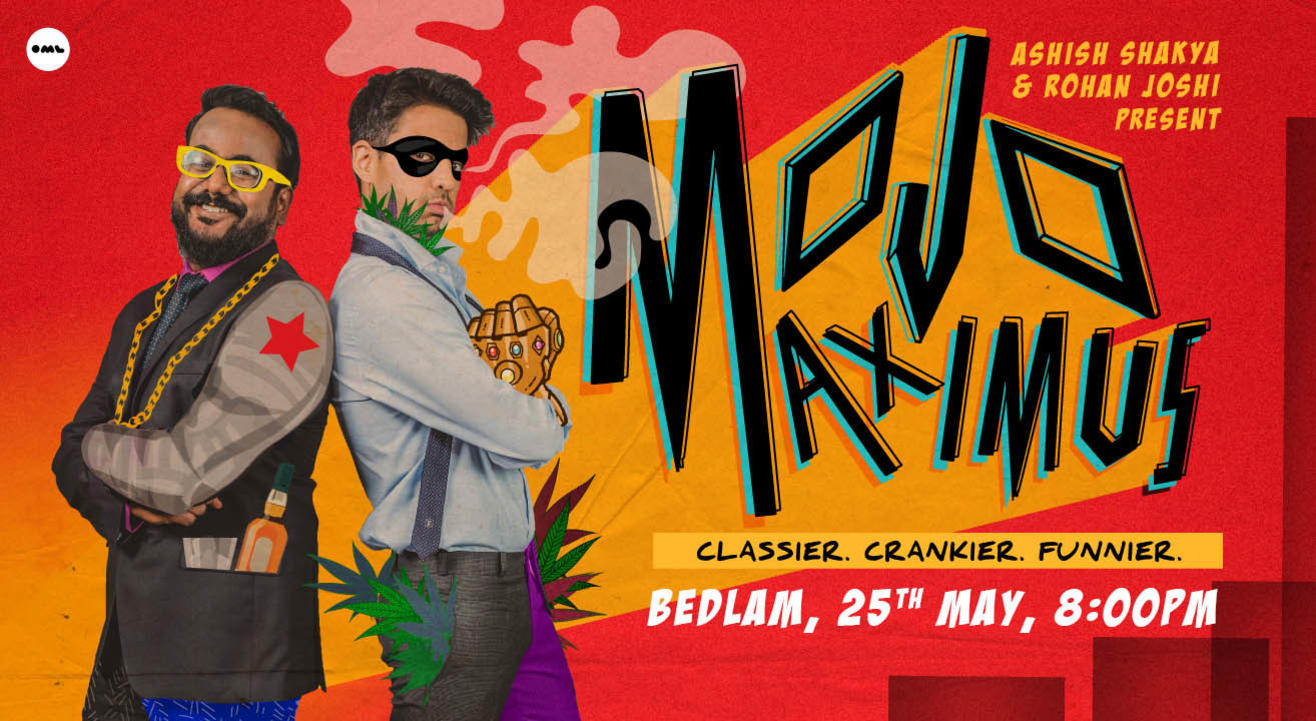 Comedy
Mojo Maximus Ft. Rohan Joshi & Ashish Shakya, Delhi
A Little Anarky Films, Delhi
About
Mojomaximus is a 90-minute stand-up show featuring - as the poster suggests - Robin Williams and George Carlin. Or, y'know, Rohan Joshi and Ashish Shakya, who will be showcasing all their newest material, along with some tried-and-tested stuff. The idea is to turn all of this material into solo stand-up specials, which will lead to $$$ which will hopefully fill the void in their hearts. Mojomaximus is gonna be hitting small, intimate venues across a bunch of cities, so get your tickets quick!
IMPORTANT NOTE: At least half the material is the same as previous Mojomaximus shows. And if you've seen Ashish's Scratchpad or Rohan's solo trials recently, then avoid because kaafi material repeat..
The age limit is 16+.
Rohan Joshi - Rohan Joshi is a member of popular comedy collective AIB. As part of AIB, he has been a part of the collective's ambitious projects such as AIB Knockout (India's first ever comedy roast), AIB Diwas (a full-day open-air comedy show), On Air with AIB (the satirical news show telecast on primetime television and Hotstar), and AIB Presents Royal Turds (a Bollywood-themed spoof award show). One of the earliest stand-up comics in the country, he was on the Times of India's list of top ten comedians in India in 2012, with over 250 shows at premier venues in India and internationally. He performs regularly for corporate clients across India. Rohan has co-written the prestigious Filmfare awards. Excitingly for fans, he has returned to the stand-up stage in 2017, and is trying out new material.

Ashish Shakya - In 2006, Ashish Shakya discarded his freshly-minted engineering degree and became a full-time comedy writer – a favour for which the science community is still grateful. Stand-up followed soon after because the instant approval of strangers was amazing and also pants are optional. As a member of AIB, India's most well-known comedy collective, Ashish has been part of ambitious projects such as AIB Knockout - India's first ever comedy roast featuring Bollywood A-listers like Karan Johar, Arjun Kapoor and Ranveer Singh. He's also co-helmed two seasons of On Air With AIB, an acclaimed news comedy show telecast on primetime TV and Hotstar. His weekly humour column in The Hindustan Times also earned a devoted following during its six-year-run. As a stand-up comic with hundreds of shows under his belt, he has brought the house down in venues across India, Singapore, Dubai, Australia and the UK, and is currently seeking his next big stage thrill.
Venue
A Little Anarky Films, Delhi
T-74,Fourth Floor, Near Daryacha Building, Above J.D Institute of Fashion, Hauz Khas Village, New Delhi- 110016