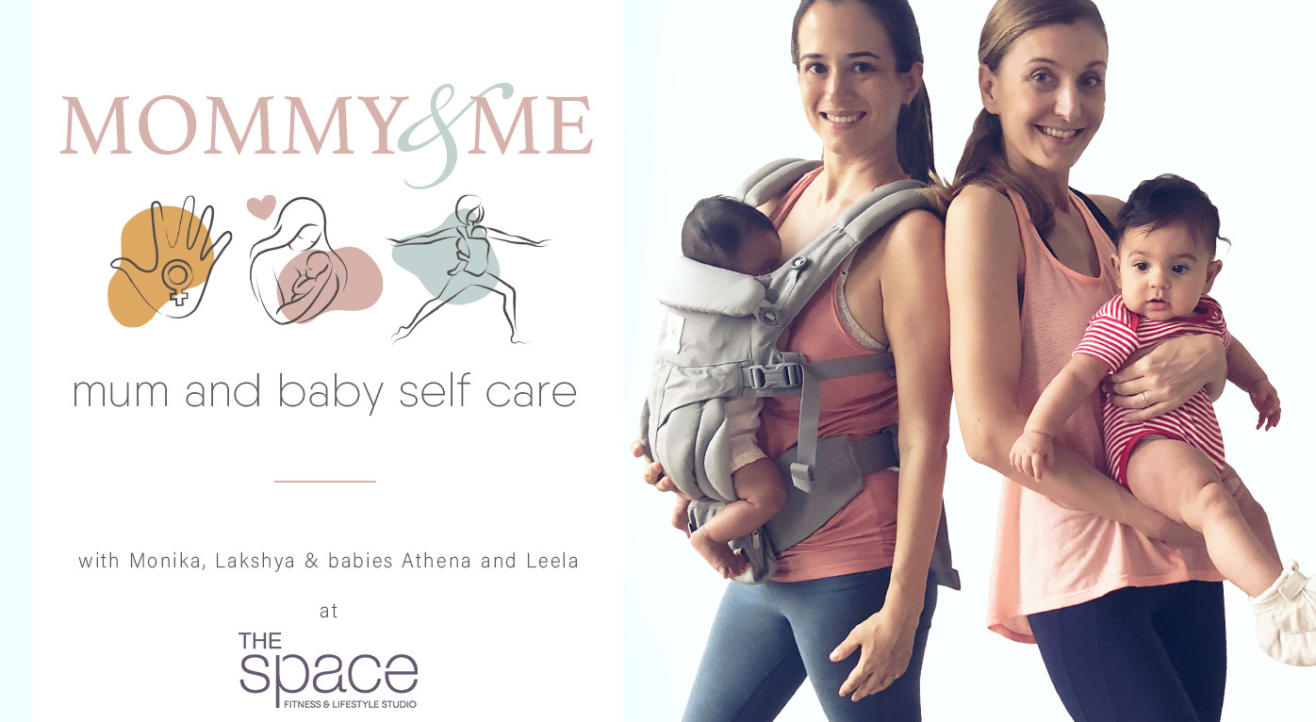 Mommy & Me | Mother and Baby Self Care Session
Invite your friends
and enjoy a shared experience
Invite your friends
and enjoy a shared experience
About the Event
A nurturing environment, a supportive community and a safe space to bond with your special one! Monika & Lakshya with their daughters Athena & Leela invite you and your baby for a fun and interactive session of mom & baby yoga, guided sharing & support and healthy nibbles from Sequel & Bombucha! You & your baby get to go home with goodies from Masilo, Soulslings & Rumi Earth!
MORE:
Participating in mommy & me activities before your child turns 1 provides a fantastic opportunity to create a strong social foundation while strengthening the physical and emotional bond between mom and baby.
Get a good stretch, feel a burn and center yourself as Monika and Athena take you through a fun mommy & baby yoga poses providing a gentle, nurturing way to care for your postnatal body.
With our bodies and hearts all warmed up, Lakshya will lead a guided sharing circle where we get the chance to open our hearts, listen and be heard. We create a safe space to provide support, discuss milestones & learning and share our journey through motherhood.


SUITABILITY
For postpartum mums and their babies from 2 to 10 months who are not actively crawling.


ABOUT THE FACILITATORS
Monika & Lakshya are both yoga instructors based in Mumbai and new moms to Athena and Leela respectively.
Monika is a resident Yin Yoga instructor at The Space. With 10 years of practice and 6 years of teaching yoga London and Mumbai she offers a holistic and in-depth approach to yoga, focusing on healing and creating space in the body, wholesome alignment and self-awareness. She studied Classical Yoga in The Yoga Institute in Mumbai, and continued her training in Rishikesh's Shiva Yoga Peeth in the style of Ashtanga Vinyasa. She practiced with some of the most senior teachers in London and trained in Yin Yoga, Somatic Movement, as well as Thai Yoga Massage.
Lakshya (Elouise) is a Hatha, Yin and Prenatal Yoga Teacher, originally from Holland and has been teaching in Mumbai since 2016. She enjoys bringing women together and rejoicing in sisterhood, and believes that this is a form of support that only women can truly give each other. She is certified to teach Sivananda, Sama, Yin, Pre & Postnatal Yoga as well as Thai Yoga massage.


SPECIAL INSTRUCTIONS
Baby carriers are required for this session. If you do not have a carrier, please let us know in advance
Carry blankets for the babies to lie on
You are free to bring noiseless toys, if your baby has a favourite one
We understand you may need to bring your nanny along. However, nannies will not be permitted inside the room. If you need any help please meet your nanny outside the room.
This session is for mommies only. Partners, grandparents and other plus ones will not be permitted inside the room.
If you have any special concerns please contact Monika (+917045538805) or Lakshya (+918291084992) in advance.


BOOKING TERMS
Please arrive 15 minutes in advance for registration. Entry to this session will be closed at 9:45am.
We do not permit single use plastics at The Space. Please don't carry such items with you. Water is available for all at The Space.
This ticket cannot be cancelled and is non refundable, (but can be transferred to another person for the same session itself)
This booking is subject to studio rules & policies.


The Space, Mumbai
The Space, A.B. Nair Rd., Juhu, Mumbai, India 400049 (Adjacent to Harry's – Juhu)
GET DIRECTIONS