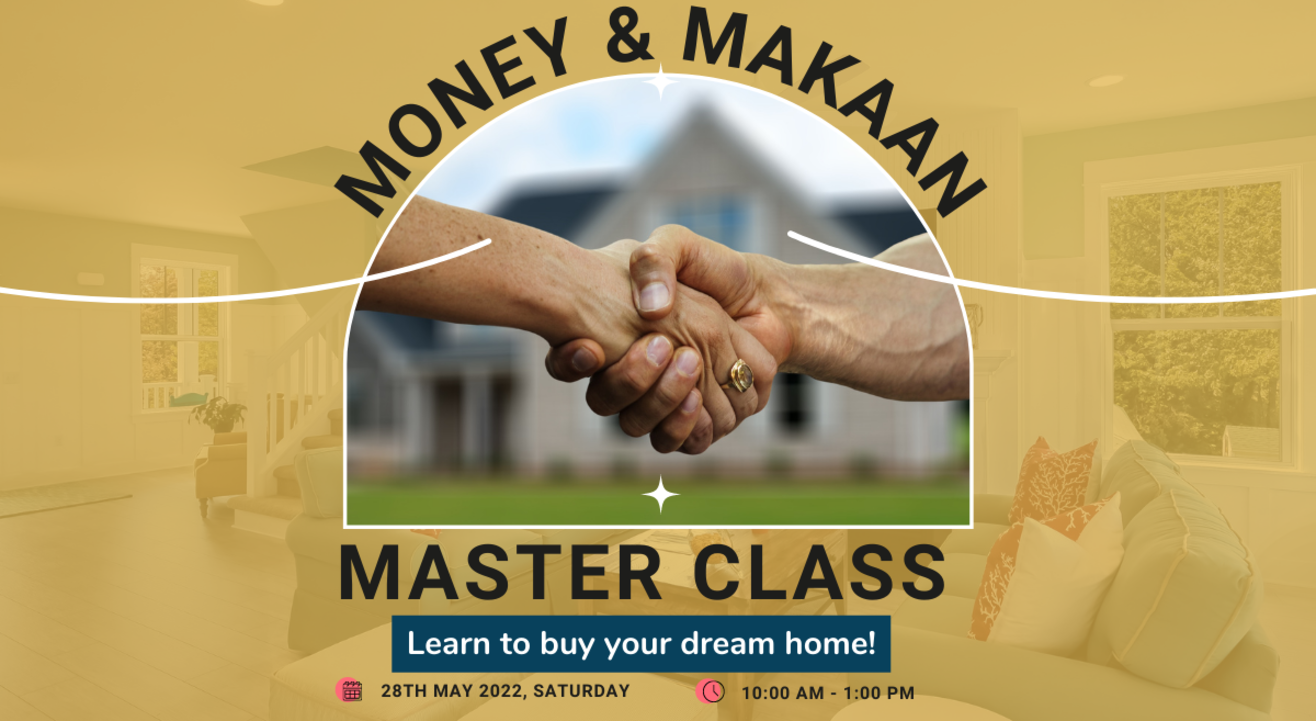 Money & Makaan Master Class
Doolally Taproom - Khar, Mumbai
Step out and enjoy this event
Event Guide
Live Performance
Enjoy a unique experience
Invite your friends
and enjoy a shared experience
Money & Makaan Master Class
Doolally Taproom - Khar, Mumbai
Step out and enjoy this event
Event Guide
Live Performance
Enjoy a unique experience
Invite your friends
and enjoy a shared experience
Event Guide
Live Performance
Enjoy a unique experience
Covid 19 Safety Measures
This event adheres to the following

Health & safety measures
Social Distancing
Limited Capacity
Contactless Service
Invite your friends
and enjoy a shared experience
Covid 19 Safety Measures
This event adheres to the following

Health & safety measures
Social Distancing
Limited Capacity
Contactless Service
Buying / renting a home seems a daunting process. From figuring out your needs and expectations of a house to matching it with your budget and available resources, every decision plays a key role. Moreover, there are various factors of location, size, affordability, overheads and availability that influence the decision of settling upon a house.
Buying a house is one of the most expensive purchases you will make in your lifetime. To help you make an informed decision we have launched a masterclass on buying a home. We tend to avoid participating in financial decisions as we mostly think emotionally when it comes to buying a home. But if you are someone:
Desperately seeking a space of your own
Brave to think of buying a house and taking a home loan too
Tired of living in rented apartments
Planning to take the plunge with your better half
Come join us, on 28th May 2022 at Doolally, Khar West - Mumbai. We are here to help you out.
This is a small group of 25 - 30 people who will get together to learn about buying a home in an offline/in-classroom format where we will learn, participate and calculate how much it takes to buy your home and also make your final plan for you.
How will this Masterclasshelp you?
Learn the financial and legal roadmap of buying a home.
A process to save and plan financially for the house downpayment
Features of a home loan and what all should you consider when you buy a home
Understanding the tax implications of buying a home
You will learn - The value of the house you can afford and how to achieve your dream goal of a home financially.
Highlights of an offline masterclass
Personalized attention
Individual learnings
The spot doubt solving
Advise which is specific to your situation
Interaction, fun & learning on a Saturday
We have a few exciting giveaways as well!
5 excel tools to help you compute your home buy situations
FREE ACCESS to 7.5 hours Home buying course for LIFETIME.
A home buying guidebook
Connect with bankers to help you with the loan process
A legal checklist with lawyer contacts to help you with the legal process
Food & refreshments
We are very excited to see and meet you all there. Please register in advance as we have 25-30 seats only.
"You can't have everything you want, but you can have the things that really matter to you."
— Marissa Mayer
The 3-hour Masterclass is divided into 3 parts where we would focus on the following:
I. Pre-home purchase
Why do you want to buy a house?
Requirements in a house? - features/locality
Financial Pre-requisite for a home purchase
II. Home Purchase process
The actual cost of the house
What is the value of the house you can afford?
Home loan & its features Legal Documentation/process for home buying
III. Taxation
Tax benefits on home loan vs HRA
Tax planning for capital gains
Personal experience sharing
Home purchase roadmap - board game
Who Is Conducting The Masterclass?
Harsh Vardhan Dawar
Founder of Wealth Café with a motive to make individuals financially smarter and manage their money better. Harsh is the knowledge force behind the company, He is a Chartered Accountant, Chartered Financial Analyst(CFA®) from The CFA Institute, and a Certified Financial Risk Manager (FRM®) from GARP.
He can be trusted with both your money and time. You will find his financial-literacy workshops not only learning-intensive but also peppered with interesting anecdotes and experiences.
Akruti Agarwal
A Chartered Accountant with over 5 years of experience in the field of consulting, Akruti Agarwal has worked with the Big Fours in the financial world. Akruti has been recognized and listed in India's Top 100 women in Finance by AIWMI. She is a money wizard. Being a people person, her enthusiasm, relatable content, and on-point references will make money management seem super breezy for you.
About Wealth Cafe
Wealth Café Financial Services came into being as an answer to your quest to understand money. We, at Wealth Café, make wealth creation a simple process. Through our courses, we will provide you with the right tools and the right knowledge to enhance your understanding of how money works and put yourself on a path to wealth creation. Watch this video to know more about Wealth Café Financial Services and what are the things we are doing to make money manageable for you.
Is it worth it?
Yes, this masterclass is created to help you navigate the biggest financial commitment or dream to own a house. It will enable you to work through the larger and the smaller details that go into the decision of buying one.
You will learn to compute - what is the value of the home you can afford and how should you plan your money to achieve your dream goal. Everything from the downpayment to the home loan and taxes on your home loan and home purchases will be discussed.
6 Questions you must answer before you 'Buy' a House.
Doolally Taproom - Khar
10 A, Raj Kutir Apartment, E854, Rd Number 3, Khar, Ram Krishna Nagar, Khar West, Mumbai, Maharashtra 400052, India
GET DIRECTIONS
Money & Makaan Master Class
Doolally Taproom - Khar, Mumbai
Step out and enjoy this event
Event Guide
Live Performance
Enjoy a unique experience
Invite your friends
and enjoy a shared experience