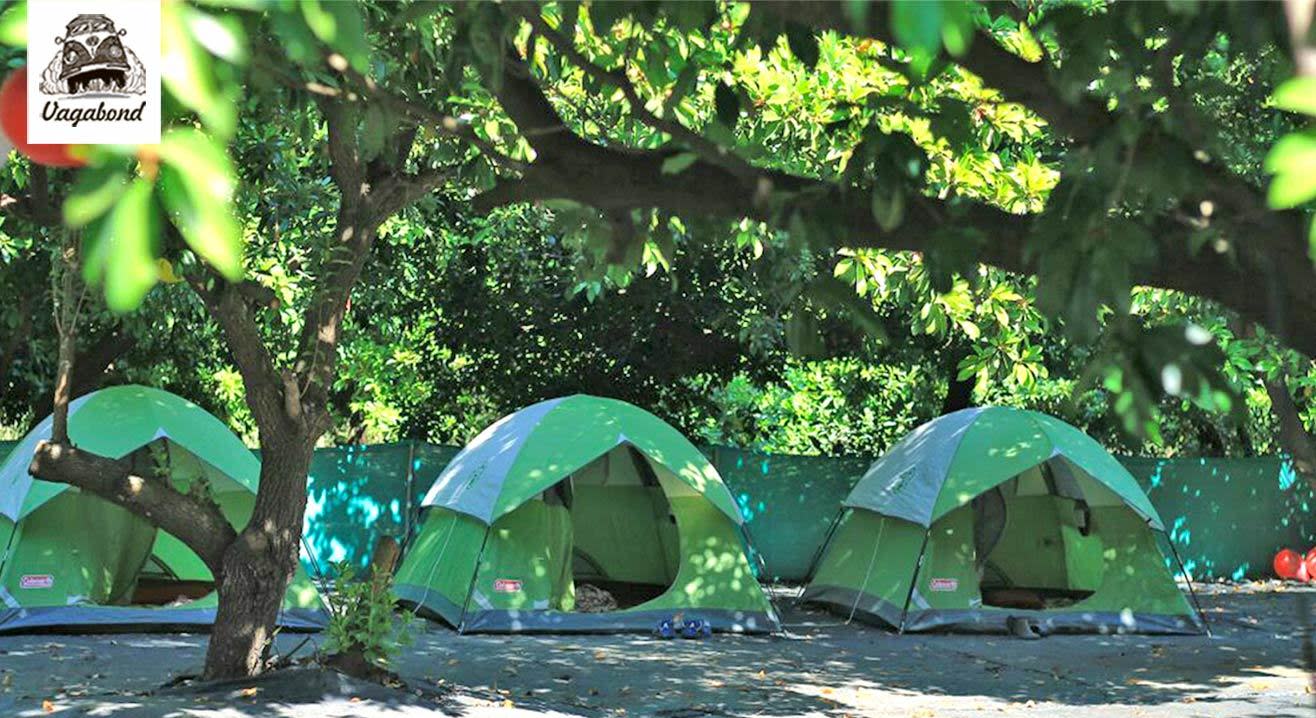 Camping
Monsoon Camping at Dahanu
About
Dahanu is a quaint coastal town on the border of Maharashtra and Gujarat. It is known for its beautiful sprawling 17km beach and massive fruit orchards. The most famous of the fruits grown here are CHIKOOS! Dahanu alone makes up for 35% of Maharashtra's Chikoo production. We invite you this monsoon to spend an amazing time at one such sprawling (24 acres!) chikoo orchard in Dahanu, camping amongst them in tents coupled with some brilliant local cuisine! Leave the city life behind and indulge in everything clean and pure!
Check in: 4pm (Day 1)
Check out: 11am (Day 2)
Free for children below 3 yrs.
DAY 1
4:00pm: Check in. Get guided to your cosy tents and freshen up (We have concrete toilets and washrooms)
5:00pm: Chai time with onion bhajiyas and chai is the perfect way to spend a monsoon evening!
6:00pm: After that lovely evening snack, take a walk around the chikoo orchards. Play some cricket or football if you may. You could also indulge in some uninterrupted good music by your tents (We've arranged for a music system for your enjoyment)
9:00pm: Partake in some simple yet delicious local village cuisine inspired (and sometimes made) by the villagers from the Warli Tribe themselves.
10:00pm: Dahanu gets a little chilly during the monsoons. So get ready to snuggle up in your tents for a good night's sleep or continue enjoying the music for a while longer.

DAY 2
9:00am: You can use the washrooms to bathe but we personally recommend you use the water tank built in the open for the complete village experience! After freshening up head to the dining hall from some hearty breakfast.
11:00am: It's time to say your goodbyes to this haven of solitude. And we hope to see you again in the winters where special surprises await you!
This campsite is easily accessible from Mumbai, Daman, Vapi and Surat.
Ample parking space is available.
Clean western style toilets and showers (4 attached toilets and showers)
Accommodation in 'Coleman' tents on double or triple sharing occupancy with mattress, pillow and blanket.
Menu: High Tea (Onion bhajiyas/ batata vadas, biscuits, tea,coffee), Dinner (chicken gravy, veg bhaji, dal, rice, chapati, salad), Breakfast (Poha/misal pav, tea, coffee)
Drinking water will be provided at the campsite.
Dahanu beach is just 11 kms (approx 20 mins) away from the campsite. You can drive down there next morning to enjoy a walk along the shore.
Travel to and from the campsite
Anything not mentioned in the itinerary
Personal medication, extra pair of clothes, mosquito repellent, rainwear (raincoat/umbrella), torch, water bottle, toiletries (toothbrush, toothpaste, soap, towel)
Public transport: Take a western line train to Dahanu station and contact Mayuresh 985 025 1602 (who will help guide the rickshaw driver to the campsite)
Self drive: Follow google maps- Yamunavan camps
Contact Mayuresh for any further assistance with directions or how to get there.
Any cancellation before Thursday 4pm will be refunded 50% of the payment.
Any cancellation after Thursday 4pm will not be refunded any amount.