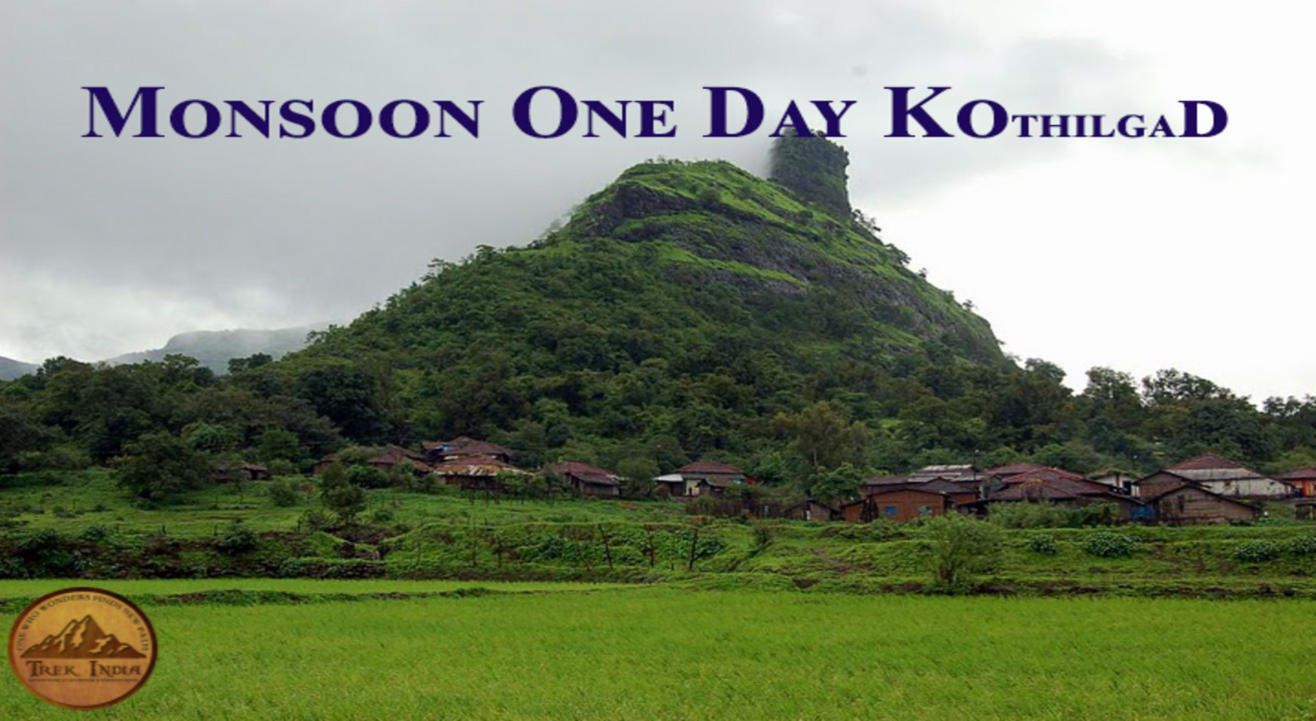 Trek
Monsoon One Day Trek to Kothilgad | Trek India
About
Trek India Welcomes you for the Monsoon One Day to Khotilgad on 21st July 2019.
Kothaligad is a Fort with the height of 3100 ft above sea LEVEL. It is also known as the Fort of Peth because of its vicinity to Peth village at its base. There is a small temple and large cave at the base and a chimney like tunnel to the top of the fort. This pinnacle is carved from inside forming a staircase reaching the top.
Schedule :-
08.00 Am :- Meet the Team at Karjat Station.
Train Schedule :-
06.10 AM - CST
06.18 AM - BYCULLA
06.24 AM - DADAR
06.31 AM - KURLA
06.35 AM - GHATKOPAR
06.50 AM - THANE
06.57 AM - DIVA
07.02 AM - DOMBIVLI
07.10 AM - KALYAN
07.27 AM - BADLAPUR
08.00 AM - KARJAT
Itinerary:
08.00 Am :- Meet the Team at Karjat Station.
08.15 Am :- Start the Journey via Private Transportation to base village.
09.15 Am :- Reach the Base Village , Get Freshen Up & Have Breakfast.
10.00 Am :- Small Introduction Round.
10.10 Am :- Start the Trek
12.30 Pm :- Reach the Top & Explore the surrounding.
01.30 Pm :- Start Descending
03.00 Pm :- Reach the Base Village
03.15 Pm :- Have Lunch & Rest for a while.
04.30 Pm :- Start the return Journey
07.30 Pm :- Reach Mumbai tentatively.
Inclusions:
Transportation from Karjat to Karjat
Morning Breakfast
Lunch
Basic First Aid
Local Guidance.
Exclusions:
Anything not mentioned in the inclusion.
All kind of extra meals/soft Drink ordered.
Any kind of Personal Expenses.
All expenses incurred due to unforeseen and unavoidable circumstances like road blocks, bad weather.
Things to Carry :-
Good Trekking shoes & Extra Pair of floaters.
Extra Pair of Clothes (Optional)
Water (min 2 ltrs) compulsory
Some ready to eat food like biscuits, plum cake,etc.
Medicines if any required
1 packet of electrol , enerzal , glucon D
Avoid Wearing precious ornaments on an event, if possible.
A haversack or backpack to put all the above things to be carried, so hands are free to help each other while trekking. Sling bags / jholas / trolley bags etc not allowed on the event. Please pack accordingly.
Cover the bag with rain cover.
Things to Remember:
Basic toilet facility will be available at the base village.
We advise participants to not opt such event with any medicial issues.
We don't recommend participants to reach the base village with own vechile as considering complicated route & respecting everyone's time.
Smoking / drinking / Smoke up is strictly prohibited during the event. Anyone found will be expelled from the event immediately.
Trek Leader decision will be final & argument will be enterainted.
Participants Safety is the prime concern for us and will not compromise for the same.
Trek India is not Responsible for any baggage or personal belonging loss/damage and participant are responsible for the same.
Don't except VIP or Luxurious treatment, as we are going for the Trekking/camping, so be adventures and free.