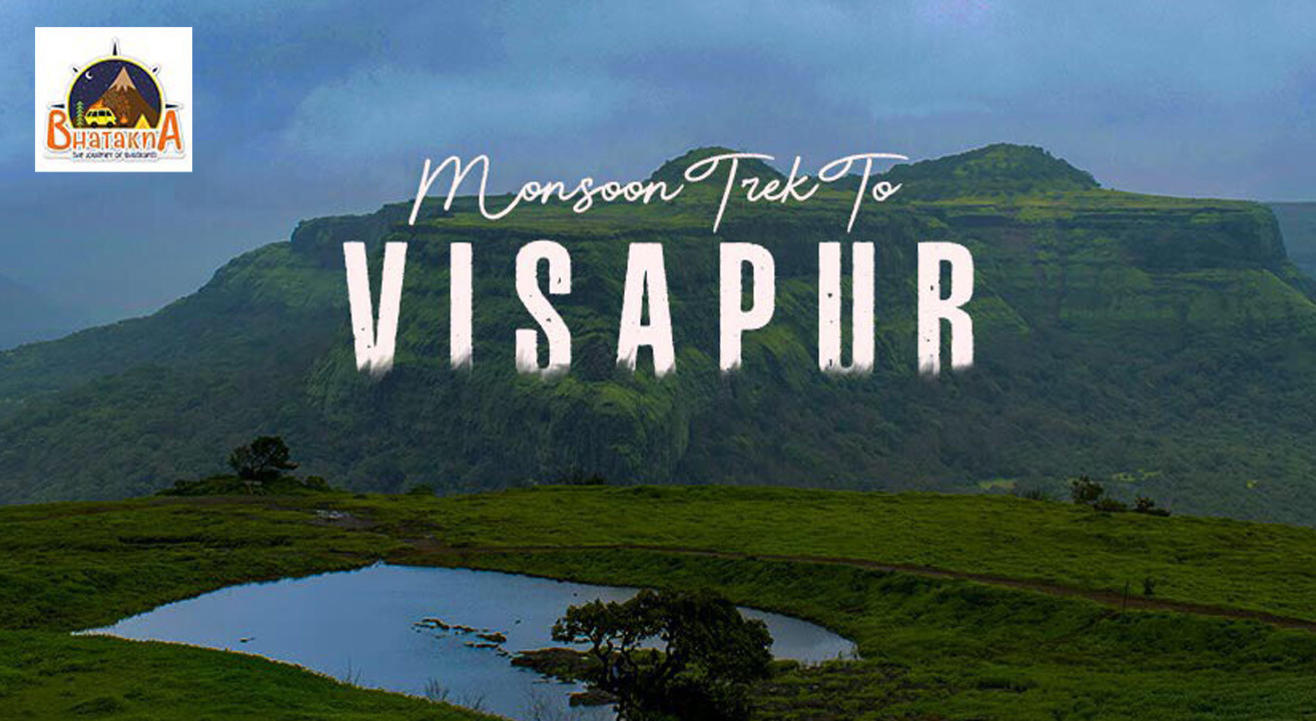 Trek
Monsoon Trek To Visapur Lonavala | Bhatakna The Journey Bhatkanti
About
The journey only requires you to put one foot in front of the other...again and again and again. And if you allow yourself the opportunity to be present throughout the entirety of the trek, you will witness beauty every step of the way, not just at the summit
Visapur Fort is located in the Pune district of Maharashtra. Attaining a height of 1,084m, this historic fortress was built during the late 1713-1720s. Steeped in history and some of the glorious tales of the past, this historic fort was built by the first Peshwa of the valorous Maratha Empire. But was later conquered by the British in 1818. Visapur Fort is larger and at a higher elevation than its twin fort- Lohagad. These two roofless buildings surrounded by outer or veranda walls said to have once been Government offices. There is a well which local legend says was built by the Pandavas. In 1885, near the north wall there was an iron gun ten feet long and of four-inch bore, marked with the
Tudor Rose and Crown, flanked by the letters E. R. This is probably a gun of Queen Elizabeth's reign probably taken as bounty from an English ship and presented to the Peshwa Khanoji Angre or some other commander of the Maratha navy. Like other guns on the fort, it has been disabled by breaking off its trunnions. Close to it are the remains of an old Mahadev shrine.
TRAVEL HELP:-
WE'LL BOARDING NON-A/C BUS FROM OUR NEAREST PICK UP POINT.
5.50 AM: - MEETING AT PRITAM HOTEL, DADAR
6.10 AM: - DEPARTED FROM DADAR TO VISAPUR FORT BASE VILLAGE.
6.30 AM: - PICK UP FROM CHEMBUR
7.10 AM: - PICK UP FROM VASHI
7.30 AM: - PICK UP FROM KHARGHAR

DAY 01: (Sunday)
MEETING POINT: - DADAR PRITAM HOTEL MEETING TIME: - 5.50 AM SHARP
06:10 AM: DEPARTURE FROM DADAR BY PRIVATE BUS
06:30 AM: PICKUP FROM K STAR MALL- CHEMBUR EAST
07:10 AM: PICKUP FROM VASHI- BELOW MAIN BRIDGE
07:30 AM: PICKUP FROM HOTEL 3 STAR- KHARGHAR BREAKFAST ON THE WAY
10:00 AM: REACH BASE VILLAGE (BHAJE VILLAGE),
11:00 AM: START TREKKING AFTER INTRODUCTION AND BRIEFING
01:30 PM: REACH TO THE TOP, HAVE FUN ENJOY THE STEPS WATERFALL OF FAMOUS VISAPUR FORT.
02:30 PM: START DESCEND & HAVE LUNCH
04:30 PM: REACH BASE VILLAGE & HAVE EVENING REFRESHMENTS
06:00 PM: LEAVE FOR MUMBAI
09:00 PM: ADIOS! BACK TO THE MUNDANE CITY LIFE. UNTIL NEXT TIME, BHATAKNA!
1 VEG / NONVEG / JAIN LUNCH
1 VEG BREAKFAST.
TRAVELING FROM MUMBAI TO LONAVALA & BACK
SAFETY & FIRST AID.
FORT ENTRY FEES.
EXPERIENCED BHATAKNA REPRESENTATIVES
EXTRA MEALS COLD DRINKS.
WATER BOTTLES
ANYTHING NOT MENTIONED ABOVE. CONFIRMATION ONLY AFTER FULL PAYMENT ON FIRST COME FIRST SERVE BASIS.
SO PLEASE REGISTER AT EARLIEST AND BOOK YOUR TENTS IN ADVANCE!
BOOKING IS NON REFUNDABLE.
NOTE ENTRY WILL BE CONFIRMED ONLY AFTER THE FULL PAYMENT.
Identity Proof.
Bottle of Water (at least 2 litres).
Wind-cheater.
Ready to eat food like plum cakes, dry fruits etc.
Jackets and Blanket as it would get cold in the Night and morning.
Cap, Camera.
Good Trekking shoes.
Personal care stuff, ORS, medicines which you require usually.
Haversack to put all the things in, please do not carry sling bags or jholas.
50 % refund if notified via phone conversation 3 days prior to the event date.
No refund if the cancellation requested is less than 3 days. No show No Refund.
Event Tickets cannot be transferred to another date against cancellation.
Event Tickets cannot be transferred to another person against cancellation.
Venue
Pritam Hotel, Dadar
Dharamputra, Survey No. 32, Pritam Estate, Dadar T. T, Mumbai, Maharashtra 400014