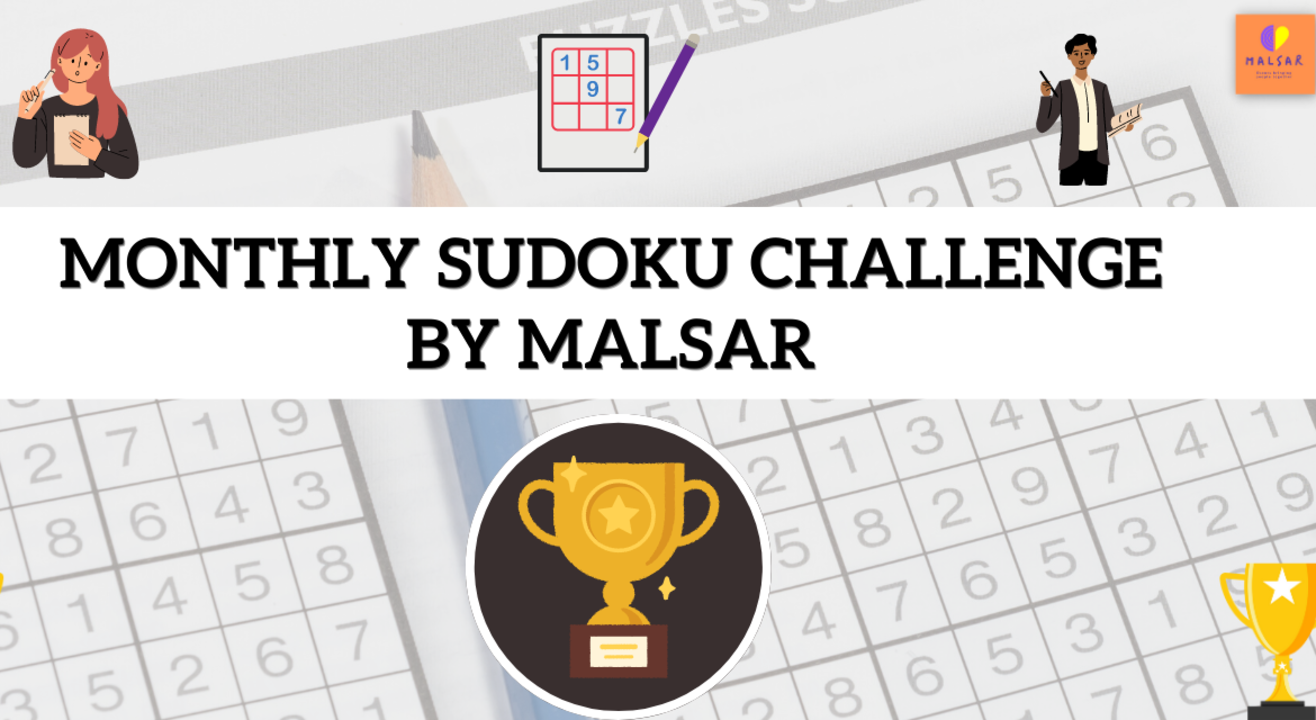 Monthly Sudoku Challenge by Malsar
Event Guide
For Age(s)
Family Friendly
Invite your friends
and enjoy a shared experience
Monthly Sudoku Challenge by Malsar
Event Guide
For Age(s)
Family Friendly
Invite your friends
and enjoy a shared experience
Event Guide
For Age(s)
Family Friendly
Invite your friends
and enjoy a shared experience
"Champions are those who practice without fail and implement learning."
What is Monthly Sudoku Challenge by Malsar?
Sudoku is not just a game, it is passion. We love to practice it every day and improve. However we don't know how we well we do compared to other. We also only know the 9*9 format of Sudoku.
With this MALSAR bring Monthly Sudoku challenge with various kind of theme based Sudoku, you can practice with others to see where they stand compared to other champions. It also make participants ready for the championship.
What is All India Sudoku Championship?
The name "sudoku" is derived from the Japanese suuji wa dokushin ni kagiru, which means "the numbers (or digits) must remain single. It's a puzzle with deep roots in Asian history and played across the globe.
All India Sudoku Championship is organised twice a year (Summer Edition and Winter Edition)by MALSAR . The events is attended by participants from Metro cities to small towns to even the remotest parts of India. This contest is aimed at spreading awareness and encouraging Sudoku culture in the country inspiring people of all ages to keep their minds young and rewarding the best Sudoku solvers of the country.
Why everyone should play Sudoku?
Studies have shown Sudoku increases concentration, sharpen their mind and reduce stress, it is an addictive habit that every child should have. Sudoku help to calm down and take much needed break from the daily chores. One of the acute benefit of playing sudoku is Patience.
Organisers will be releasing ranks for all qualified entries after each practice!
How to participate?
After successful registration, our team will add you to an online group (on WhatsApp) with all other participants for communication and coordination. All other details will be shared on the group itself.
Note:
Participants need Active Whatsapp connection, as communication will be done by the same.
There is no restriction of any kind anyone can participate .Our oldest participant has been 83 year old to youngest 11 year old.
Organisers will not be providing refund incase participant fail to attend the contest or any other reasons
Event is Organised by Malsar
For queries
Call : 9045382866 Whatsapp: https://wa.me/message/FWMGXTPN5VRYM1
Terms & Conditions
Tickets once booked cannot be exchanged or refunded
These terms and conditions are subject to change from time to time at the discretion of the organizer
Recording or uploading of the event is not permitted. Strict action will be taken against those who break these guidelines.
The time and date of the show may vary. In this case, the organiser will share the revised date and/or timing at the earliest.
There may be interruptions due to internet connectivity issue. We suggest you to have good speed internet connectivity
Monthly Sudoku Challenge by Malsar
Event Guide
For Age(s)
Family Friendly
Invite your friends
and enjoy a shared experience