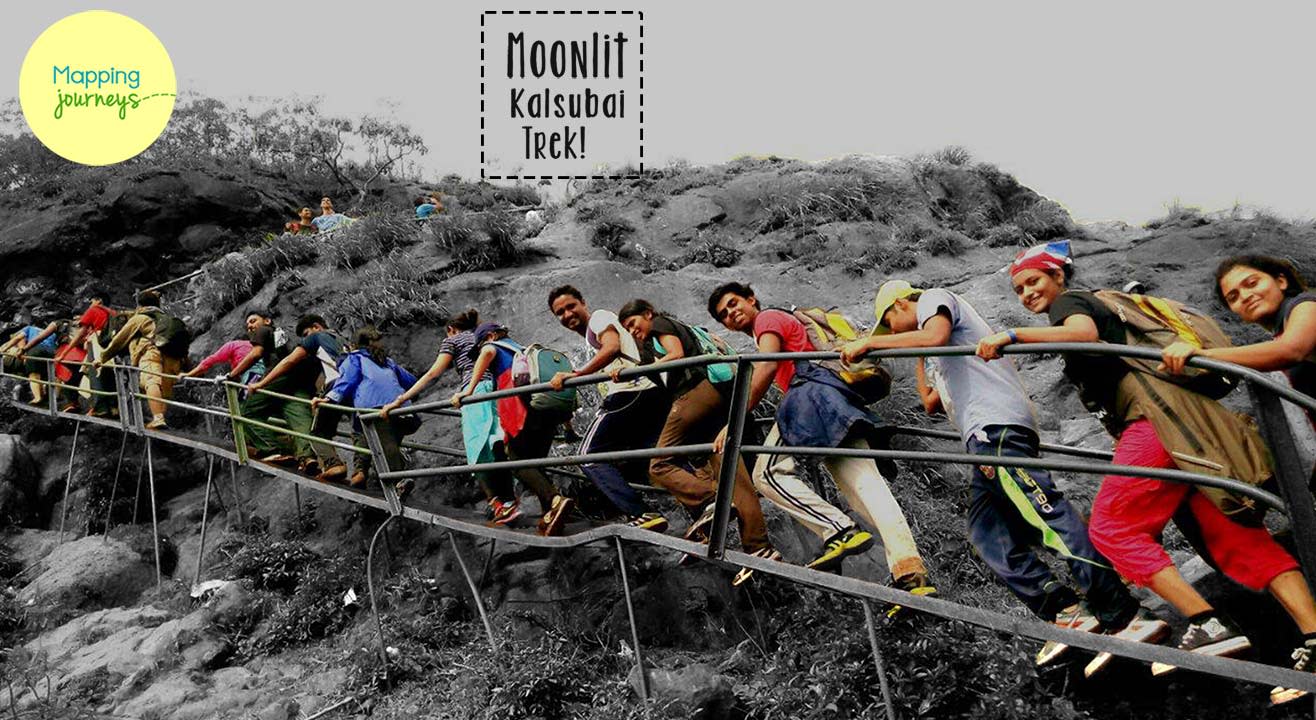 Trek
Moonlit Kalsubai Trek
February 24 - 25 | 4:30PM
About
Type: Peak.

Height: 5400 feet above MSL (approx).

Region: Kalsubai, Ahmednagar.

Grade: Above medium (first timers will face problems).


Till now, almost every traveller knows the answer to the very simple question -

Why Kalsubai?

Well, its the highest peak of the state. Standing tall at 5400 ft, there is no other place in Maharashtra higher than this that you can reach. After repeated requests by old and new travellers to conduct one night trek to Kalsubai, Mapping Journeys are delivering exactly what you had asked for. The moon on this very weekend is going to be your natural light source by the night till 2 AM.


About the terrain:

Kalsubai has one of the highest ascent to be covered under a day/night (800 m), this is the elevation difference from Bari. To cover this vertical distance, one needs to trek 5 km in total which can be further segregated into flat/climb/descent: 0.9 km/3.5 km/0.8 km. This trek can be done even by first-timers who lead a fitter lifestyle.
Day 1 - Saturday
You will catch the CSTM-Kasara Local
CSTM - 02:25 PM
Dadar - 02:38 PM
Kurla - 02:45 PM
Ghatkopar - 02:49 PM
Thane - 03:04 PM
Dombivli - 03:16 PM
Kalyan - 03:24 PM
Kasara - 04:34 PM

From Kasara, move towards the base village called Bari; the journey takes 2 hours.
By 07:00 PM, you will be reaching the village where hot tea and snacks will be served.
Dinner will be served at 08:30 PM followed by 45 minutes of rest.
At 11:00 PM, begin your ascent to the top. You will be trekking up to the point just before the final ladder patch where you will wait for the sun to rise/rest.

Day 2 - Sunday
Once the daylight is out, it will take another 1hr to reach the top. A good 30 min will be spent at the summit before starting your journey back to the breakfast point. After breakfast, continue your trek further down to the village which will take 3-4 hours.
At 01:00 PM, you will reach the base and get served with lunch.
After lunch and a quick rest of 30 minutes, the return journey to Kasara begins from where the people can go back to their destination.

Travelling from Kasara to Kasara in jeep.
Day 1 - tea, biscuits and dinner (vegetarian).
Day 2 - Breakfast, lunch (vegetarian/non-vegetarian).
Trek charges.
Guide and professional expertise.
Safety and first-aid.
Two local guides.
Three Mapping Journeys team members.

Meals during travel.
Personal expenses.
Insurance of any kind.
Medical hospitalization, evacuation and related expenses.
Any item not covered under 'inclusions.'

Mapping Journeys is an adventure travel organisation which aims to make exploration an acceptable form of travel and encourage everyone to venture outside their cubicle more often. The team comprises of adventurous folks with certified courses in mountaineering, rock climbing and first aid. They promote the learning of essential life skills through interaction with nature and its elements.