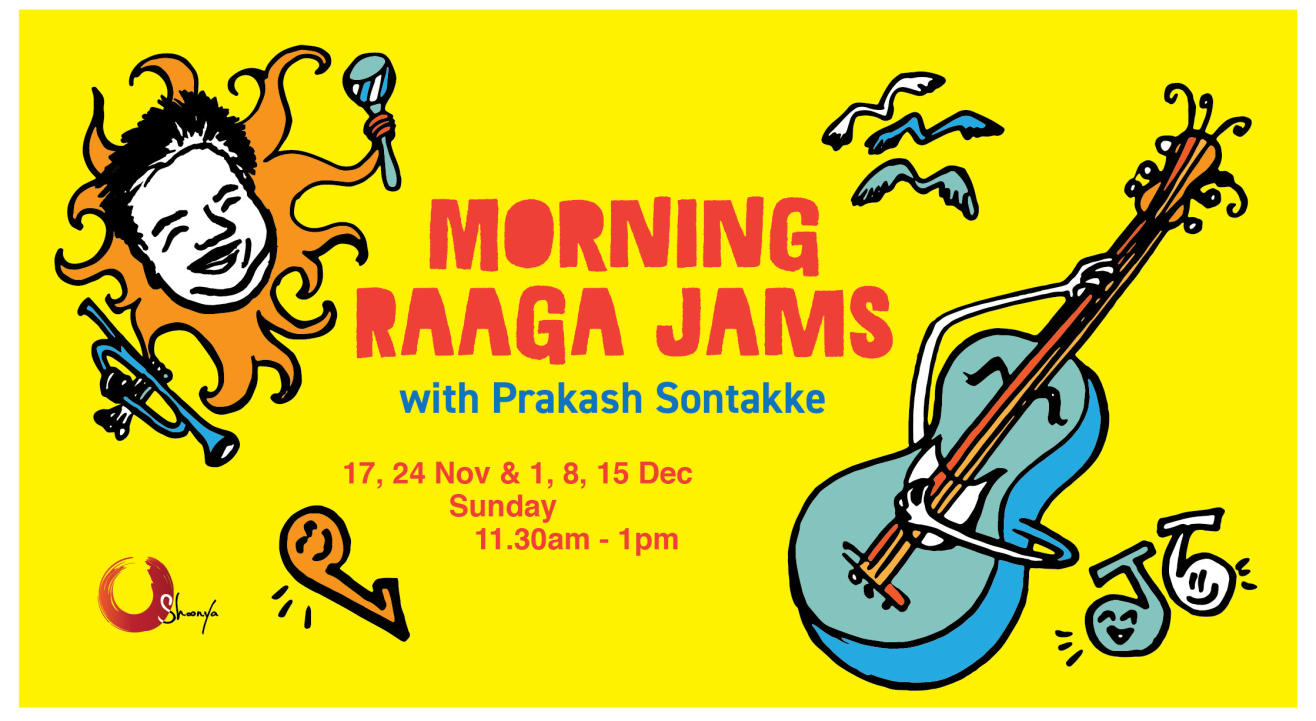 Shoonya - Centre for Art and Somatic Practices, Bangalore
Invite your friends
and enjoy a shared experience
Invite your friends
and enjoy a shared experience
About the Event
Prakash Sontakke and Shoonya presents Morning Raaga Jams.
Sunday mornings are for making music. Come with your friends come alone, bring your instruments, bring your voice jam, perform or listen and watch with Prakash Sontakke. Morning Raaga Jams is a performance plus jam session where Prakash along with a new mystery guest musician every week will jam with you and give a small performance.
To be a part of the session music enthusiasts are requested to register a WEEK in advance by sharing their work with Prakash. Please mail a small clip of your video to info@shoonyaspace.com with the subject line – "Morning Raaga Jams Entry".
For the first edition of the Jams we have Bruce Lee Mani of Thermal And A Quarter as the guest musician of the week.
There are limited spots open for the jam so register soon.
If you would like to watch, there's plenty of room.
|| ABOUT THE ARTIST
~Prakash Sontakke ~
A Vocalist , Multi Instrumentalist , Composer , Director Filmmaker , Innovator, Motivational Speaker and Traveller .
Performing in various genres of music, Classical and Fusion on the Hawaiian Slide Guitar and various other instruments, his concerts are marked with a unique sense of creativity and exploration.
A Co-Composer, Vocalist and Guitarist on the Grammy Winning Album "WINDS OF SAMSAARA" and the only one to have won the Independent World Music Awards, USA and the Nashville Award for composers where his composition was chosen over the maestro Illayaraja. Prakash, as an A grade artiste from Akashvani and Doordarshan with over 2000 Concerts experience, has toured extensively with his troupes namely "Dr Prakash Sontakke Group" (Progressive Hindustani Crossover ), and International Trio "Lehera" (World Fusion )
|| ABOUT SHOONYA
A space to learn, explore, and experience – Shoonya is a non-profit platform with the aim of helping people further their journeys of self-discovery through deeper engagement with the arts and somatic practices, located in the heart of Bangalore on Lalbagh Road. A light-filled space surrounded by beautiful palm trees, Shoonya is designed for people of different artistic disciplines and somatic practices to create, connect, and collaborate; and for the community to access the performing arts and somatic work to enrich ourselves and broaden our horizons. We host workshops, performances, open events, classes, film screenings, discussions, jams and more.
ನಮ್ಮ ಪರಿಚಯ:
ಶೂನ್ಯ ಲಾಲ್ಬಾಗ್ ರಸ್ತೆಯ ಬೆಂಗಳೂರಿನ ಹೃದಯಭಾಗದಲ್ಲಿ ಲಾಭೋದ್ದೇಶವಿಲ್ಲದ, ಬಹು-ಕಲಾ ಕೇಂದ್ರವಾಗಿದೆ. ಪ್ರಕಾಶ ಭರಿತ ಸುಂದರವಾದ ತೆಂಗಿನ ಮರಗಳಿಂದ ಸುತ್ತುವರಿದ ಈ ಸ್ಥಳವು ಕಲೆ ಮತ್ತು ಸೊಮ್ಯಾಟಿಕ್ ಅಭ್ಯಾಸಗಳಿಗೆ ವೇದಿಕೆಯಾಗಿದೆ. ಈ ಸ್ಥಳವು ಕಲಾವಿದರಿಗೆ ಮತ್ತು ಸಮುದಾಯಗಳ ಉಪಯುಕ್ತತೆಗಾಗಿ ನಿರ್ಮಿಸಲಾಗಿದೆ. ಶೂನ್ಯವು ವಿಭಿನ್ನ ಸಂಸ್ಕೃತಿಗಳಿಗೆ ಮತ್ತು ಎಲ್ಲ ವಯಸ್ಸಿನ ಜನರಿಗೆ ಕ್ರಿಯಾಶೀಲತೆ, ಕಾರ್ಯಕ್ಷಮತೆ, ಸಮಗ್ರ (ತನು, ಮನ, ಆತ್ಮ ಮತ್ತು ಭಾವ) ಅರೋಗ್ಯ ಮತ್ತು ಶಿಕ್ಷಣದ ಬಗ್ಗೆ ಇರುವ ಅರಿವು ಹಾಗು ಅನುಭವಗಳನ್ನು ಹಂಚಿಕೊಳ್ಳಲು ತೆರದಿರುವುದು.
Shoonya - Centre for Art and Somatic Practices, Bangalore
4th Floor, Rear Wing, Brahmananda Court, #37 Lal Bagh Road, Bangalore
GET DIRECTIONS