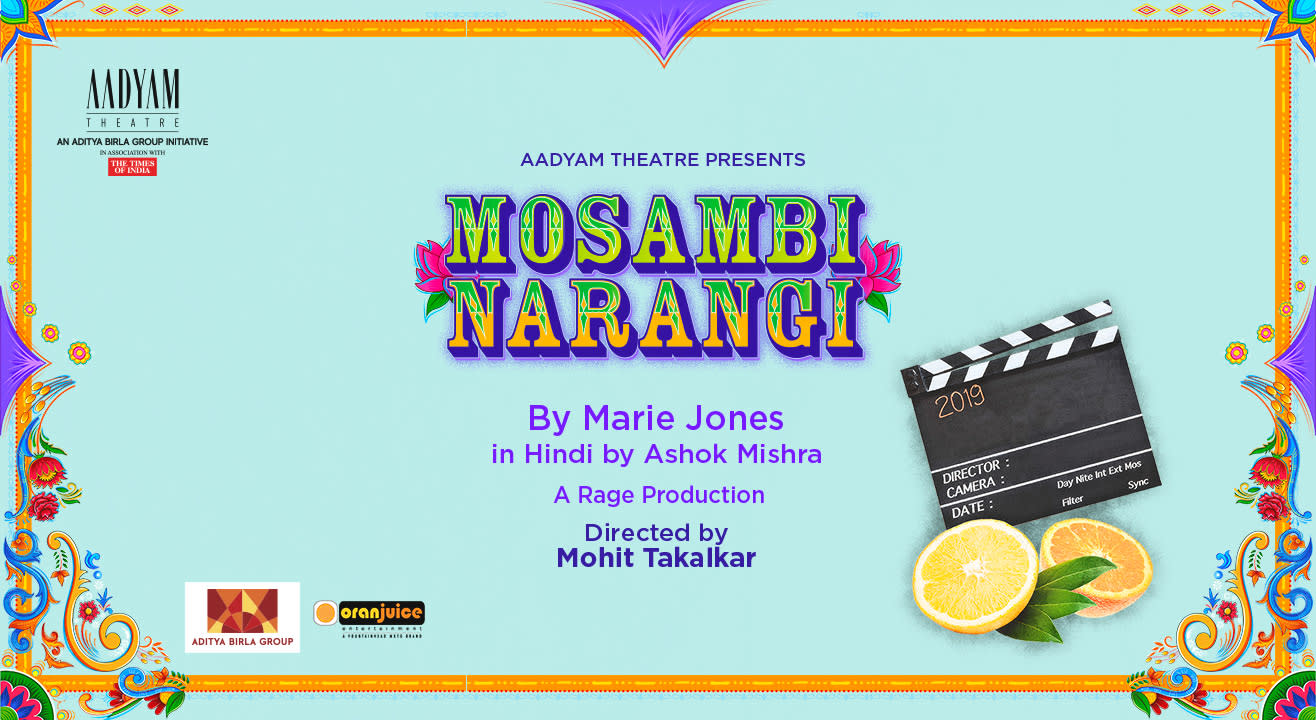 November 2 & 3 | 4 & 7:30PM
Step out and enjoy this event
Invite your friends
and enjoy a shared experience
November 2 & 3 | 4 & 7:30PM
Step out and enjoy this event
Invite your friends
and enjoy a shared experience
Invite your friends
and enjoy a shared experience
Mosambi Narangi
By Marie Jones
in Hindi by Ashok Mishra
Directed by Mohit Takalkar
A Rage Production
Lights, Camera, Action! The next big Hindi blockbuster Isaq Banaraswala is being shot on the Banaras Ghats. Two locals, Mosambi and Narangi, are thrilled at being cast in this epic film. The glitz and glamour of Bollywood have always been a part of their dreams. Now they have the chance to be in an actual potboiler, to sing & dance with the beautiful and famous heroine Sabrina, to fight the goondas, to become reel-life heroes! Narangi has just closed down his video shop and has great aspirations to get his own script made into a film. Mosambi has recently returned from Bombay and is enthralled by the beauty of the movie's leading lady.
But they are only two extras trapped and stuck on the set...in continuity! And as our two innocent protagonists struggle to understand the functioning of the Hindi film business, the make-believe glamour of Bollywood quickly fades away and the reality of being an extra kicks in.
Mosambi Narangi, translated from the award-winning Stones In His Pockets, is a comic yet poignant take on the effects of the great Bollywood Dream on a small town.
Assistant Director: Sahil Ahuja
Lyrics: Ashok Mishra
Music: Anadi Nagar and Kartavya Anthwaal Sharma
Set Design: Rachel D'Souza and Ashish Mehta
Costume Design: Rashmi Rode
Light Design: Sachin Sanjay Lele
Production Controller: Ayaz Ansari
Production Manager: Priyanshi Bahadur
Assisted by: Zeus Paranjpe
Make Up: Nandu Wadke
On Sound: Varrunn Bangera
On Lights: Gurleen Judge
Ajeet Singh Palawat
Rajit Kapur
Mohit Takalkar
Mohit trained as a professional chef, set up his own theatre group Aasakta in Pune in 2003. Active in various aspects of theatre, he has earned a reputation for the group and him, with his work. His plays have been regularly invited to national and international festivals. Having directed more than thirty plays, his first play was Girish Karnad's Yayati in 2000. Among his other notable plays are Mein Huun Yusuf Aur Ye Hai Mera Bhai, Chaheta, F-1/105, Uney Purey Shahar Ek, Comrade Kumbhakarna, Gajab Kahani, Garbo, Tu and Kashmir Kashmir. Also, film editor and director, his debut feature The Bright Day premiered at the Toronto International festival before being screened at London, New York and Shanghai International film festivals. He directed Chirebandi, a documentary on the life and works of Mahesh Elkunchwar for the Sahitya Akademi. His next feature is Medium Spicy, slated to release in March 2020. He has been awarded Ustad Bismillah Khan Yuva Puraskar, Homi Bhabha Fellowship, Shankar Nag Theatre Award, Aditya Vikram Birla Kalakiran Puraskar, Amrish Puri Award, Sahitya Rangbhoomi Fellowship, Zee Gaurav Puraskar, Mama Varerkar Puraskar, Maharashtra State Award etc. As a Charles Wallace Scholar he acquired a Postgraduate degree in Theatre Practice from the University of Exeter. He runs his own restaurant, 'Barometer' in Pune
Ajeet Singh Palawat
Ajeet graduated from the National School of Drama in 2010 with a specialization in acting. Working with veteran directors like K. N. Panikker, Anuradha Kapur, Robin Das, Mohit Takalkar, Abhishek Majumdar, Roysten Abel, he is recognized for his work in Virasat, Comrade Kumbhakarna, Edward 2, Mein Huun Yusuf Aur Ye Hai Mera Bhai, Gajab Kahani and Makardhwajan (Malayalam). Recipient of META 2016 BEST ACTOR critic citation and VINOD DOSHI FELLOWSHIP, he has acted in more than 35 plays. He has directed Kasumal-Sapno, an adaptation of A Midsummer Night's Dream in Rajasthani that has travelled across the country and won many accolades. Presently, he is working as a freelancer and is running his theatre group, Ujaagar Dramatic Association.



Rajit Kapur
Rajit's debut, a dream fulfilled on stage, was back in 1978 as Puck in William Shakespeare's, A Midsummer Night's Dream. After this, followed a series of assorted characters like Jim in The Glass Menagerie; Mr. Frank and Peter in The Diary of Anne Frank; Stanley in Broadway Bound, Dr. Rosenthal in Nuts; and Sher Singh in Larins Sahib (the first Indian play to be staged at the Edinburgh Fringe Festival in the late 80's). He has also acted in Are There Tigers in the Congo?, Love Letters, Gaslight, Six Degrees Of Separation, Jameela Bai Kalali, Class Of '84, Pune Highway, Me, Kash And Cruise, The Djinns Of Eidgah, One On One, Girish Karnad's, Flowers (a solo performance), A Walk In The Woods, The Siddhus of Upper Juhu and lately Twelve Angry Jurors. Rajit donned the Director's hat for The Wisest Fool On Earth (a one man show), Epilogue, Mahua (in Hindi) and Tennessee Williams', The Glass Menagerie and most recently Naqqaash (in Hindi). His television breakthrough came with a role in the tele serial – Ghar Jamai in 1986. His popularity increased when he essayed the title role in Byomkesh Bakshi, directed by Basu Chatterjee in 1992. His other television experience includes Yugantar, Junoon, Duniya & Kshitij Yeh Nahin. After a gap of 15 years Rajit was recently seen on television screens in Shyam Benegal's magnum opus Samvidhaan – The Making of the Constitution. Rajit's silver screen debut was in Suraj Ka Satvan Ghoda, directed by Shyam Benegal in 1993. This was followed by Mammo (in Hindi), Charachar (in Bengali), Limited Manuski (in Marathi). His other film credits include Ghulam, Well Done Abba, Yeh Mera India, Guzaarish, Shaitan, Ki & Ka, Baar Baar Dekho, The Gentleman, Begum Jaan, Phir Se, Do Paise ki Dhoop Chaar Aane Ki Baarish, The Threshold and Raazi. His commitment and prowess were acknowledged when he essayed the role of Mahatma Gandhi in Shyam Benegal's, The Making of the Mahatma, for which he received the National Award for Best Actor in 1995. He followed that up by winning the Kerala State Award for Best Actor in 1998 for his Malayalam film debut Agnisakshi. In 2010, he won the Best Actor award at the Imagine India Film Festival in Spain for Do Paise Ki Dhoop and Chaar Aane Ki Baarish. He has also won the Best Actor Award at the Indian Film Festival in New York in 2016 for The Threshold.
Kamani Auditorium, Delhi
1, Copernicus Marg, New Delhi, Delhi 110001, India
GET DIRECTIONS