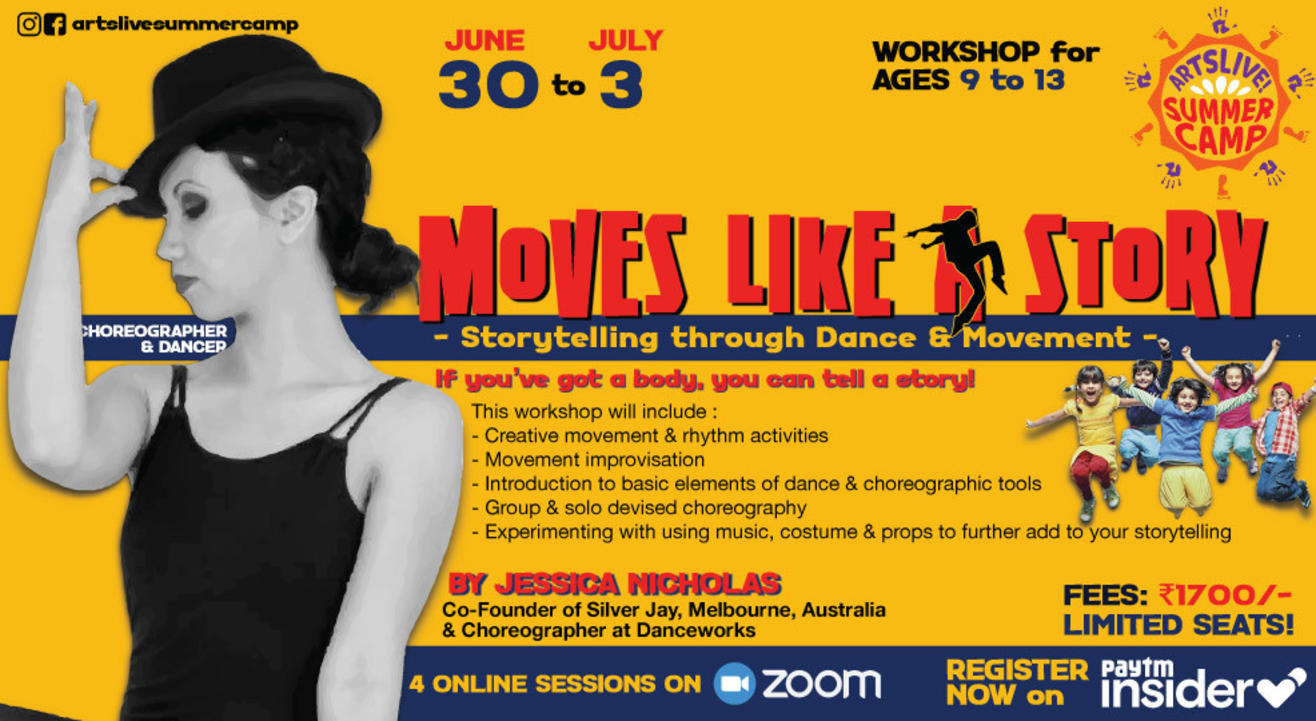 Moves Like a Story! Summer camp presented by ArtsLive
June 30 | 4:30PM - July 3 | 6:00PM
Invite your friends
and enjoy a shared experience
Invite your friends
and enjoy a shared experience
About the Event
If you've got a body, you can tell a story!
Movement is natural, we do it everyday. It allows us to speak without words – to express emotions, tell stories & and to communicate with one another. It's what connects us all as humans. In this workshop you will explore how to use movement to bring characters and stories alive.
Each day builds on the day before, leading to a final group piece completely created, choreographed & performed by the participants! Join us for this exciting workshop where we learn to use movement to create characters and tell your own stories in a safe & creative space.
Jessica Nicholas is a professional dancer, choreographer and movement specialist from Melbourne, Australia. She has over twenty years experience in performing and choreographing a variety of Jazz dance styles including Classical, Lyrical & Theater Jazz. As co-founder of Melbourne based children's theater company SilverJay Productions, Jessica also has extensive experience in developing, instructing and directing movement for the stage. Jessica currently freelances in Mumbai as a choreographer and movement specialist for children, recreational dancers, professional performers & dance companies such as The Danceworx. She teaches Toddler Dance & Movement classes at Tangerine Arts Studio, has been a visiting faculty member for the last 11 years at the Terence Lewis Professional Training Institute teaching Jazz technique and teaches Calisthenics & Jazz at the Institute of Classical & Modern Dance (ICMD).
The workshop includes 4 live Zoom Sessions with the Instructor.
This is the second in a series of 4 exciting and innovative Arts workshops for children with some of the best instructors and practitioners in the country - To be conducted entirely on Zoom.