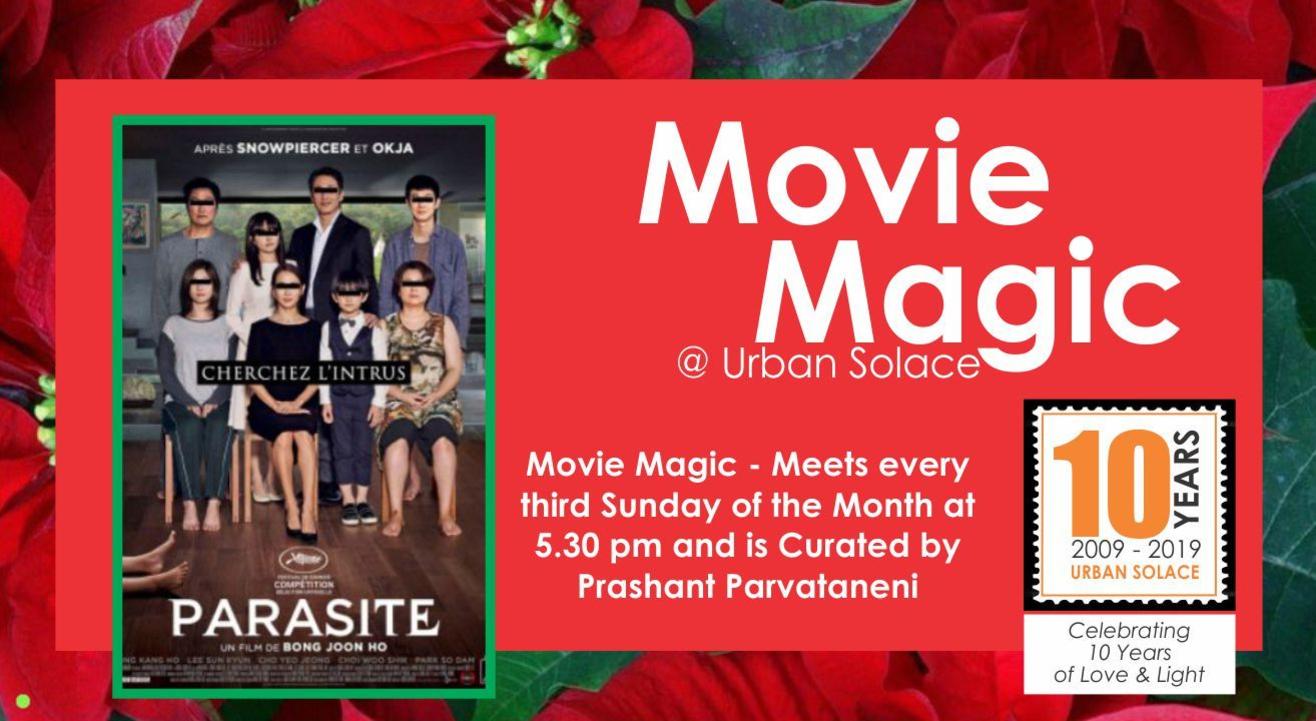 Movie Magic @ Urban Solace - December 2019 Edition
Invite your friends
and enjoy a shared experience
Invite your friends
and enjoy a shared experience
About the Event
ABOUT MOVIE MAGIC:
Movie Magic 2.0 is yet another initiative from Urban Solace, to bring you experiences that will enrich your life. And Movies with its multi sensory appeal connects with you at a deeper and more meaningful way. Screened in our new space "The Vortex @ Urban Solace" complete with a large screen and great sound, is the perfect setting to spend an afternoon in the company of other movie lovers in the city of Bangalore, watching and discussing the nuances of these specially chosen art films.
Film: PARASITE
Country: Korea
Language: Korean
Duration: 132 mins
Director: Bing Joon-ho
ABOUT THE FILM:
Parasite is a 2019 South Korean black comedy thriller film directed by Bong Joon-ho, who also wrote the film's story and co-wrote the screenplay with Han Jin-won. The film stars Song Kang-ho, Lee Sun-kyun, Cho Yeo-jeong, Choi Woo-shik and Park So-dam, and follows a young man from a poor household who begins to tutor a rich family's daughter. Alongside his parents and sister, he slowly starts to infiltrate their personal lives.
Parasite had its world premiere at the 2019 Cannes Film Festival on 21 May 2019, where it won the Palme d'Or, becoming the first Korean film to receive the award and the first film to do so with a unanimous vote since 2013's Blue Is the Warmest Colour. It was selected as the South Korean entry for Best International Feature Film at the 92nd Academy Awards.
The film was released in South Korea by CJ Entertainment on 30 May 2019, and in the rest of the world by Neon in late-2019. It received widespread critical acclaim and earned $120.7 million worldwide, becoming Bong's highest-grossing release.
ABOUT THE DIRECTOR:
Bong Joon-ho born September 14, 1969 is a South Korean film director and screenwriter. He garnered international acclaim for his second feature film Memories of Murder (2003), before achieving commercial success with his subsequent films The Host (2006) and Snowpiercer (2013), both of which are among the highest-grossing films of all time in South Korea. He became the first Korean director to win the Palme d'Or.
In 2017, Metacritic ranked Bong thirteenth on its list of the 25 best film directors of the 21st century. His films feature timely social themes, genre-mixing, black humor, and sudden mood shifts.
Curator: Prashant Parvataneni
Prashant works as an independent writer and researcher. He is part of "Brown-study - A collective of independent artists" Prashant also works with The Kabir Project at Srishti Institute of Art. He also teaches long and short term courses on art, literature, and cinema at colleges across Bangalore.
Urban Solace, Bangalore
32, Annaswamy Mudaliar Rd, Ulsoor, Bengaluru, Karnataka 560042
GET DIRECTIONS