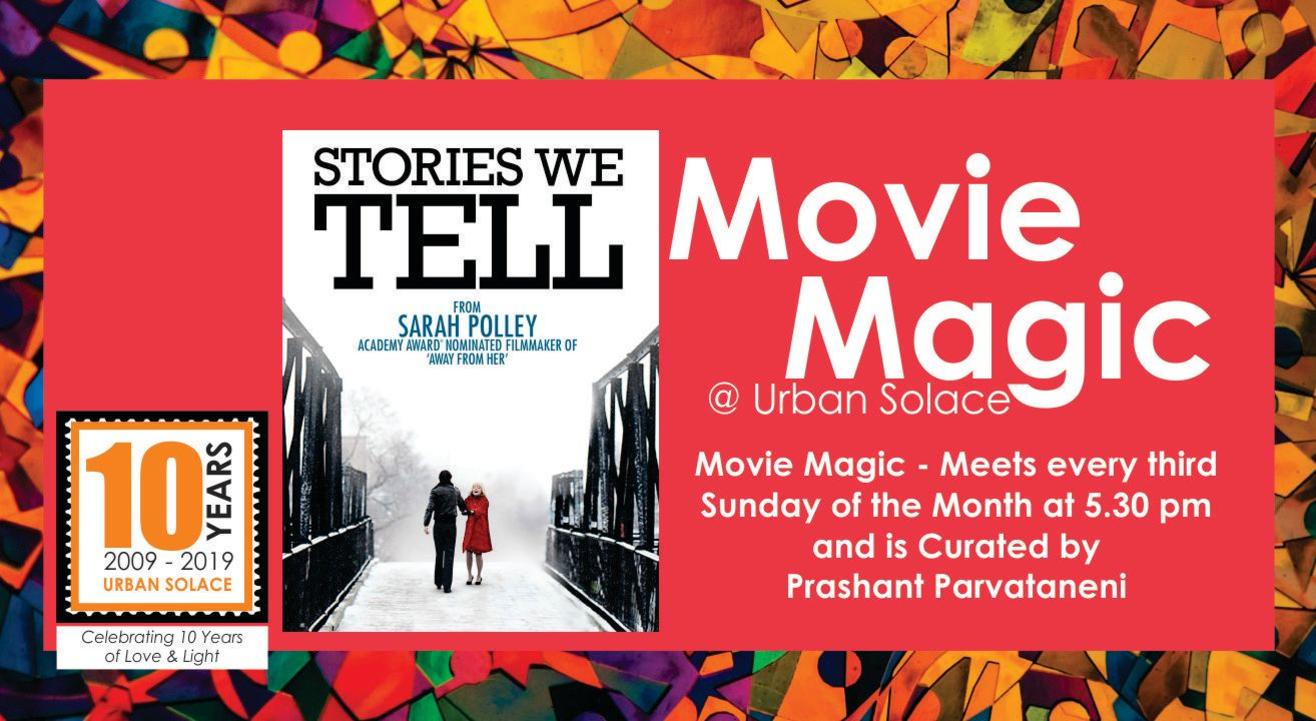 Screening
Movie Magic @ Urban Solace - November 2019 Edition
About
ABOUT MOVIE MAGIC:
Movie Magic 2.0 is yet another initiative from Urban Solace, to bring you experiences that will enrich your life. And Movies with its multi sensory appeal connects with you at a deeper and more meaningful way. Screened in our new space "The Vortex @ Urban Solace" complete with a large screen and great sound, is the perfect setting to spend an afternoon in the company of other movie lovers in the city of Bangalore, watching and discussing the nuances of these specially chosen art films.
Film: Stories We Tell
Country: Canada,
Language: English
Duration: 120 mins
Director: Sarah Polley
ABOUT THE FILM:
Stories We Tell is a personal documentary where the filmmaker, in the process of tracing the life of her mother, discovers an inconvenient truth which forces the family to rethink relationships, love, fidelity, and the nature of truth itself.
Sarah Polley plays with the film form mixing fictional reconstructions with interviews and in the process unravels a thrilling tale.
ABOUT THE DIRECTOR:
Sarah Ellen Polley OC (born January 8, 1979) is a Canadian actress, writer, director, producer and political activist. Polley first garnered attention as a child actress for her role as Ramona Quimby in the television series Ramona, based on Beverly Cleary's books. Subsequently this led to her role as Sara Stanley in the Canadian television series Road to Avonlea (1990–1996). She has starred in many feature films, including Exotica (1994), The Sweet Hereafter (1997), Guinevere (1999), Go (1999), The Weight of Water (2000), My Life Without Me (2003), Dawn of the Dead (2004), Splice (2009), and Mr. Nobody (2009).
Polley made her feature film directorial debut with Away from Her (2006), for which she won a Genie Award for Best Achievement in Direction and was nominated for an Academy Award for Best Adapted Screenplay.[1] Polley's second film, Take This Waltz(2011), premiered at the 2011 Toronto International Film Festival.
Her first documentary film, Stories We Tell (2012), was awarded the $100,000 prize for best Canadian film of the year by the Toronto Film Critics Association. In 2017, Polley executive produced the film A Better Man (2017), and wrote the miniseries Alias Grace, based on the 1996 novel of the same name by Margaret Atwood, which Polley began adapting in 2012.
Curator: Prashant Parvataneni
Prashant works as an independent writer and researcher. He is part of "Brown-study - A collective of independent artists" Prashant also works with The Kabir Project at Srishti Institute of Art. He also teaches long and short term courses on art, literature, and cinema at colleges across Bangalore.
Venue
Urban Solace, Bangalore
32, Annaswamy Mudaliar Rd, Ulsoor, Bengaluru, Karnataka 560042
GET DIRECTIONS