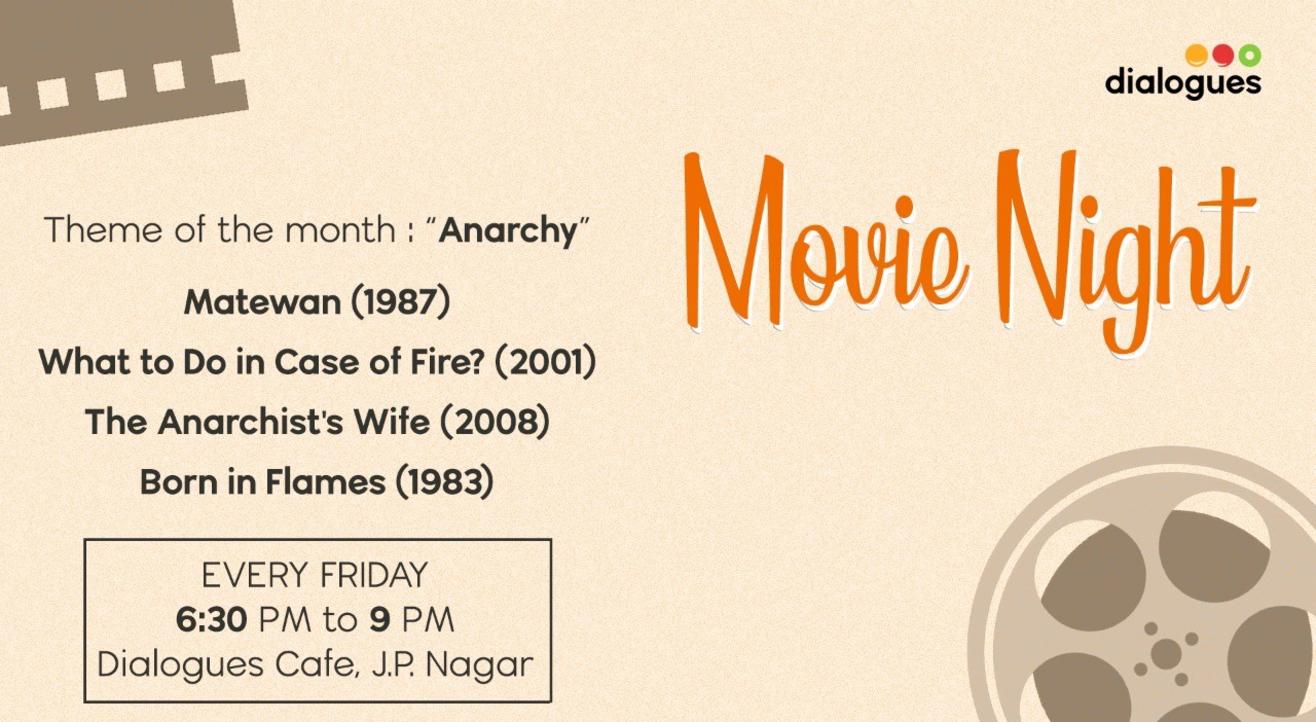 Screening
Movie Nights at Dialogues
About
Remember Remember the Month of November - Movie Nights at Dialogues
The revolution that stirred London in the early 17th Century took the all-famous name of Gunpowder Plot, but several such revolutions by the people of a country formed waves in the socio-political history of several other regions. Cinema has worked as a lens and mirror of society and some of the best views, potrayed through a movie, will be screened this month.
Matewan - 8th November
What to Do in Case of Fire - 15th November
The Anarchist's Wife - 22nd November
Born in Flames - 29th November
Every Friday night, 6:30 pm onwards at Dialogues, J.P Nagar
1) Matewan (1987)
An American drama film written and directed by John Sayles which dramatizes the events of the Battle of Matewan, a coal miners' strike in 1920 in Matewan, a small town in the hills of West Virginia. The film was nominated for the Academy Award for Best Cinematography.
2) What to Do in Case of Fire? (2001)
A German film directed by Gregor Schnitzler. It premiered in November 2001 at the German film festival Kinofest Lünen and was released to theaters in 2002. Part comedy, part action and part drama, the movie is set in contemporary Berlin.
3) The Anarchist's Wife (2008)
Set during and after the Spanish Civil War and World War II, this film is one of the few films addressing anarchism written, directed, and produced (Marie Noelle) by a woman. It depicts the story of a woman and her family as they struggle to reconnect with her husband who fought against Franco's forces, was caputured and deported to a concentration camp, and was unable to contact anyone for years.
4) Born in Flames (1983)
A documentary-style feminist fiction film by Lizzie Borden that explores racism, classism, sexism, and heterosexism in an alternative United States socialist democracy. It portrays a futuristic image of America reborn as a socialist democracy pushed toward anarchist activation.
Venue
Dialogues Cafe, JP Nagar
57, 15th Cross Rd, Gangadhar Nagar, JP Nagar Phase 6, JP Nagar, Bengaluru, Karnataka 560078
GET DIRECTIONS