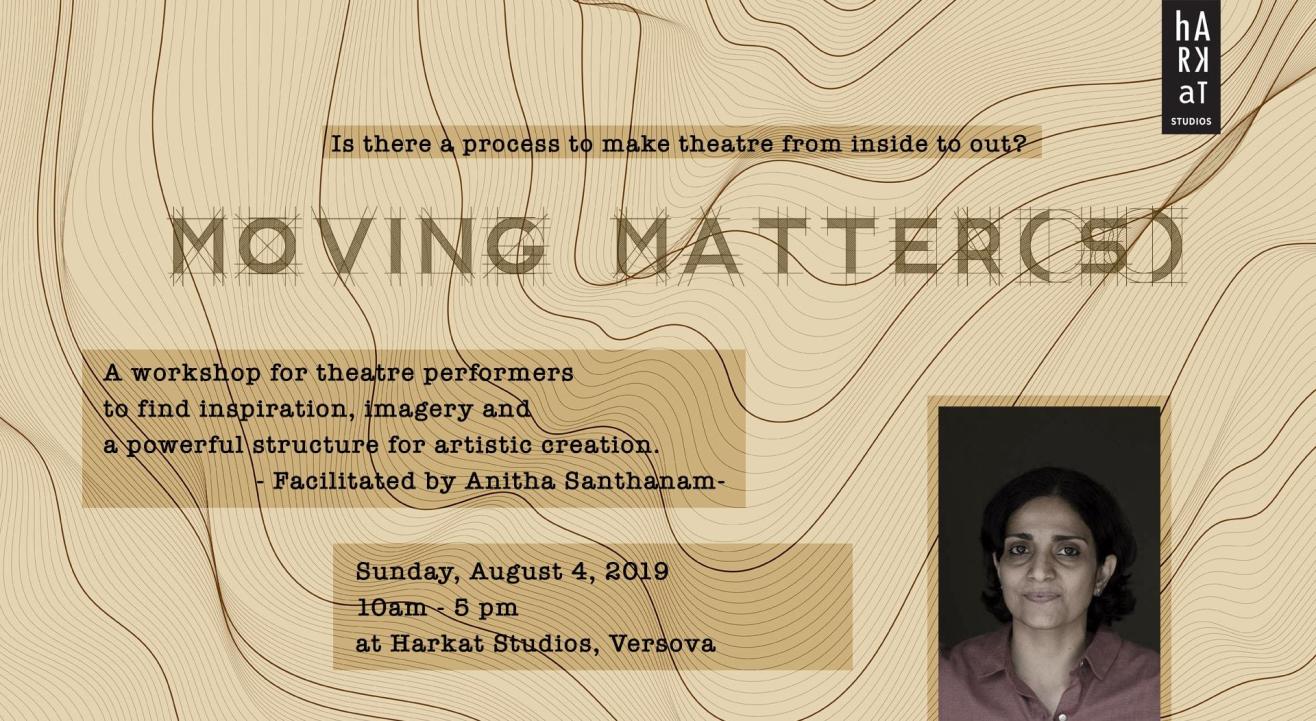 Theatre
Moving Matter(s)
Harkat Studios, Versova, Mumbai
About
About the workshop:
Can theatre emerge from an inner impulse, a sensation, a feeling, an image, a dream?
Can narrative originate in the movement dynamic of the body?
Are events and external stimuli the only way to make theatre, or can the body be a storehouse of stories?
Is there a process to make theatre from inside to out?
Using Lecoq based physical/devised theatre work and multi-modal creative processes, this one day workshop Moving Matter(s) facilitated by Anitha Santhanam, will help performers find inspiration, imagery and a powerful structure for artistic creation.
Duration: 7 hours.
Price: 2800/-
************
About Anitha:
Anitha Santhanam is a seasoned performer and facilitator with over a decade of work in dance and theatre in India and abroad. She is a two time awardee of the Charles Wallace India Trust scholarship, through which she completed a two year Advanced Diploma in Creating Theatre and Performance and Pedagogical training in Lecoq based work from LISPA London.Her work as director includes Bhima, Mundhirikotte, Beyond the Bubble, Un- tell Re-tell, No-tell, The Flowering Tree and Dhuddu Kaasu Dabbu Currency. As an actor her recent work includes Fish Tree Moon written by Yo Sup Bae and Monkey and the Mobile by Rajiv Krishnan.
Earlierwork includes Ms Meena, An Arrangement of Shoes and Vanaprastham. She is a faculty on the FECAT (an expressive arts therapy training) program at SMART, Bangalore. With creativity and self-exploration and expression as its core, her work spansperformance, therapy and education.
Date & Time:
4th August, 10 am.
Location:
Harkat Studios, Bungalow #94, First Floor, Aram Nagar 2 (just behind Mata Mandir), Versova, Andheri West.
KINDLY NOTE OUR NEW LOCATION IS ON THE 1ST FLOOR AND NOT WHEELCHAIR ACCESSIBLE!!! WE'RE WORKING ON FINDING A SOLUTION.
Venue
Harkat Studios, Versova, Mumbai
HARKAT STUDIOS, BUNGALOW 94, FIRST FLOOR, ARAM NAGAR 2, VERSOVA, ANDHERI WEST, 400061-MUMBAI