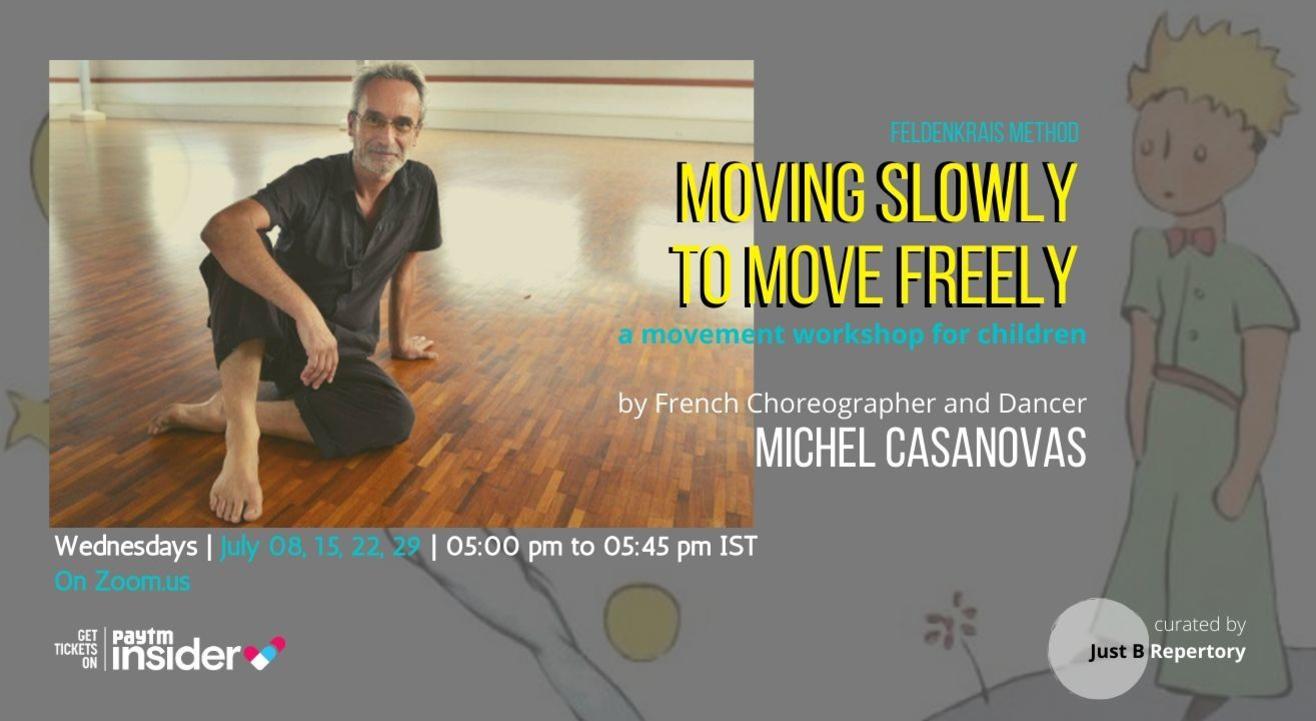 Moving Slowly to Move Freely | Children's Workshop by Michel Casanovas
Invite your friends
and enjoy a shared experience
Invite your friends
and enjoy a shared experience
About the Event
About 'Moving Slowly to Move Freely' Workshop:
This workshop, especially designed for children of the ages 12 years and above, seeks to bring back the body in resonance with inner and outer space, through mind-body explorations, using the Feldenkrais Method and a creative, playful, movement approach, as an invitation to stay curious and alert...
The Feldenkrais Method (Awareness Through Mouvement) was devised by Israeli engineer, physicist, and athlete, Moshé Feldenkrais, during the mid-20th century. The method, using gentle and mindful movements, is claimed to reorganize connections between the brain and body.
About Michel Casanovas:
Michel Casanovas​ is a French dancer, choreographer and Feldenkrais practitioner, who has studied Ballet and Contemporary Dance. As a professional dancer, he has worked in various reputed theatres and dance companies in France, Belgium and Switzerland. Since 1996, he has been the co-founder, dancer and choreographer of Morespace, Basel based dance company in Switzerland. In 2015, he founded the ONA association in Collioure (South of France). Since 2006, Michel has been regularly teaching Contemporary Dance, Improvisation and the Feldenkrais method in India.
Language: The session will be conducted in English
Participants: For children of ages 12 years and above, however we have longer sessions for adults on Saturday mornings in July 04,11 18, 25th. Parents/Guardians can accompany children to assist during the session
Duration: 30-40 minutes movement, 15 minutes interaction
Requirements:
Participants need a yoga mat and a big towel (rolled up to be used as a pillow or for support for knees)
Space enough to lie down and with arms and legs extended, and roll from side to side
The mic will be muted and the camera on to help the instructor monitor the movement
About Just B Repertory:
Just B Repertory (JBR) is a performing arts company founded in February 2020 by theatre and film actor-dancer Bhavna Pani. The company's primary focus is on creating, producing, curating Dance-Theatre along with text-based devised work.
Pani is also the Artistic Director of the company, and her experience and training as a performer expands over two decades.
Suruchi Pawar, a Cultural Producer and Independent Arts Manager based in Bombay, is a Producer at JBR.
To know more, visit
bit.ly/JBR-Instagram
bit.ly/JBR-FB