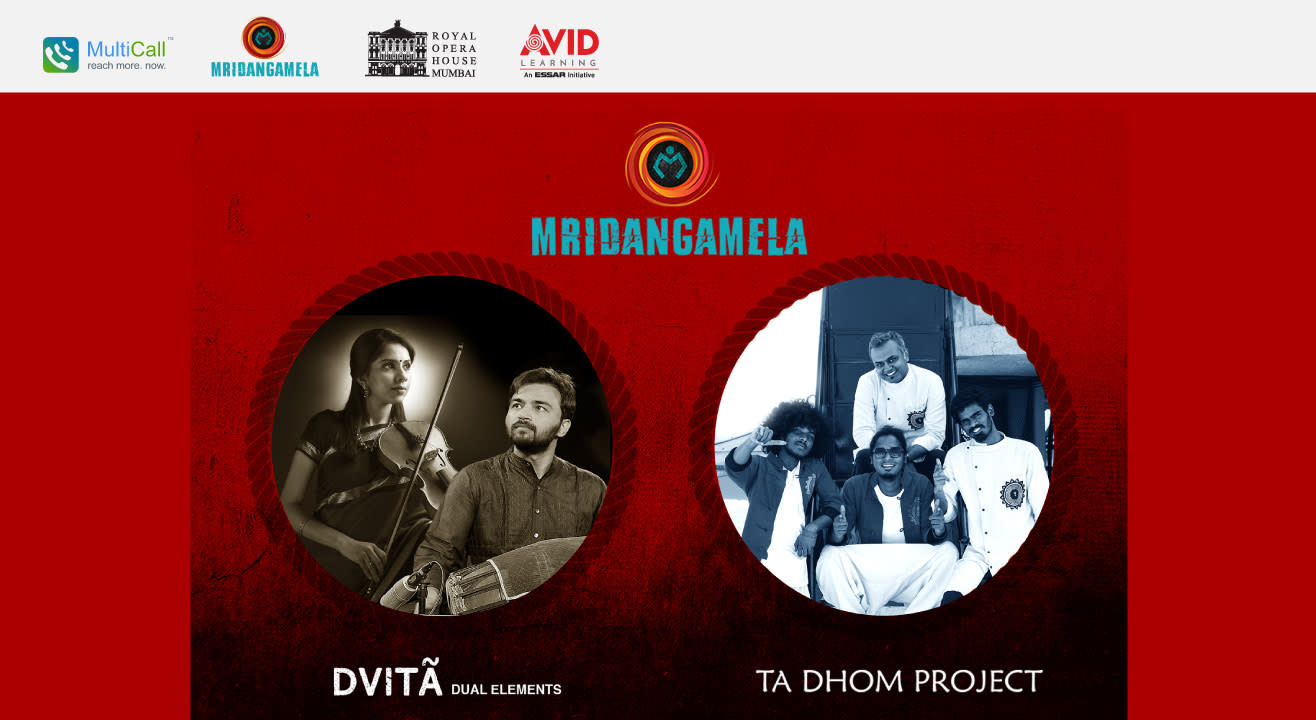 MridangaMela : A Fusion Carnatic and Contemporary Music Performance
The Royal Opera House, Mumbai
Invite your friends
and enjoy a shared experience
Invite your friends
and enjoy a shared experience
About the Event
Mridangam is the ancient sound of gathering which draws listeners in with a dizzying array of sound and rhythm.
MultiCall, Royal Opera House, Mumbai and Avid Learning present MridangaMela a fusion Carnatic and Contemporary music performance showcasing a unique representation of Mridangam in both traditional and contemporary treatments.
Dvita - Dual Elements, a Carnatic instrumental duet with young virtuosos Anantha R. Krishnan on Mridangam and Charumathi Raghuraman on Violin will explore duality in performance: sound and silence, rhythm and melody, improvisation and composition and exhilaration and respite.
Multi Instrumentalist Musician, Composer and Producer Viveick Rajagopalan with his unique Rap Collective, Ta Dhom Project for the first time in the history of Indian Music, will bring together Carnatic Classical Rhythms, Vocal percussion and street rap in the most unique manner and highlight the musical practice of Konnakol, the art of performing percussion syllables vocally in South Indian Carnatic music.
All the artistes will come together at the end of the evening to perform an invigorating finale.
At The Royal Opera House, Mumbai, we recognize the importance of leveraging our stage to showcase the beauty, skill and timelessness of our classical music genres and instruments while also exposing our audiences to multidisciplinary cross-genre experiences and fusion collaborations. This multidisciplinary evening is representative of our vision of blurring the boundaries between the traditional and the contemporary and bridging the gap between our rich past and cutting-edge future.
Come celebrate the diversity of rhythm and discover new dimensions to classical music!
Viveick Rajagopalan is a musician and composer, straddling both worlds with equal ease. Trained under the Carnatic tradition on the majestic percussive instruments mridangam and kanjira, Viveick uses his classical roots to compose music that moves between many styles. His music is stamped with this unique sound, reflecting his influences from electronic, drum-n-bass to jazz and folk. His ability and determined diligence to retain the unique flavour of Indian music while seamlessly integrating it into his collaborations and performance, is unmatched among many other musicians of his time. His work has won him several awards, from the Most Mind Blowing Music Video Award at AVIMA in 2009 for 'Snake in the City', to Best Folk Fusion Artist Award at the Radio City – Freedom Radio Awards in 2013 for his single 'Quest'. Over nearly 2 decades as performer and composer, Viveick has toured and collaborated with musicians from all over the world. He performed at the International Jazz Festival '96, Thailand, at the age of 18, along with Dinshaw Sanjana and a host of talented Jazz artists. He represented India at the Commonwealth Concert Tour in 2002 with Music director, Courtney Pine and other well-known musicians from the Commonwealth nations. Viveick is the disciple of Guru Shri T.S .Nandakumar. He is a musician and composer who is always seeking to push boundaries & obliterate them to make different sounds come together. He has collaborated with a galaxy of artists like Richard Bona, Bugge Wesseltoft, Chinese Man, Shri, Bauchklang and Lucky Ali to name a few. His Ta Dhom Project performed at some of the biggest festivals like WOMAD, OSLO MELA,SHAMABALA and lot of the other venues in UK and Europe. One of the most successful Bollywood films "Gully Boy" had his track India 91 which was inspired by the sound of "Ta Dhom Project".

Anantha R. Krishnan started his musical journey on the mridangam, the principle drum of the Carnatic tradition. The grandson and disciple of the great mridangam maestro, Shri. Palghat R. Raghu, he first learned the fundamentals of the mridangam under his uncle, Shri. R. Ramkumar and then began an official tutelage under his grandfather at the age of five. He performed his first concert at the age of seven and before the age of twenty performed alongside a rare generation of Indian classical musicians like, Dr. M. Balamuralikrishna, Pandit Hariprasad Chaurasia, Prof. T.N. Krishnan, Dr. KJ Yesudas, Mandolin Srinivas, among many others. During this period, he received numerous awards from traditional organizations of classical music in India. Most notably, he has won the categorical Best Mridangist Prize from the flagship institution for promoting classical Indian music, the Music Academy, Madras, five times. He was awarded the State of the Arts Award from the New Jersey government twice in 1997 and ­1998 as part of the National Endowment of the Arts' effort to promote cultural awareness in the U.S.A. In 1999, he was invited to perform for the Millennium celebrations in Berlin, Germany at the Haus der Kulturen der Welt and at the EXPO 2000 in Hanover. A year later, he performed at the historic Sadler's Wells Music Festival in London. In fall of 2006, at the invitation of Fred Frith, the British experimental guitarist he performed for the seminal New Jazz Meeting for SWR 2, a national radio station in Baden Baden. In October of 2007, he was invited by Rudresh Mahanthappa to perform with the group, Samdhi, at the Festival of the Firsts in Pittsburgh, PA. In July of 2011, he performed in a Carte Blanche Artist Series at the North Sea Jazz Festival in Rotterdam with the same group and was the first mridangam artist to appear in Carnegie Hall's Shape of Jazz series in NYC, all with the group Samdhi. In May of 2008, he was a featured soloist in the Grammy nominated, Miles from India tour, which premiered in Town Hall, NYC presenting the great Miles Davis's music with Indian instrumentation featuring jazz legends: Ron Carter, Dave Liebman Lenny White, Ndugu Chancler, and Pete Cosey. In November 2014, he was invited to perform at the opening ceremony music for International Film Festival (IFFI)l in Goa and the closing ceremony of the National Games 2015 in Trivandrum with the actor danseuse Padmashri Shobana. In 2016 Spring, he was invited to perform with Ustad Zakir Hussain and the Masters of Percussion (MOP) through the United States and Europe. In 2018, MOP ensemble performed in Kathmandu to commemorate seventy year India- Nepal diplomatic relations. In May of 2018, Anantha performed with Kammern Ensemble- neue Musik for the prestigious Berliner Festspiele, MaerzMusik edition for the premiere of Memory Space by Alvin Lucier. Anantha holds a B.A. in Western Music and Philosophy from Dartmouth College in New Hampshire, and a Masters of Fine Arts in Electronic Music and Percussion from Mills College, California. He is also a special interest student of tabla under Ustad Zakir Hussain. He appears on Intakt Records, Echo Music and ACT Records. He currently serves as faculty of percussion at A.R. Rahman's KM Music Conservatory in Chennai, India.

Charumathi Raghuraman is a young violin virtuoso in the Carnatic, South Indian music tradition. A precocious talent, she started learning first from her mother Smt. Rama Raghuraman, then continued formalised training with the respected Guru Smt. T.R. Balamani in Mumbai, and soon thereafter, at the suggestion of the iconic violinist of South India, Padma Bhushan Prof. T. N. Krishnan, Charumathi became his ardent disciple in 1995. She also studies Carnatic vocal music with the renowned teacher Padma Bhushan Sri. P. S. Narayanaswami. She played her debut concert along side Prof. T. N. Krishnan in 1998 and since then has been performing regularly both as a soloist and accompanist. The salient features of her musicianship include the rare combination of a pure sound and erudite content. She not only excels in the instrumental technique of the violin but is equally adept in reproducing vocal nuances mellifluously. She has been awarded the CCR&T, Govt. of India scholarship from the age of ten. She is the recipient of many awards; some of the notable ones include the 'Kalki Krishnamurthy Memorial Award' for the year 2016, 'Ramabhadran Centenary Award' for the Most Promising Young Musician of the Year 2013 from Tag Corporation, India; 'Young Achiever award' from Rotary Club; 'Best Violinist' awards for the years 2001, 2002, 2004 and 2006, and the 'Outstanding Young Violinist' award in 2007-08 from The Music Academy (Madras); and 'Best Violinist' awards from various institutions like Narada Gana Sabha, Sri Krishna Gana Sabha, Indian Fine Arts Society etc. She is an 'A grade' artist of the All India Radio and Doordarshan. Charu has traveled widely across India and abroad to perform in prestigious music festivals and institutions over the last 15 years. In 2011, Charu was invited to participate in The Woodford Folk Festival, an annual music festival held in Brisbane, Australia. A year later, Charu was part of a cultural delegation organized by ICCR (New Delhi) to tour Brazil. She also participated in a collaborative concert with the Sacramento Philharmonic Orchestra, USA. In May 2016, Charu was invited to perform a solo concert at The Bhavan, London, as part of their Mandolin Shrinivas Memorial Concert Series. She has traveled widely for other performances in USA, UK, Europe, Australia, New Zealand, Middle East, Singapore etc. Academically, she holds a Master's degree in Business Administration from Xavier Institute.

Ta Dhom Project by Viveick, for the first time in the history of Indian Music, brings together Carnatic Classical Rhythms, Vocal percussion and street rap in the most unique manner; a project where rap is set to an intricate form of Carnatic vocal percussion called "Konnakol". It features multi-lingual rappers who are very young and represent a counter culture of the Mumbai city. This was released as an E.P. of …. Tracks. While the sub-continent was waking up to the Hip Hop scene in India through critically acclaimed Bollywood director Zoya Akhtar's 'Gully Boy' in 2019, Viveick was way ahead. Coming from a less privileged social class does not stop the young rappers from using their skills to spread the right message. India 91, the track in Gully Boy is stamped with this very sound. Internationally, Ta Dhom Project was amongst the top 18 showcase artists from across the world at the WOMEX 2018 Edition at Las Palmas de Gran Canaria, Spain, "playing to a tough crowd of industry insiders whose basic attitude is 'impress me'" (Peter Culshaw, theartsdesk.com). What followed was an invitation to play at WOMAD UK in Aug 2019, where "the crowd were almost immediately won over to the idea of mixing Konnakol, the vocal percussion style that is part of Carnatic South Indian traditions with contemporary rap. With added earthy bass from veteran Shri, the percussion and vocal acrobatics went down a storm". (Peter Culshaw, theartsdesk.com) BBC WORLD SERVICE featured their performance at WOMAD on the ARTS HOUR. Ta Dhom Project also performed at the OSLO MELA, SHAMBALA and a few other venues as a part of their Europe tour in 2019.
Four calls of two people each is not the same as one call of four people - MultiCall.
The newest way to call. Using MultiCall, you can call many as easily as calling one. It's the fastest and simplest way to connect with your family, friends and colleagues in one go. Yes, you can call many instantly. Just the way you make a regular phone call.
With features like call scheduling, call monitoring, call recording and call-me-on, MultiCall gives you a complete calling experience. Experience crystal clear sound quality and an uninterrupted conversation with every MultiCall you make. Available on App Store and Google Play. Download today to experience free 4 party calling..

Royal Opera House, Mumbai is widely touted as Mumbai's Cultural Crown Jewel and India's only surviving Opera House. The original idea for the space was conceived of in 1908, inaugurated in 1911 by King George V, and eventually completed in 1916. The design incorporated a blend of European and Indian detailing. The space became a cinema in later years before falling into disrepair and shutting by the 1990s. Fittingly, the space has been owned by the Royal Family of Gondal since 1952 and was eventually restored by conservation architect, Abha Narain Lambah under the leadership of His Highness, Maharaja Shri Jyotendrasinhji of Gondal. The Royal Opera House Mumbai, now one of the last remaining Baroque structures in the city, reopened after 23 years in October 2016. The building was included on the 2012 World Monuments Watch to raise awareness about its history and significance, and support preservation efforts. The building has since been recognized with an Award of Merit in the 2017 UNESCO Asia-Pacific Awards for Cultural Heritage Conservation. The restored facilities feature a 575-seater 3-level auditorium with an orchestra pit and state of the art technological upgradations, including acoustics, stagecraft, lighting and air-conditioning, alongside retaining the old-world charm of the proscenium stage, the royal boxes and the magnificent regal chandeliers. Some more enhancements to the venue include a motorized screen, co-axial ceiling speaker system, Four-zone volume control and all round wifi access. Today, it stands as a key performance and creative hub in the city's cultural landscape, while being a premier heritage landmark.

Avid Learning, a public programming platform and cultural arm of the Essar Group, has conducted over 1150 programs and connected with more than 140,000 individuals since its inception in 2009. Driven by the belief that Learning Never Stops, AVID's multiple formats like Workshops, Panel Discussions, Gallery Walkthroughs, and Festival Platforms create a dynamic and interactive atmosphere that stimulates intellectual and creative growth across the fields of Culture & Heritage, Literature, Art and Innovation.
The Royal Opera House, Mumbai
Mathew Rd, Charni Road East, Opera House, Girgaon, Mumbai, Maharashtra 400004
GET DIRECTIONS