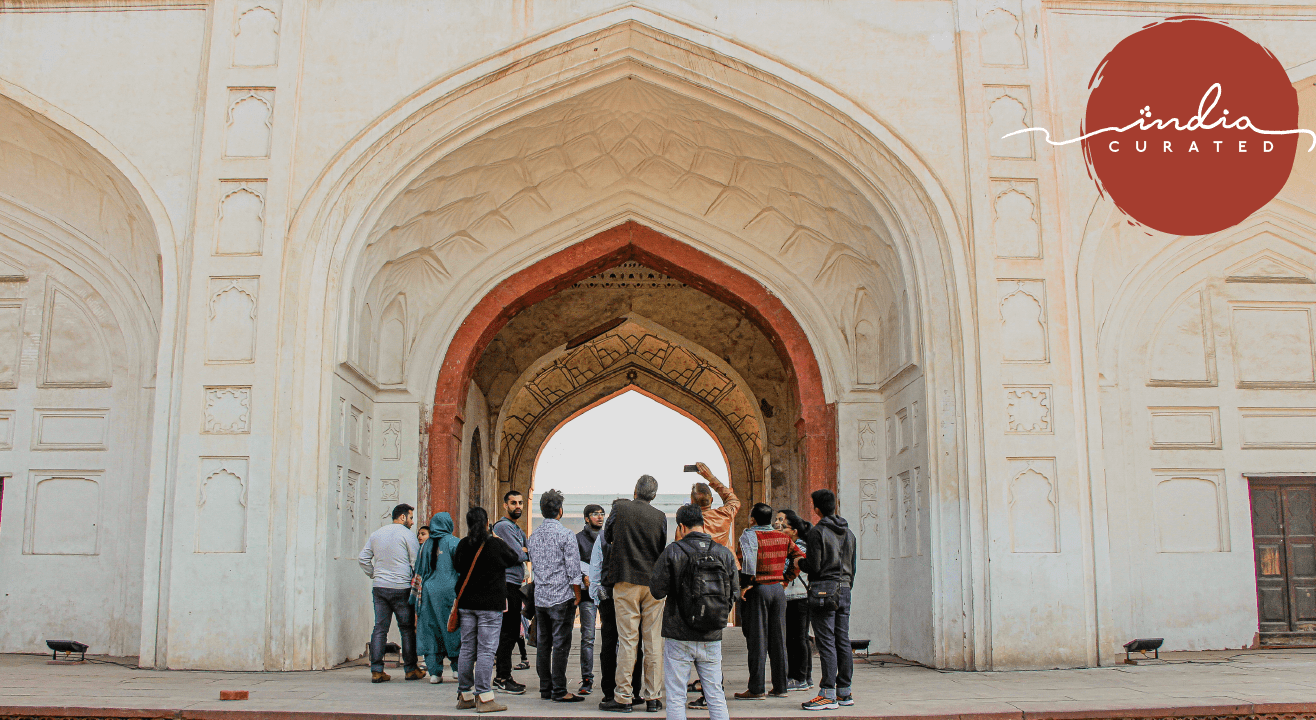 Guided Walks
Of Tawaifs, Bankers and Perfumers - Reading Sub-Imperial Lives in Mughal Delhi
Shri Digambar Jain Lal Mandir
About
Shahjanabad, popularly known as Purani Dilli, is a collage of the many lives that were lived here across centuries. Over three hours, we will walk down the alleys and by-lanes of the city and explore the lives of courtesans, bankers, princesses, merchants, travellers, perfumers and poets, who were close to the limelight but never in it. By knitting together individual histories of disparate characters like Jahanara and Chandar Bhan Brahman, we will attempt to weave a larger fabric of the Mughal elite culture that goes beyond the four walls of the imperial court.
During this curated experience, we will walk through historical havelis, from Begum Samru's Haveli to Fatehpuri Masjid, and try to resurrect the dead by reading their lingering afterlives inscribed in architecture, motifs, letters, fragrances, sounds, and popular memory. Stories will leap out of the havelis on Dariba Kalan in Chandni Chowk, from the letters of counsel from a father to his son, from the fragrance of bottled monsoon, from domed Shiva temples, and the aazaan of a Begum's mosque. Purani Dilli will engulf us as we explore its nooks and crannies. Together, we will give in to its wondrous ways.
As a giveaway, you also get a Fabindia coupon worth INR 500!
Please Note:
Wear comfortable footwear that can be taken off with ease before entering shrines and places of worship
Carry cap, sunglasses, dupatta and other sun protection gear to keep the sun at bay, and also carry drinking water
Seek permission before photographing residential spaces and people inhabiting them
Know your experience leader - Somok
Somok, at India Curated, studied history at Ramjas College, University of Delhi. He researches on the history of performances, the domestic space and identity in the early modern period, for which he looks at a range of texts on literature, architecture, music, cinema and memory. He writes on cultural politics and history, and his works have appeared on The Wire, Indian Writer's Forum, Cafe Dissensus and Sabrangindia. He loves listening to music and thinking on acts of translation in everyday life.
Venue
Shri Digambar Jain Lal Mandir
Netaji Subhash Marg, Opposite Red Fort, Chandni Chowk, New Delhi, Delhi 110006