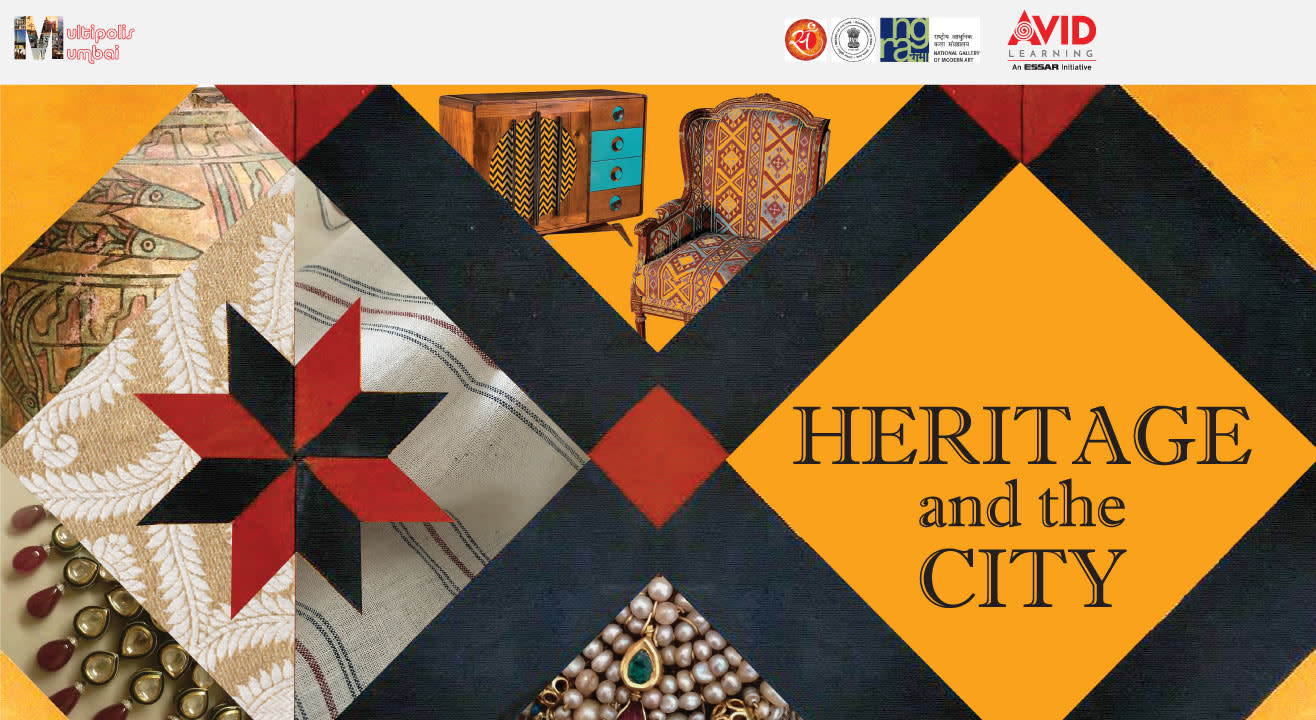 Discussion
Multipolis Mumbai: Heritage and the City – Reviving Traditional Interior Design and Textiles
The National Gallery of Modern Art, Mumbai
About
NGMA Mumbai, Ministry of Culture, Government of India and Avid Learning present Multipolis Mumbai: Heritage and the City – Reviving Traditional Interior Design and Textiles a panel discussion on how heritage design elements are being rejuvenated and updated in our city today.
This discussion will take a closer look at the design and lifestyle trends that are consciously based in the past but updated for the contemporary consumer. Looking at brands, products and stylistic traditions, especially from the iconic Swadeshi Era in our country's history that are now making a come back in Indian lifestyles, this panel will revisit history and try to shed light on our design trajectory from Swadeshi to Make in India, from a derivative colonial aesthetic to an updated and sophisticated design lexicon, from impositions of 'superior' western ways of life to a celebration of the grace of Indian living. From the Bombay of old to a decidedly sophisticated Mumbai of today that defines itself on its own terms.
Join Founder and CEO, Adventures in Art Karen Stone Talwar, Vice Chairman at Bharat Tiles Firdaus Variava, Furniture Designer and Co-Founder at BARO Siddharth Sirohi, and President-Apparel at Raymond Group Gaurav Mahajan who will be in conversation with Handicrafts Artist and Founder at Amba Hema Shroff Patel.
This talk will centre on how these professionals, practitioners and visionaries are taking the best of Swadeshi lifestyle products, interior finishes and design traditions and updating them for a chic Mumbai of today, with a decided nod to the traditions of old.
How are Minton Tiles, Terrazzo finishes and poured concrete being used to convey a modern heritage look in restaurants, homes and public spaces in Mumbai? How are colonial furniture finishes being updated for stylish, contemporary consumers? How are brands like Raymond reviving textile traditions like khadi- to be used in contemporary dressing? This discussion will also touch upon heritage entrepreneurship and explore best practices from remarkable initiatives from the West that are promoting cultural tourism in India.
The Swadeshi Movement, first started in 1905 in response to British degradation of the National spirit, was a rallying cry to make products and goods locally with a sense of pride and excellence. Swadeshi, essentially, was about reinvigorating craft as a way of expressing freedom. This discussion is a wonderful opportunity to understand how political history shaped our design movements and identities.
Textiles have long played a part in defining cultural and national identity. Mahatma Gandhi believed hand spinning and weaving of khadi was essential to India's economic development and freedom from colonial domination, developing this belief into the political movement of Swadeshi.
This talk will be part of our Multipolis Mumbai Series that decodes the past while looking to the future and finding novel ways of engaging, interacting with and reenergizing the city that we love! In this second round we seek to plumb new depths and unearth more fascinating nuggets about our ever-surprising Mumbai! This series was begun and had a successful run in 2012 and we revived it in June 2017. In the second iteration, we seek to go deeper! We've had panels on the re-haul of our historic precincts, the role of the business families of Bombay, Art Deco in the City and looking at the city through a child's eyes. We then facilitated discussions around how art institutions and practitioners in the city are harnessing the power of tech, how poets and women writers engage with and write about the city, about wildlife in the city and the role of technology in protection of local bio-diversity, and a discussion delving into the virtual and digital world of gaming, its relationship with art and the gaming culture in the city. We also held a workshop that looked more closely at celebrated classical architecture (namely Indo Saracenic and Victorian Gothic) of one of our oldest heritage precincts. We also recently held panels on the role of philanthropic individuals and institutions and on mapping towns within the city.
This year marks 150 years since the birth of Mahatma Gandhi and with this panel we endeavor to honour his revival and support of the Swadeshi way of life. Join us to reconnect with our colonial history which in turn is deeply related to the history of the design and crafts movement in India. Learn about Mumbai's role in the movement and how its design language is still being shaped by pride in the local even today. Understand how we define our heritage and national identities in today's times of global influence, social media and cross-pollination.
As Founder and CEO of Adventures in Art, Karen Stone Talwar has successfully combined her two passions: travel and art. Karen has extensive knowledge of the modern and contemporary art scene with her years of experience and education at some of the most prestigious institutions and galleries. Over the course of her career spanning over 25 years, she has had many different roles in in art consultancy, luxury brand development as well as high end travel planning. Her eye and natural instinct for art and culture play a strong role in shaping the company. Karen was the first International Managing Director of Christie's Travel and successfully executed tours in association with Abercrombie and Kent such as the Jewels of London, Art Basel, Indian Art Fair and JAR NY. As Gallery Director of Bodhi Art in New York, Karen set the stage for Bodhi Art to be a strong player in the art scene in New York and across the globe.

An MBA, Firdaus Variava has worked in diverse fields such as telecom, trading, and market research prior to joining Bharat Floorings. Firdaus is responsible for the sales team and for all activities related to marketing. In addition, Firdaus is responsible for the creation of new products to cater to specific market segments and needs and for strategic planning.

Gaurav Mahajan Gaurav Mahajan is an alumnus of Harvard Business School & NIFT Delhi with close to 25 years of experience in organized retail and track record of building differentiated businesses. He is currently President - Apparel & Made-to-Measure at Raymond Group and is a key player in the transformational journey underway at Raymond. The group's apparel portfolio comprises Park Avenue, ColourPlus, Parx, Raymond ready-to-wear and Raymond Made-to-Measure. Gaurav is scaling its existing brands and venturing into newer categories with an objective of establishing Raymond as the leading house of lifestyle brands in the country. Prior to joining Raymond Group, Mahajan was one of the founding members of Trent Ltd and was the Chief Operating Officer of Westside in his last role. He is credited with playing a significant part in turning Westside into one of the most successful private label store chains in India.

Siddharth Sirohi is a designer and the co-founder of the Mumbai based design store, Baro. He designs furniture and has also been working as a Production Designer for films for over a decade and a half now. He was awarded the Lexus design award in the furniture category in the first Indian edition of the award. He was also nominated for a Filmfare award for his work as a Production Designer for the film 'A Death in the Gunj'. A practioner of Yoga and an avid mountaineer, Siddharth spends most of his time orchestrating the workshop at Baro, ensuring that the work is up to his exacting standards. He graduated with a Mathematics degree from the illustrious St. Stephen's College after his schooling at the Doon School. Over the course of his career he has worn myriad hats. He taught Geography at the Doon Schoool, worked briefly with NDTV before moving to Mumbai to pursue a career in desiging films. Five years ago he moved his focus to designing furniture and has been helming Baro ever since he co-founded the store.

Hema Shroff Patel is a self-taught handicraft artist. Her passion for textiles led her to launch Amba in 1999. Amba creates a theme based collection of textiles and lounge wear each year. The Amba team is committed to understanding and preserving techniques of traditional Indian weaves, while pushing the boundaries to find a contemporary expression in handloom today. Their work is brought to life by a wonderful team of weavers and block printers in Central India. Amba has been a social enterprise for over ten years, committed to funding projects which sensitively refine and contemporarize traditional weaving skills. Hema has been working in Maheshwar for over 25 years. She served on the WomenWeave Charitable advisory board for 17 years and worked with Rehwa Society to revive their classic Maheshwari saree designs. She continues to work on social welfare projects and recently organised an eye camp for the Maheshwar weaving community.


The National Gallery of Modern Art (NGMA) Mumbai, Ministry of Culture, Government of India is a repository of the cultural ethos of the country and showcases the changing art forms through the passage of the last 160 years starting from about 1857 in the field of Visual and Plastic arts. The first NGMA was opened in New Delhi at the historic Jaipur House, in the presence of Prime Minister Jawaharlal Nehru and artists and art lovers on March 29, 1954. The National Gallery of Modern Art, Mumbai was opened to the public in 1996. It hosts various exhibitions and also has its own art collections comprising paintings, sculptures and graphics with a focus on Indian and International artists. It is located in the precinct of the former auditorium the Sir Cowasji Jehangir Public Hall and the Institute of Science. This architecturally marvellous building was designed and built by the famous British architect George Wittet which has been completely redesigned keeping only the facade edifice that was Public Hall. It has hosted eminent artists like, K.H. Ara, F. N. Souza, Gaitonde, S.H. Raza and M.F. Hussain and contemporary artists like, K.G. Subramanyam, Sudhir Patwardhan, Nalini Malini, Atul Dodiya and Sudarshan Shetty. The NGMA in Mumbai is run and administered as a subordinate office to the Ministry of Culture, Government of India, which has two branches one at Mumbai and the other at Bengaluru.

Avid Learning, a public programming platform and cultural arm of the Essar Group, has conducted over 1000 programs and connected with more than 125,000 individuals since its inception in 2009. Driven by the belief that Learning Never Stops, AVID's multiple formats like Workshops, Panel Discussions, Gallery Walkthroughs, and Festival Platforms create a dynamic and interactive atmosphere that stimulates intellectual and creative growth across the fields of Culture & Heritage, Literature, Art and Innovation.

Facebook: www.facebook.com/Avidlearning; Twitter: www.twitter.com/Avidlearning; Instagram: @avidlearning
Venue
The National Gallery of Modern Art, Mumbai
The National Gallery of Modern Art, Sir Cowasji Jahangir Public Hall, M. G. Road, Fort, Mumbai – 400032.