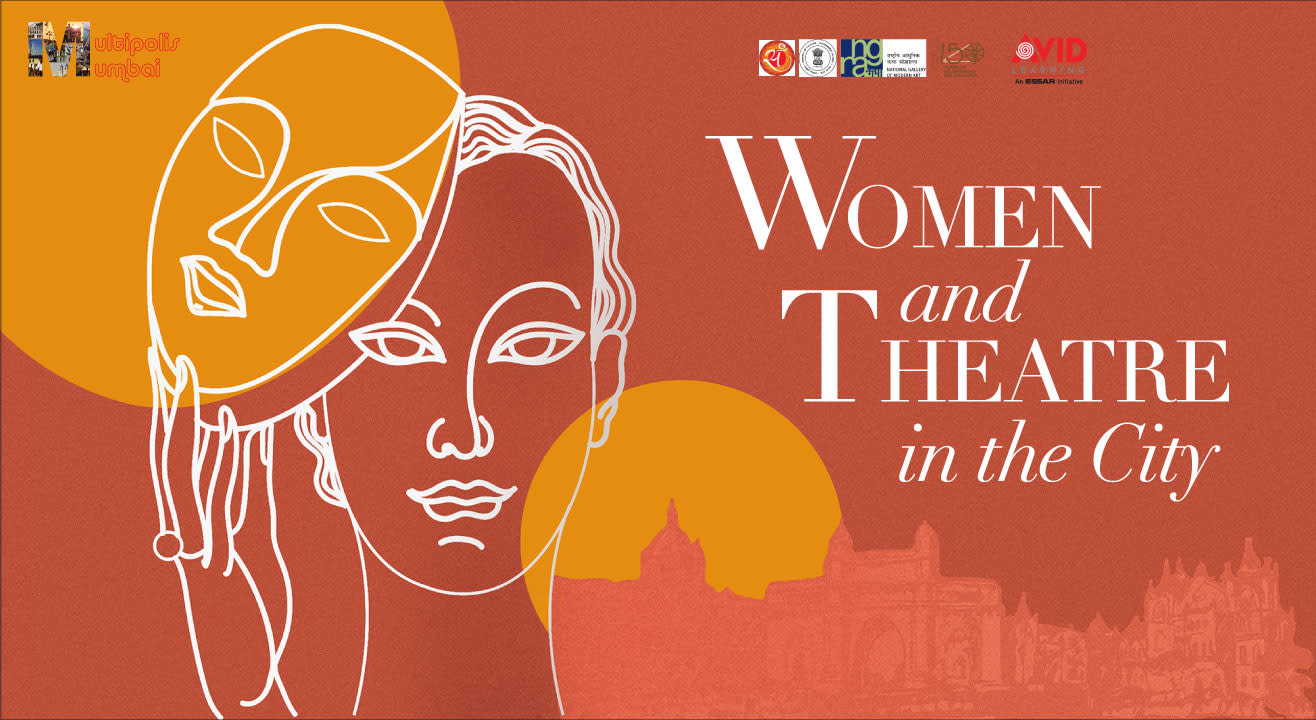 Multipolis Mumbai: Women and Theatre in the City
National Gallery of Modern Art, Mumbai
Invite your friends
and enjoy a shared experience
Invite your friends
and enjoy a shared experience
About the Event
And though she be but little,
She is fierce."
-William Shakespeare, A Midsummer Night's Dream
All the world is a stage, famously said Shakespeare, and women are an integral presence on it. In Mumbai, India's film hub, theatre has a lasting legacy that permeates its atmosphere and forms the very bedrock of the city's rich entertainment legacy. As opposed to the largely monolingual theatre culture of New York or London, Mumbai has a rich multilingual and multifaceted theatre milieu.
During the island city's early days of the British, one of the earliest forms of organized entertainment to germinate in the city was theatre. During the period 1853 to 1931, Bombay developed a lively theatrical culture which included English, Marathi, Hindi, Parsi and Muslim theatre. Today, theatre is alive and well, and as popular as ever in the city with an estimated 1500 plays held each month in diverse languages and dialects covering a variety of subjects. The city boasts iconic Theatre venues like Prithvi, Royal Opera House, NCPA, Sophia's, Andrews and Rang Sharda etc. and has a thriving community of theatre professional groups, schools, afficianados & critics and loyalists. What role, in this sophisticated ecosystem, do women play? How have women on stage -and off- contributed to enriching and enlivening this burgeoning thespian culture in the city and develop stagecraft to what it is today?
The description of the discussion is as below:
NGMA Mumbai and Ministry of Culture, Government of India and Avid Learning present Multipolis Mumbai: Women and Theatre in the City. In celebration of International Women's Day 2019, this panel discussion will take a closer look at the Thespian history and legacy of the city with a focus on the women of theatre in Bombay.
Theatre Director and Chairperson of National School of Drama Amal Allana, Stage Actor and Co-Founder of Theatre Company Rage, Shernaz Patel, Stage Actor and Founder of Theatre Company Ikigai Ishitta Arun and Film and Theatre Director and Founder, theatre group, Rangayan Dr. Vijaya Mehta will be in conversation with Theatre and Film Critic and Author Deepa Gahlot.
While there is a wealth of information on the contributions, craft and innovations of men on the stage- the women who were part of the cultural fabric of the theatre were excluded from history. Previously unwritten narratives of leading ladies of theatre, like Munni Bai, Mukhtar Begum, Jahanara Kajjan and Moti Bai are key in understanding modern cultural history and their pioneering efforts are now being unearthed and studied in academia. What are some of the cross-narratives intersecting between women, performance, nationhood, the formation of cultural identity and modernity?
Apart from the historic pioneers on the Indian Stage, what have more contemporary contributions to the industry been from the fairer sex? What are some of the significant achievements and challenges face by woman thespians, directors, producers, designers and playwrights? What are the theatrical subcultures and ideologies dedicated to or populated by women? What are the particular types of theatre (Feminist, socially relevant, experimental and ideological) that have emerged from women's empowerment in this field? How have evolving gender politics and the current climate of shifting gender parities affected the industry? How have notions like the role feminine consciousness in subverting the male gaze played a part in breaking the glass ceiling within the discipline and paved the way for more nuanced, sophisticated and experimental forms of acting, writing and theatre-making?
This talk will be part of our Multipolis Mumbai Series that decodes the past while looking to the future and finding novel ways of engaging, interacting with and reenergizing the city that we love! In this second round we seek to plumb new depths and unearth more fascinating nuggets about our ever-surprising Mumbai! This series was begun and had a successful run in 2012 and we revived it in June 2017. In the second iteration, we seek to go deeper! We've had panels on the re-haul of our historic precincts, the role of the business families of Bombay and looking at the city through a child's eyes. We then facilitated discussions around how art institutions and practitioners in the city are harnessing the power of tech, how poets and women writers engage with and write about the city, about wildlife in the city and the role of technology in protection of local bio-diversity, and a discussion delving into the virtual and digital world of gaming, its relationship with art and the gaming culture in the city. We also held workshops that looked more closely at celebrated Mumbai architecture (namely Art Deco, Indo Saracenic and Victorian Gothic). We also held panels on the role of philanthropic individuals and institutions and on mapping towns within the city, as well a discussion on heritage textiles, interior finishes and the Swadeshi movement in the context of Mumbai. Most recently, we've taken a closer look at the Maritime history of Mumbai and its relationship with the Sea.
Join us for a fascinating look into the unique role of women in Mumbai's theatrical culture in celebration of International Women's Day.
Amal Allana is a theatre director, scenic designer and costume designer and presently she is in her second consecutive term as the Chairperson of National School of Drama, India's premier institute of Theatre training, she also runs the Dramatic Art and Design Academy (DADA), New Delhi, with her husband Nissar Allana, which they co-founded in 2000. As a theatre director, she has directed over 55 plays in Hindi, including notable plays like, Aadhe Adhure (Mohan Rakesh), Khamosh, Adalat Jari Hai (Vijay Tendulkar adaptation of 1956 short-story, 'Die Panne' (Traps) by Friedrich Dürrenmatt), Ashadh Ka Ek Din (Mohan Rakesh), Tughlaq and Hayavadana (both by Girish Karnad), Mahabhoj (Mannu Bhandari) (1982), King Lear, Himmat Mai (Mother Courage), Nati Binodini (2006) and Begum Barve (Satish Alekar), many of which are known to have set trends in Indian theatre. She was awarded the 1998 Sangeet Natak Akademi Award in Direction, given by Sangeet Natak Akademi, India's National Academy for Music, Dance and Drama.

Shernaz Patel has been a part of English theatre in India for the past 35 years. She is a partner in one of India's leading theatre groups, Rage Productions and has helmed their playwriting initiatives, Writer's Bloc and Class Act. Aside from theatre she has also been successfully acting in Indian cinema ever since she worked in Sanjay Leela Bhansali's Black in 2004. A Charles Wallace scholar, she holds a Masters degree in Acting from the Royal Scottish Academy of Music and Drama. She is also an established voiceover and a television actress. Also a teacher, she was Head of Acting at India's premiere film school, Whistling Woods International from 2013-2017. She is currently Artistic Director for the Aditya Birla Group's theatre initiative, Aadyam.

Ishitta Arun is a stage actor and founder of Ikigai and Co.- a theatre, performing arts and humanities platform. Dancer, Veejay, lyricist and Interior/furniture designer, Ishitta, has donned various hats to give expression to her creativity. Ishitta appeared on television when she did her first commercial at the age of three for 'VICKS'. She has performed in over a 100 live stage shows as a host and folk dancer across the world and acted in three major theatre productions. Ishitta has also penned lyrics for Dhruv Ghanekar, Atif Aslam & Mahir Zaine, Mahindra, Tata Steel, Brittania to name a few. She conceptualised and Produced "GAA RE MAA" - a music based slice of life comedy that opened at the Prithvi Festival 2018 as part of 40 years of Prithvi. Ikigai & Co.'s GAA RE MAA has also been staged at the Old world theatre festival 2018 Delhi, and has completed 20 shows over four months since its opening in cities such as Calcutta , Pune, Mumbai and Delhi. She is also an interior and furniture designer having designed 4 restaurants and residences and offices for Terence Lewis, Wah Wah Studios and has had independent exhibitions under her brand 'Kishmish'.

Padmashree award winning Dr. Vijaya Mehta is a living legend of Indian theatre. Known for her path breaking theatre work as an actress and director, she founded Rangayan which was a revolutionary theatre movement in the 1960s. She has taken Indian theatre to the world more than forty years ago by doing several Indo German productions as well as collaborations in the USA.  With more than 80 productions to her credit, almost all her work was award winning or received the highest critical acclaim. National recognition of her work includes the Sanger Natak Academy award, the Kalidas Samman and the prestigious Tagore Ratna Fellowship. The Government of Maharashtra bestowed its Gaurav Puraskar and also the Lifetime Achievements Award for her work in theatre, films and TV. International recognition followed when the East German Government presented the 'Friend of the People' Award for her extensive Indo- German collaborations in theatre. It is significant that she won national awards for every single film, Telefilm and TV serial she directed or acted in. And she has received several international awards for her film work as well. Dr. Mehta was the Chairperson of the National School of Drama and also of the Film and Television Institute of India. Her association with the NCPA began when shedid Kalidas' Shakunatala, which was staged for the inauguration of theTata theatre. She went on to becoming the Executive Director of the NCPA under the chairmanship of Dr Jamshed Bhabha. She headed the NCPA for fifteen years and introduced many artistic collaborations with world renowned performers in every artistic faculty. Dr. Vijaya Mehta or 'Bai', as she is fondly referred to, will always be remembered as the leading lady of Indian theatre.

Deepa Gahlot writes extensively on cinema, theatre, the arts, women's issues for several publications and websites. She has won the National Award for Best Film Criticism, edited several cinema journals. Her work has appeared in anthologies on women's studies and cinema--Bollywood Popular Indian Cinema, Behind the Scenes of Hindi Cinema A Visual Journey through the Heart of Bollywood, Janani among others. Her books published include The Prithviwallahs (co-authored with Shashi Kapoor), biographies of Shah Rukh Khan and Shammi Kapoor, Take 2: 50 Films that Deserve a New Audience and Sheroes: 25 Daring Women of Bollywood. She headed the Theatre and Film department of the National Centre for the Performing Arts, Mumbai for seven years, where she curated festivals and produced path-breaking work.
The National Gallery of Modern Art (NGMA) Mumbai, Ministry of Culture, Government of India is a repository of the cultural ethos of the country and showcases the changing art forms through the passage of the last 160 years starting from about 1857 in the field of Visual and Plastic arts. The first NGMA was opened in New Delhi at the historic Jaipur House, in the presence of Prime Minister Jawaharlal Nehru and artists and art lovers on March 29, 1954. The National Gallery of Modern Art, Mumbai was opened to the public in 1996. It hosts various exhibitions and also has its own art collections comprising paintings, sculptures and graphics with a focus on Indian and International artists. It is located in the precinct of the former auditorium the Sir Cowasji Jehangir Public Hall and the Institute of Science. This architecturally marvellous building was designed and built by the famous British architect George Wittet which has been completely redesigned keeping only the facade edifice that was Public Hall. It has hosted eminent artists like, K.H. Ara, F. N. Souza, Gaitonde, S.H. Raza and M.F. Hussain and contemporary artists like, K.G. Subramanyam, Sudhir Patwardhan, Nalini Malini, Atul Dodiya and Sudarshan Shetty. The NGMA in Mumbai is run and administered as a subordinate office to the Ministry of Culture, Government of India, which has two branches one at Mumbai and the other at Bengaluru.

Avid Learning, a public programming platform and cultural arm of the Essar Group, has conducted over 1000 programs and connected with more than 125,000 individuals since its inception in 2009. Driven by the belief that Learning Never Stops, AVID's multiple formats like Workshops, Panel Discussions, Gallery Walkthroughs, and Festival Platforms create a dynamic and interactive atmosphere that stimulates intellectual and creative growth across the fields of Culture & Heritage, Literature, Art and Innovation.
National Gallery of Modern Art, Mumbai
Sir Cowasji Jahangir Public Hall, M G Road, Fort, Mantralaya, Fort, Mumbai, Maharashtra 400032
GET DIRECTIONS