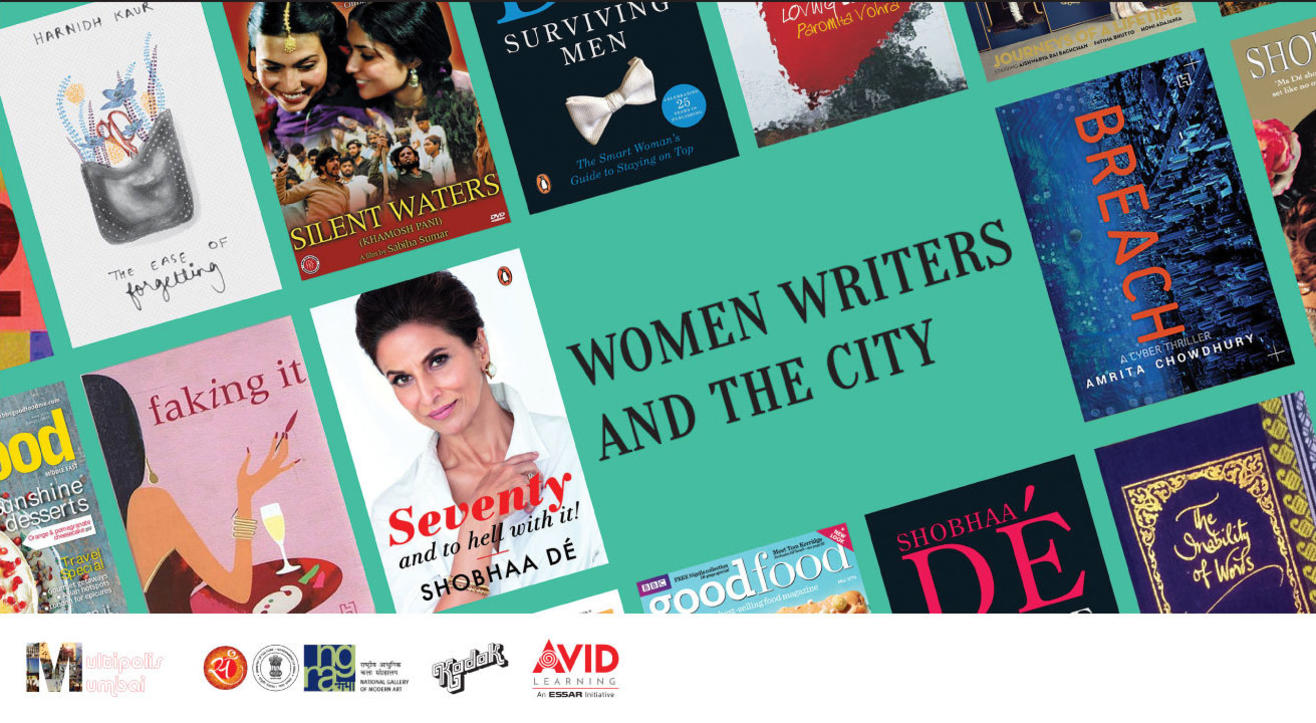 Multipolis Mumbai : Women Writers and the City
National Gallery of Modern Art, Mumbai, Mumbai
Invite your friends
and enjoy a shared experience
Multipolis Mumbai : Women Writers and the City
National Gallery of Modern Art, Mumbai, Mumbai
Invite your friends
and enjoy a shared experience
Invite your friends
and enjoy a shared experience
Be it crime, art, gossip, food, sex, poetry, gender rights or storytelling in the city, women have their say and they say it their way.


NGMA Mumbai, Ministry of Culture, Government of India and Avid Learning presents Multipolis Mumbai: Women Writers and the City - a panel discussion on how feminine voices give shape to the city through their own dynamic and unique words. Filmmaker and writer Paromita Vohra, feminist blogger and poet Harnidh Kaur Director, Gaia Smart Cities and ex-country head of Harlequin Books, Amrita Chowdhury and food & travel writer and editor, Meher Mirza will be in conversation with author and columnist Shobhaa De. This discussion will highlight the plural women's voices from and on the city. What are their concerns and preoccupations, struggles and triumphs? How does the city inspire, move, enrage and soothe its feminine occupants?


Join the experts for this panel addressing Mumbai's urban environment vis-a-vis its women writers.
Shobhaa De
Shobhaa De has monitored and written extensively on India's socio-cultural-political contours for over four decades. Her twenty books include several bestsellers like 'Starry Nights,' 'Spouse,' 'Superstar India' and her latest, "Seventy.... and to hell with it!" She is a prolific writer, columnist, blogger, social commentator and opinion shaper with a vast Twitter following of close to 3 million. It is often said that one tweet from her can – and does – shake up the parliament. Her feisty, irreverent style has made her a powerful icon, widely respected for her fearless and independent opinions.

Harnidh Kaur
Harnidh Kaur is a published poet, feminist, policy wonk, columnist, social media aficionado and activist. She curates conversations and safe spaces on social media, and works on the intersections of privacy, gender, sanitation, pop culture, and many permutations of the same. She has published 2 books of poetry titled "The Inability of Words," and "The Ease of Forgetting." She's currently working as an urban sanitation analyst at Dasra, India, is a weekly columnist with The Print, and is writing her forthcoming books with Westland-Amazon Publishers.

Meher Mirza
Meher Mirza is a food and travel writer based in Mumbai. Formerly the copy and features editor at BBC Good Food India, she has also written on food and travel for Saveur, Serious Eats, Extra Crispy, Food 52, Roads & Kingdoms, Fodor's Mumbai Guide, UK's Evening Standard, the Times of India, Mint Lounge, The City Story and others.

Paromita Vohra
Paromita Vohra is a filmmaker, writer and devoted antakshari player whose work explores themes of feminism, love, desire, urban life and popular culture. She is the director of several documentaries including Unlimited Girls, Q2P, Where's Sandra and Morality TV and Loving Jehad: A Thrilling Tale, as well as the TV series Connected Hum Tum. She is the writer of the feature film Khamosh Pani and the comic Priya's Mirror. Her fiction and non-fiction writing have been widely published and she writes the popular weekly newspaper columns Paronormal Activity and How To Find Indian Love. She is the founder of Agents of Ishq (www.agentsofishq.com), India's best loved website about sex, love and desire.

Amrita Chowdhury
Amrita Chowdhury is the author of Breach, a cyber thriller, and Faking It, an art-crime thriller, and contributing author to Chicken Soup for the IITian Soul. Amrita is a frequent contributor on business, technology, marketing, and lifestyle issues in mainstream media, magazines, and electronic platforms. She has authored various white papers for ministry bodies on ideas at the intersection of smart cities, technology, design thinking, and economy. She is a regular contributor to Huffington Post. She is an engineer, innovator, business strategist and urbanist. She is the director of Gaia, an urban technology company and an independent director and board member of a publicly listed auto-ancillaries company. She was president of brand consulting firm DY Works; publisher and CEO of Harlequin South Asia; and, associate director, education for Harvard Business School. She holds seven US patents for semiconductor manufacturing and has done strategy consulting and board advisory work for multinational clients with AT Kearney in USA and Oppeus in Australia. She holds engineering degrees from IIT Kanpur and UC Berkeley, and an MBA from Carnegie Mellon.
NGMA, Mumbai
The National Gallery of Modern Art (NGMA) Mumbai, Ministry of Culture, Government of India is a repository of the cultural ethos of the country and showcases the changing art forms through the passage of the last 160 years, starting from about 1857 in the field of visual and plastic arts. The first NGMA was opened in New Delhi at the historic Jaipur House, in the presence of prime minister Jawaharlal Nehru and artists and art lovers on March 29, 1954. The National Gallery of Modern Art, Mumbai was opened to the public in 1996. It hosts various exhibitions and also has its own art collections comprising paintings, sculptures and graphics with a focus on Indian and international artists. It is located in the precinct of the former auditorium, the Sir Cowasji Jehangir Public Hall and the Institute of Science. This architecturally marvellous building was designed and built by the famous British architect George Wittet, which has been completely redesigned keeping only the facade edifice that was Public Hall. It has hosted eminent artists like, K.H. Ara, F. N. Souza, Gaitonde, S.H. Raza and M.F. Hussain and contemporary artists like, K.G. Subramanyam, Sudhir Patwardhan, Nalini Malini, Atul Dodiya and Sudarshan Shetty. The NGMA in Mumbai is run and administered as a subordinate office to the Ministry of Culture, Government of India, which has two branches one at Mumbai and the other at Bengaluru.

Avid Learning
Avid Learning, a public programming platform and cultural arm of the Essar Group, has conducted over 900 programs and connected with more than 100,000 individuals since its inception in 2009. Driven by the belief that "Learning Never Stops," Avid's multiple formats like workshops, panel discussions, gallery walkthroughs, and festival platforms create a dynamic and interactive atmosphere that stimulates intellectual and creative growth across the fields of culture & heritage, literature, art and innovation.
National Gallery of Modern Art, Mumbai
Sir Cowasji Jahangir Public Hall, M G Road, Fort, Mantralaya, Fort, Mumbai, Maharashtra 400032
GET DIRECTIONS
Multipolis Mumbai : Women Writers and the City
National Gallery of Modern Art, Mumbai, Mumbai
Invite your friends
and enjoy a shared experience