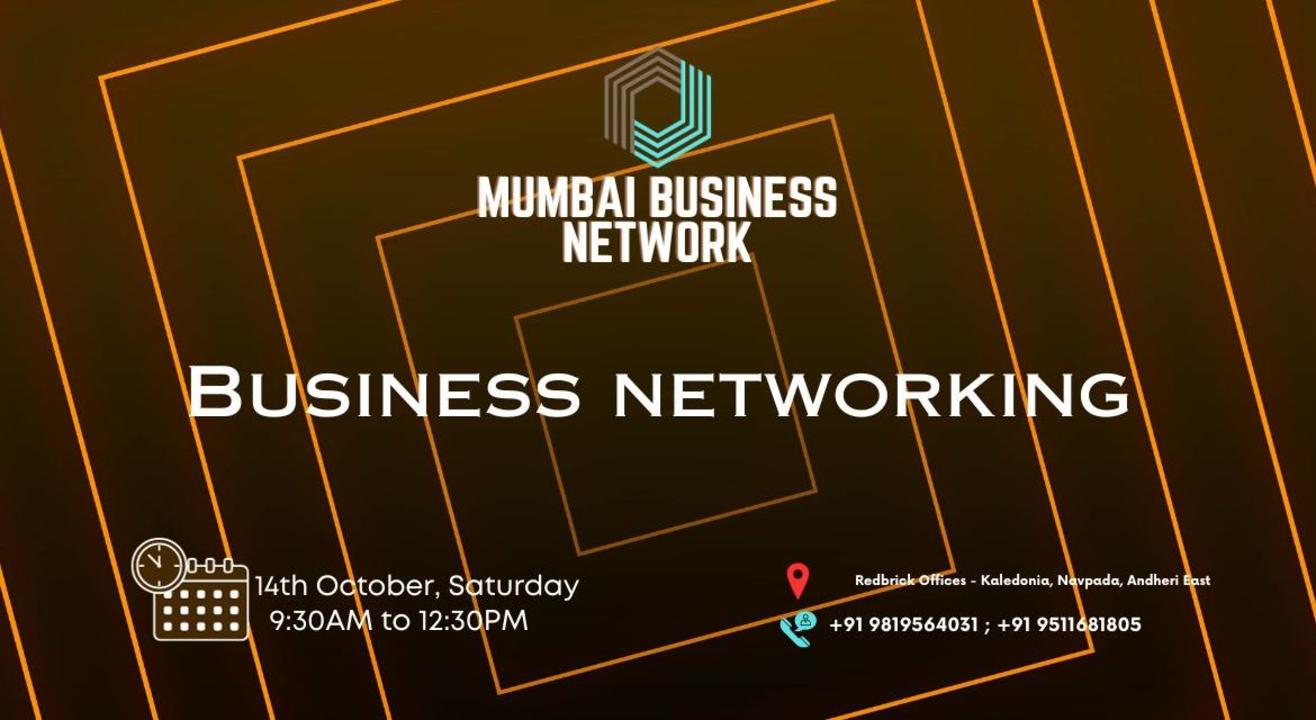 MUMBAI BUSINESS NETWORK | BUSINESS NETWORKING
Redbrick Offices - Kaledonia, Mumbai
Invite your friends
and enjoy a shared experience
MUMBAI BUSINESS NETWORK | BUSINESS NETWORKING
Redbrick Offices - Kaledonia, Mumbai
Invite your friends
and enjoy a shared experience
Invite your friends
and enjoy a shared experience
MUMBAI BUSINESS NETWORK | BUSINESS NETWORKING
Mumbai Business Network the ultimate meetup for professionals seeking to connect exchange sales opportunities expand their business networks and engage in insightful discussions on industry-related topics. This curated event provides a platform for entrepreneurs business owners and professionals to foster meaningful connections and explore collaborative opportunities.
At Mumbai Business Network you'll have the opportunity to engage with like-minded individuals who are passionate about growing their businesses and expanding their reach. The event offers a relaxed and friendly environment conducive to building relationships sharing experiences and gaining valuable insights.
Key highlights of the meetup include a sales connect session where participants can showcase their products or services exchange leads and explore potential partnerships. This interactive session allows you to pitch your offerings learn about others' offerings and discover new business opportunities. Additionally industry-related small talks cover a wide range of subjects such as market trends business strategies and marketing techniques. These discussions provide an excellent opportunity to learn from industry experts gain new perspectives and stay updated on the latest developments in your field.
Mumbai Business Network aims to create a supportive community where professionals can connect collaborate and thrive. Whether you're a startup founder seasoned entrepreneur or professional looking to expand your network this meetup offers a conducive environment for meaningful connections and knowledge exchange. Reserve your spot now and be a part of this exciting event that promises to elevate your business to new heights. Join us at Mumbai Business Network and unlock the power of networking collaboration and knowledge-sharing.
The meeting is going to happen on 14th Oct 2023 on a Saturday in Redbrick Offices - Kaledonia,1st Floor, Sahar Rd, Andheri East, Mumbai, Maharashtra 400069 from 9:30AM to 12:30 PM. The fees for the meeting are INR 475 only. You can join as a member soon after that!
For Partnerships Sponsorships Ticketing queries:
Support :- +91 9819564031 | 9511681805 |
#businessnetworking #event #networking #Mumbai
Redbrick Offices - Kaledonia
Kaledonia, 1st Floor, Sahar Rd, Andheri East, Mumbai, Maharashtra 400069
GET DIRECTIONS
MUMBAI BUSINESS NETWORK | BUSINESS NETWORKING
Redbrick Offices - Kaledonia, Mumbai
Invite your friends
and enjoy a shared experience