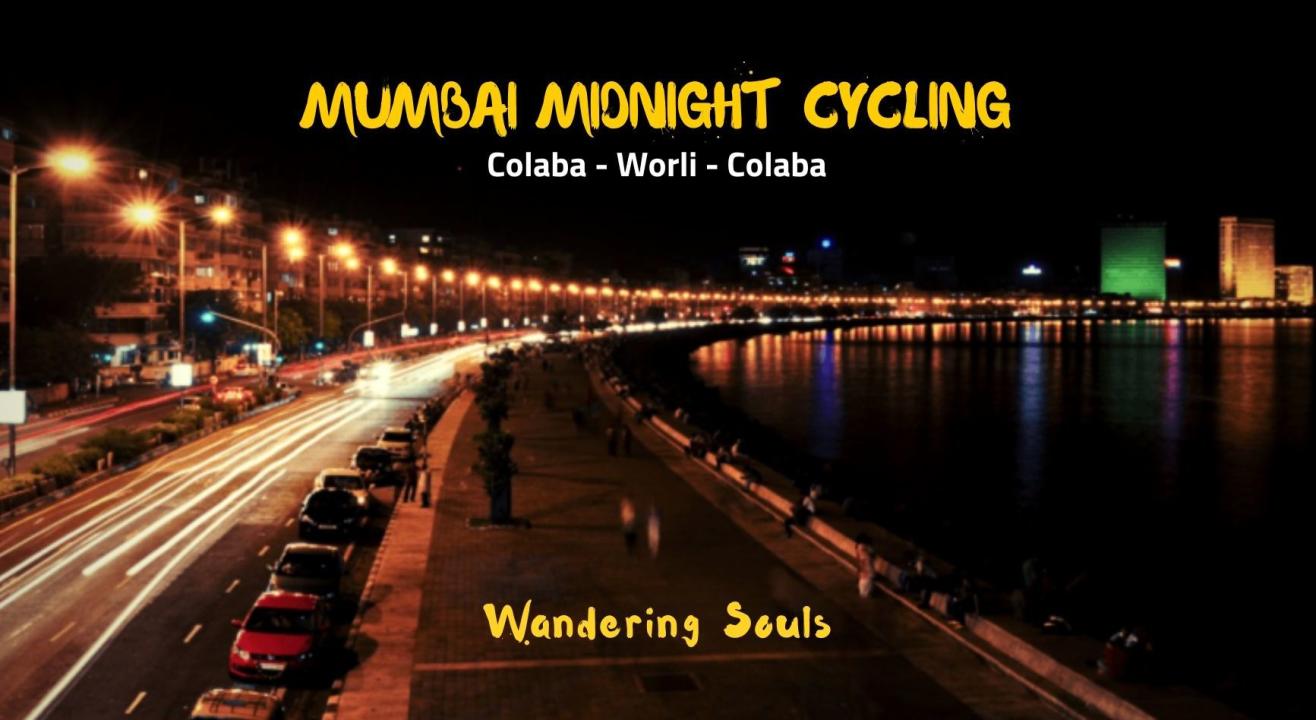 Mumbai Midnight Cycling | Wandering Souls
November 7 | 11:30PM - November 8 | 4:30AM
Kailash Parbat Restaurant, Colaba Causeway
Step out and enjoy this event
Invite your friends
and enjoy a shared experience
Invite your friends
and enjoy a shared experience
About the Event
About the Event
Who is a Mumbaikar? Google says one who is born in Mumbai, but we Wandering Souls would define it as the one who celebrates every second of the 24-hour clock just like AAMCHI Mumbai, the city that never sleeps.
New to Mumbai, didn't experience the nightlife yet or planning your weekend or need a different experience of Mumbai midnight getaway, our 35km cycling event is the perfect one for you. What could be more special than experiencing Mumbai at night and yes, the icing on the cake, Mumbai breeze, hot chai and beautiful street lights...
Anybody who recalls Mumbai visualizes the iconic Gateway of India that stands on Mumbai harbour facing grandeur TAJ Mahal Palace. This is where our ride will begin and we will end at Nariman Point crossing the C shaped Mumbai Jewel, The Marine Drive. Apart from the coastline, there lies enormous playgrounds surrounded by antiquated British structures touching Raja Bai clock and Mumbai high court passing through meticulously crafted flora fountain in the midst of the city. Then comes Bollywood favourite chai spot, 'The Horniman Circle'. Experience the breathtaking skylines from Worli Seaface of beautiful Worli Sea-link and high-rise buildings of Worli that reflects modern Mumbai, then we will touch upon Haji Ali Dargah located on an inlet off the coast of Worli.
Join us for the best mid-night weekend gateway.
This event will be conducted in accordance to the COVID safety Guidelines
Level: Easy-Moderate
Detailed Itinerary
23:30 hrs – Gather at Colaba for Orientation and Distribution of cycles and refreshments
00:00 hrs – Start the ride from Gateway of India to Worli Seaface
02:30 hrs – Start back towards Marine Drive
04:00 hrs – Chill on Marine Drive with hot chai, ride finishes for those who have their own cycles
04:30 hrs – Deposit cycles at Colaba
Inclusions
Gear/Non-Gear Cycles (for those who hire through Wandering Souls)
Refreshments & Energy kit
Reflectors
Mechanic
Spare Cycles
Backup Vehicle
First Aid
Wandering Souls expertise and admin charges
Exclusions
Anything other than the above-mentioned things
Things to Carry
Identity Proof (Mandatory)
Riding Gear and accessories (Optional)
Water Bottle Minimum 1 litre(Mandatory)
Electrol, Glucon D
Medicines those if you require usually
Camera, Cell Phone (Optional)
Dry fruits and chocolates
A backpack to put all these things
Route:
Leopold Café
Taj Mahal Palace
Gateway of India
Regal Cinema
Rajabhai Clock Tower
Bombay High Court
Flora Fountain
Horniman Circle
Asiatic Library
CST
Marine Drive
Taraporewala Aquarium
Girgaon Chowpatty
Breach Candy
Worli Seaface
Haji Ali
Marine Drive/Nariman Point
Cancellation Policy
Cancellation charge of 15% would be deducted from the booking if cancelled 3 days before the event
No refund would be granted if cancelled within 3 days of the event
FAQs
How will you contact me once I register?
We will be mailing you the details about the trek a day or two before the event.
What is the difficulty level of this route?
The difficulty level of this ride is easy. Majority of the route is flat
Will I be able to complete the ride? I have not cycled for a long time.
We have had participants who cycles after a gap of 10 year or more complete the ride. We take ample stops in between so that the ride does not become strenuous.
I'm very tall/short, will I get a cycle for my height?
Please inform us beforehand for any special requirements, we will try to arrange the same.
What is the age limit of the ride?
The age limit for the trek is 18 years with no upper limit. Participants below the age of 18yrs need to be accompanied by a guardian
Can I come alone?
Yes, many of our participants are solo travellers.
Is it safe for a female solo traveller?
It is completely safe for a female solo traveller as our representatives will be there with you all the time.
Moreover, most of our event have 60% female participation.
Can we smoke or drink alcohol?
Smoking or drinking alcohol is prohibited.
Will I get water during the ride?
Yes, we will be carrying water with us, but you need to bring bottles which you can refill.
What if I'm unable to complete the ride?
Our experienced coordinators will make sure you complete the ride. In case you not able to, you need to transfer the cycles back to the start point.
What if I have a medical emergency?
We will carry first aid kit with us. The coordinators will be first aid certified. If the problem increases, we will quickly get you to closest medical attention possible.
What kind of clothing we need to wear?
We recommend you bright coloured comfortable clothes


COVID Safety Guidelines
Cycles will be sanitized before each ride
Each member of the group (participants/event leads) will need to wear protective masks while interacting with others.
It is strongly recommended to wear caps, full sleeves shirts and full trousers and shoes for adventure activities. It reduces exposure of your body parts to Covid virus.
It should be ascertained from the participants that they are not residing / have not travelled in a containment zone and have not come in contact with any person who was tested Covid positive in last 14 days.
Ascertain whether any participant has any symptoms of Influenza like illness (ILI) like fever, dry cough, weakness, severe body ache etc. at the time of beginning of activity. If it is so then he/she should be asked not to participate and be evacuated on medical grounds and should be asked to report to local health authority
Strictly avoid eating gutkha, pan masala or sniffing tapkir which induces spitting, coughing or sneezing.
Follow safe health practices in case you want to cough, sneeze in public space or during activity.
Event Lead would be carrying sanitizer, spare masks, few pairs of disposable gloves (in sufficient quantity) as a Covid Protection Kit.
Avoid touching external surfaces and touching your face when in outdoors.
If the location of your adventure activity is too crowded then be prepared to leave or wait for the crowd to disperse/for your turn.
It is mandatory that a participant informs the organisers if he tests positive for Covid within 14 days of returning from adventure activity. It will help the organisers to inform and alert all other persons in the group and concerned health authorities of Government, so that they can follow the medical/government norms in this regard. Here it is absolutely essential that the participant observes transparency and informs the organisers/group leaders about his Covid test results. Organisers should actively pursue this matter with participants as this is a mutual responsibility.
Kailash Parbat Restaurant, Colaba Causeway
5, Sheela Mahal, 1st Pasta Lane, Near Strand Cinema, Colaba, Mumbai
GET DIRECTIONS