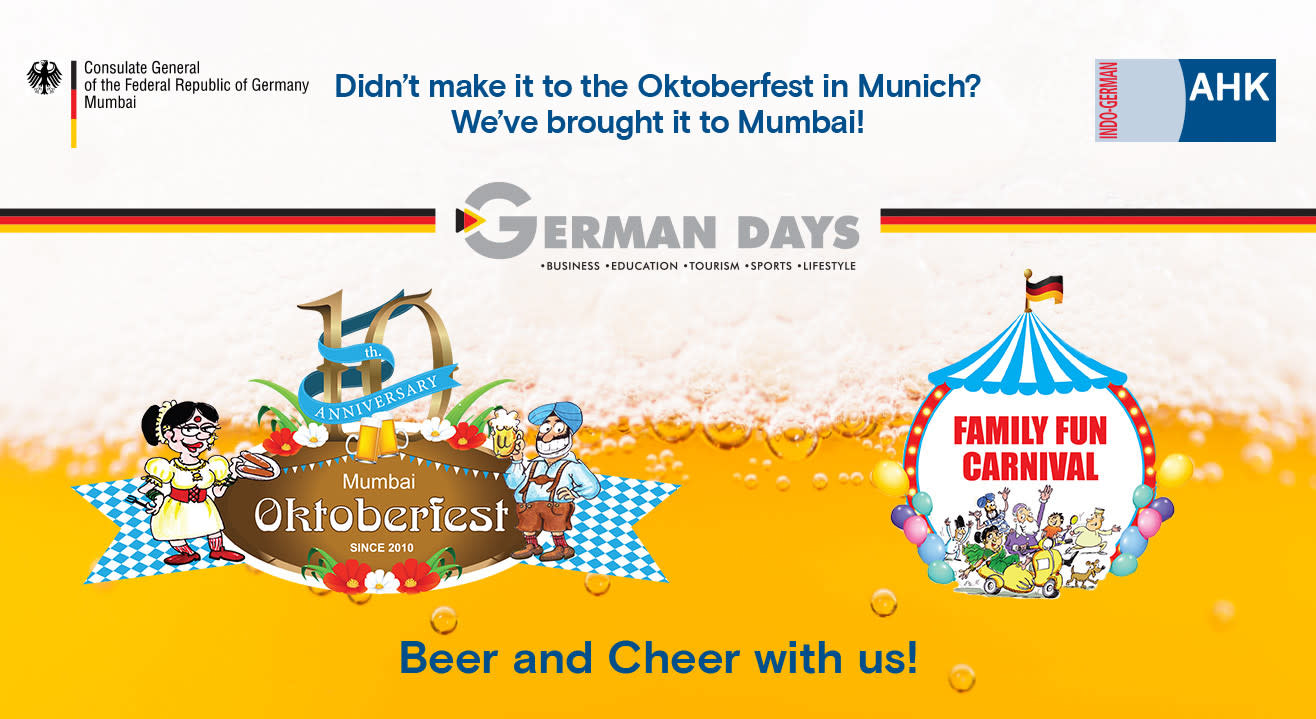 Mumbai Oktoberfest & Family Fun Carnival 2019
October 11 - 13 | 2PM - 11PM
Member's Enclosure - Mahalaxmi Racecourse, Mumbai
Step out and enjoy this event
Invite your friends
and enjoy a shared experience
Mumbai Oktoberfest & Family Fun Carnival 2019
October 11 - 13 | 2PM - 11PM
Member's Enclosure - Mahalaxmi Racecourse, Mumbai
Step out and enjoy this event
Invite your friends
and enjoy a shared experience
Invite your friends
and enjoy a shared experience
Join us to celebrate brand Germany @ Mumbai Oktoberfest 2019! It's as close as you can get to German culture without a flight ticket!
What's in store!!
An electrifying dose of Germany's culture, music and cuisine coupled with Germany's finest brands showcasing their world class products & services!
Catch a glimpse of Germany's football fervor with a FC Bayern Legend and amongst many other activities, get mesmerized by Munich's authentic Oktoberfest band.
10th MUMBAI OKTOBERFEST
Watch the Authentic Oktoberfest band "Die Kirchdorfer" band perform live at the 10th Mumbai Oktoberfest celebration on Friday and Saturday from 6.30PM - 10PM and on Sunday from 4PM - 9PM.
FAMILY FUN WEEKEND CARNIVAL
On public demand we are back with a Family Day – Our much loved Mumbai Christmas Fest got a new flavor and turned into a Family Fun Carnival Weekend.
Activities for Kids, petting zoo, football zone with Bundesliga & FC Bayern, shopping opportunities, NGO displays, German F&B etc. From 2pm to 10pm on 12th & 13th Oct.
Some other activities in store for the weekend
Shopping carnival
Come check out unique and cool products from our exhibitors and NGO.
Variety of designer bags, toys, clothes, home utility & decor, handmade & fashion jewelry, bamboo products, eco-friendly stationary and much more
Time – 2pm to 10pm
Dates – 12th & 13th Oct
Children's Lab presented by Henkel and Goethe Institut/ Max Mueller Bhavan
Perfect platform for your little scientist
Time – 2:00pm – 6:30pm
Dates - 12th & 13th Oct
Wall Painting activity on "Breaking walls – creating future: Dream your city"
As a celebration of the "30 Years Fall of the Berlin Wall" and "50 Years Max Muller Bhavan Mumbai", students, children and visitors would be able to create and communicate ideas of sustainability on the recreated Berlin Wall.
Also, based on the theme "Breaking walls – creating future: Dream your city"; visitors and children alike will be able to paint the grey side of the wall representing environmental problems, challenges like waste, pollution, traffic collapse, air to a brighter side of the wall representing clean, green living areas, creative energy and traffic solutions.
Time – 2:30pm – 6:30pm
Dates - 12th & 13th Oct
Petting Zoo presented by Nivea
Visitors will be able to play and interact with baby animals and also get a briefing on how to take care of pets and stray animals. Must visit for pet lovers!
Time - 3pm – 6.30pm
Dates – 12th & 13th Oct
Storytelling – German Fairy Tales (Kafka) by Goethe Institut/ Max Mueller Bhavan, Mumbai
Let the stories draw them in, transport them to another place, and make them feel true essence of storytelling
Time – 3:30pm – 4.30pm
Date – 12th & 13th Oct
Video cartoon film on Sustainability
Get them to learn about the environment and their impacts on it in a fun way
Time - 5pm – 6pm
Date - 12th & 13th Oct
As part of the German Days celebration, Family Fun Carnival Weekend, will be a fun event for the whole family which will be followed by the 10th Mumbai Oktoberfest
Official and Original Oktoberfest Band 'Die Kirchdorfer', who play live in the Munich Oktoberfest since 1994
Member's Enclosure - Mahalaxmi Racecourse
Royal Western India Turf Club, Mahalakshmi, Mumbai, Maharashtra 400034
GET DIRECTIONS
Mumbai Oktoberfest & Family Fun Carnival 2019
October 11 - 13 | 2PM - 11PM
Member's Enclosure - Mahalaxmi Racecourse, Mumbai
Step out and enjoy this event
Invite your friends
and enjoy a shared experience