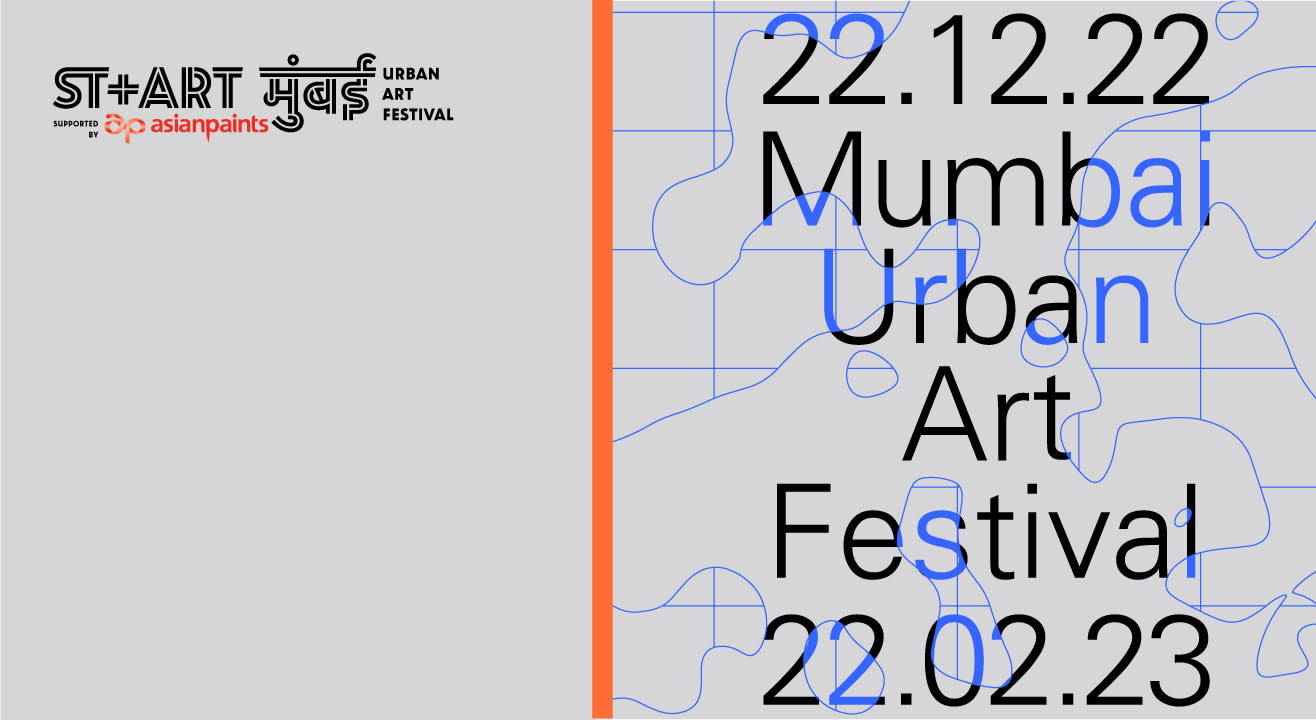 Mumbai Urban Art Festival
December 22 - February 22
Event Guide
For Age(s)
Family Friendly
Invite your friends
and enjoy a shared experience
Mumbai Urban Art Festival
December 22 - February 22
Event Guide
For Age(s)
Family Friendly
Invite your friends
and enjoy a shared experience
Event Guide
For Age(s)
Family Friendly
Invite your friends
and enjoy a shared experience
St+art India Foundation presents the Mumbai Urban Art Festival
St+art India Foundation in collaboration with Asian Paints is pleased to announce the Mumbai Urban Art Festival, bringing back the Sassoon Dock Art Project and several other experiences across the city after a 5 year hiatus! MUAF will contribute to the contemporary public art heritage, featuring new interventions that will be held across Mumbai. All of these activations aim to create a dialogue on pressing issues with regard to future cities.
The first edition of MUAF will explore the idea of 'city in flux', as a constant movement inherent to the city of Mumbai. As one of the key projects of the festival, Sassoon Dock will become an art hub open to all, featuring permanent outdoor murals and 3 indoor experiential exhibitions. Furthermore, every weekend from the 22.12.22. to the 22.02.23 a plethora of performances, workshops, talks, walks, kids programming and more, will animate the dock and the city!
Sassoon Dock Art Project Part 1 - Intuitions. Between the sea and the city
22.12.22 - 22.02.23
Spanning diverse geographies, the exhibition aims to pose questions about our complex relationship with the environment, more specifically with water and the expanding hypercity.
Sassoon Dock Art Project Part 2- Illusions. Between the sea and the city
12.01.22 - 22.02.23
In a path from darkness to light, this venue will reflect on some of the complexities of our societal institution by proposing alternative, fluid, and expansive views on our transactional reality.
The AP Art House
13.1.23 - 5.02.23
The Art House will consider what a 'home' can be, if inspired by creative living and modular design.
This edition will offer a variety of mediums ranging from murals to installations, sculptures to visual art, poetry to performance; all of which will spotlight global urbanisation and its impact on cities, while integrating art and play within our urban spaces.
Artist List
Aashti Miller - Mumbai
Aarti Sunder - Bengaluru
Ad Minoliti - Argentina
Afzan Pirzade - Pune
Amrit Pal Singh - Delhi
Andha Ras - Malaysia
Aravani Art Project - Bengaluru
Atia Sen - Delhi
Ayaz Basrai - Goa
Ali Salmi - France
Daku - Delhi
Dennis Fabian Peter - Goa
Durga Gawde - Mumbai
Faizan Khatri - Mumbai
Filthy Luker - UK
Fintan Magee - Australia
Gaysi Family - Mumbai
Graphic Surgery - Netherlands
H11235 - Nepal
Jasmeen Patheja - Bengaluru
Johnson Singh - Manipur
Khyati Trehan - Delhi
Katre - France
Koshy Brahmatmaj - Mumbai
Lady Aiko - USA
Luzinterruptus - Spain
Martand Khosla - Delhi
Martha Cooper - USA
Meera Devidayal - Mumbai
Mona Caron - USA/Switzerland
Mr. Poes - France
Naman Saraiya & Nikita Rana - Mumbai
Neethi - Bengaluru
Okuda - Spain
Osheen Siva - Mumbai
Paola Delfin - Mexico
Parag Tandel - Mumbai
Philippe Calia - India/France
Pranav Gohil - Delhi
Rero - France
Rithika Pandey - Mumbai
Robin Meier - Switzerland
Sadhna Prasad - Mumbai
Sajid Wajid Shaikh & Ronak Soni - Mumbai
Sakshi Gupta - Mumbai
Sameer Kulavoor & Sandeep Meher - Mumbai
Santanu Hazarika - Mumbai
Senkoe - Mexico
Serge Attukwei Clottey - Ghana
Sheena Maria Piedade - Pune
Shripad Sinnakaar - Mumbai
Sohrab Hura - Delhi
Sumit Roy - Delhi
Tarini Sethi - Delhi
Trespassers - Kochi
Vayeda Brothers - Ganjad
ZERO - Delhi
Follow us at @startindia and @asianpaints on Instagram for more information on our line-up of artists, performance, workshops and more!
Things to look forward to
Indoor Experiential Exhibitions and Outdoor murals at Sassoon Docks
Landmark Murals
Light Night Colaba
Travelling installation
The Bandra Project
Mahim (E) Art District
Performances, Symposiums, Walks & Workshops at all venues in Sassoon Docks
St+art India Foundation x Asian Paints
St+art India Foundation contributes to urban regeneration and community living through contemporary urban art projects. The foundation enables a vision for democratised public spaces through interdisciplinary art interventions that are rooted in the social context. Their aim is to engage with the public imagination by connecting communities and providing a platform for artists and cultural exchanges. During the past decade, St+art India has made its mark over 25 cities across India through festivals and site-specific projects which include murals, community-engaged projects and experiential exhibitions — realised in collaboration with 400+ international and local artists. All of this would have been impossible without the patronage, guidance, and encouragement of Asian Paints, their vision partner since 2014.
One of the largest paint companies globally, Asian Paints' involvement with St+art India extends far beyond material resources. Over the years this has included insights, varied resources, and unparalleled efforts in facilitating innovation in the public space.
Asian Paints has been an active and dynamic patron across multiple festivals and public art projects organised by St+art India in Delhi, Mumbai, Bengaluru, Hyderabad, Kolkata, Chandigarh and Coimbatore creating iconic landmarks in these cities. Each public art district in the country and new editions of several festivals bring curated interventions to civic spaces that are embedded in urban culture, and use art as a tool to reimagine how public spaces can be utilised.
One of the key venues of the Mumbai Arts Festival will be the Asian Paints Art House. Over the course of the month, this venue will showcase a mix of art, installation and design, as a means to reflect every hue of colour thereby creating a sensory experience that unleashes the power and impact of colour. These experiences aim to awaken natural curiosity and encourage uninhibited play, not just for children but adults alike.
As partners with a shared philosophy of #ArtForAll, St+art and Asian Paints continue to collectively share a long-term vision for India to nurture public art as a means of a democratic urban and social regeneration.
Do I have to be fully vaccinated (2 doses) to attend the festival?
Yes, you need to be fully vaccinated to attend the exhibition. Please keep your vaccine certificate handy (both doses).
Is the festival wheelchair accessible?
Yes, the festival is wheelchair accessible, but only for the ground floor of every venue at Sassoon Docks.
What is the age limit to attend the event?
The festival is open to all ages.
What kind of ID do I need?
Please carry any valid, government-issued ID, such as a passport, Aadhar Card, PAN Card, or driver's license.
Is alcohol being served at the venue? If not, can I bring my own alcohol?
We will not be selling alcohol and bringing of alcohol is prohibited at the venue.
Will you check my bag at the entry?
We will check bags at entry to ensure that there are no dangerous and illegal elements in your bag. The safety of our patrons is of the utmost importance to us.
What time does the event start and end each day?
The Festival is open from Wednesday to Friday.
On weekdays the festival is open from 12 noon to 10pm
On weekends is open from 11am- 10pm
Entry closes at 9pm on all days.
On December 31st, 2022 the festival closes at 6pm. Entry closes at 5pm.
Is parking available at the festival?
No, there is no parking available at the venue, however drops off at the entry are allowed.
Does the venue accept cashless payments?
Yes, we are accepting cashless payments at our merchandise shop and for on the spot workshop registrations. We recommend you pre register for the workshop of your choice online to avoid being disappointed if they sell out.
Is the venue pet friendly?
Yes, but do make sure they're habituated to loud noises and crowds in public spaces. We want them to have just as much fun as you!
What is the festival handles and is there an official hashtag?
Yes! Don't forget to tag us at @startindia @asianpaints and be sure to use #StartMUAF when posting!
How many venues are there at the Mumbai Urban Art Festival?
The Mumbai Urban Arts Festival is several venues across Mumbai, including Sassoon Docks, Mahim (E) Art District, Bandra skatepark; Landmark Murals at SRA Dadar and SRA Santacruz.
Sassoon Dock Art Project:
22nd December 2022: Sassoon Dock Art Project - I
Intuitions — between the sea and the city
12th January 2023: Sassoon Dock Art Project - II
Illusions — between the sea and the city
14th January 2023: Opening: Asian Paints Art House
15th January 2023: Light Night Colaba
29th January 2023: Inauguration: Landmark Mural at SRA Santacruz
20th February 2023: Inauguration Landmark Mural at SRA Dadar
22nd February 2023: Closing: Sassoon Dock Art Project
Intuitions & Illusions — between the sea and the city
Sassoon Dock
Azad Nagar, Colaba, Mumbai, Maharashtra 400005, India
GET DIRECTIONS
Mumbai Urban Art Festival
December 22 - February 22
Event Guide
For Age(s)
Family Friendly
Invite your friends
and enjoy a shared experience