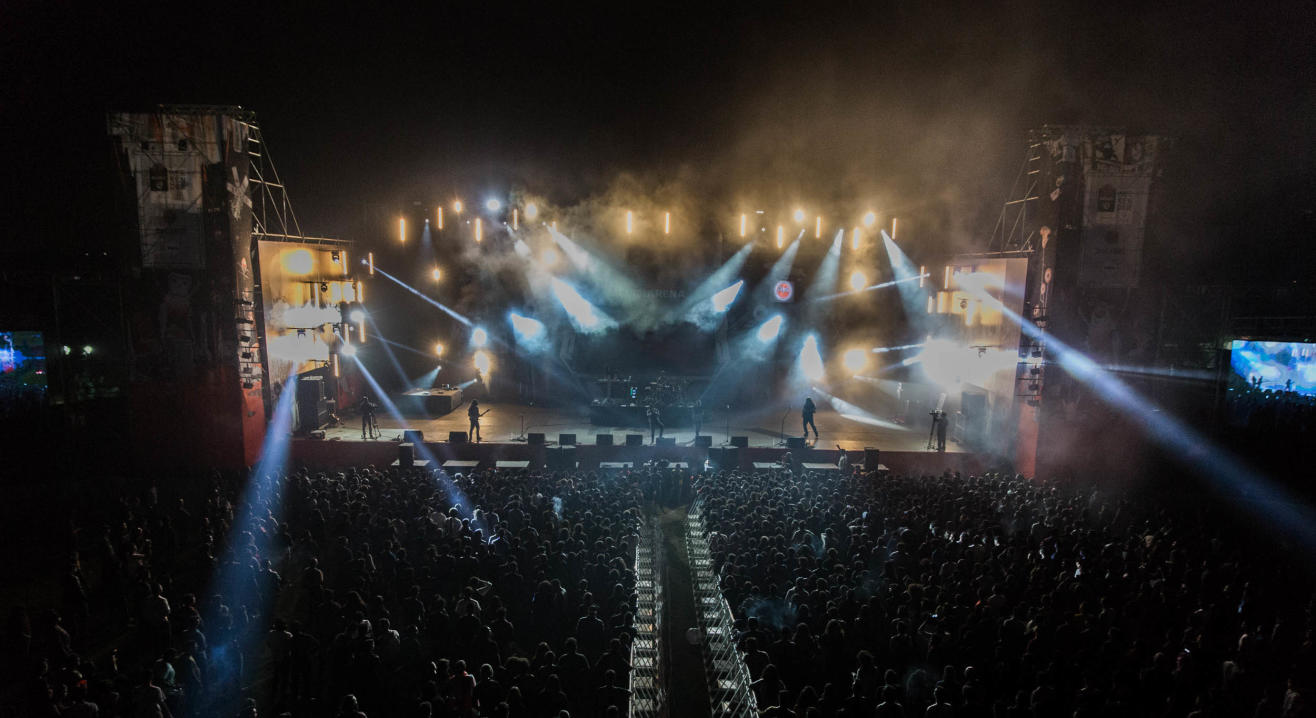 Music
Check Out These Awesome Music Festivals in India!
Rock, EDM, metal, multi-genre - it's all here. Paytm Insider brings you the top music festivals in the country.
The music scene in India has exploded over the last few years, as have festivals catering to various audiences. From venues in the heart of cities; to some in truly offbeat locations. From indie gigs for everyone to exclusive gigs bringing you a dash of luxury. One thing's for certain, it's definitely an exciting time for live music fans in the country. And if you're visiting India, this is a great chance to check out some fabulous local talent, along with top international acts.
India's happiest music festival is back!

It's been 10 years of NH7 Weekender, and what a ride it's been. This time around, get into the Weekender state of mind with even greater music and the greatest weekend of them all - everything the festival's always stood for. Tickets to the fest don't come easy, so make sure you grab them soon.

Pune - buy tickets here
When: 29 November - 1 December
Where: Mahalakshmi Lawns, Pune, Airport Area


Meghalaya - buy tickets here
When: November 1 - November 2
Where: The Festive Hills

The first-ever edition with a big headliner!
Music grabs the essence of the soul, bridges communities and transcends language. This November, OnePlus brings you a curated and immersive experience where the wonder of music and the power of technology come together. Come and experience this at the first-ever edition of OnePlus Music Festival!

Witness pop royalties Katy Perry and Dua Lipa take the centre stage for their debut performance in Mumbai along with Amit Trivedi, Ritviz, The Local Train and aswekeepsearching. Get your tickets here!

When: November 16 | 2 PM
Where: DY Patil Stadium

Amsterdam-based DGTL makes its way to Bangalore!

A music festival that's quickly put itself on the global map, DGTL offers quite a music experience. It pays a lot of attention to the visual aspects of music, and at how it affects the environment too! It's got fabulous names from the world of electronica dropping by - HVOB, Red Axes, BINH and more. Get tickets here.

When: January 11 - 12
Where: The Lalit Ashok, Bangalore

The one with a soulful voice - Prateek Kuhad!
Hailed by Rolling Stone India as "one of the country's leading singer-songwriters," Prateek Kuhad is all set to do a multi-city tour called 'Supermoon ft. Prateek Kuhad Winter Tour 2019' starting October! Tickets for Hyderabad, Chandigarh and Jaipur are sold out - and just a few tickets left for other cities. Get them here. Mumbai, Delhi and Bangalore, sign up to get early access to tickets.

Nothing like a good Punjabi beat!
Witnessing the energy at Gaana Crossblade Music Festival is a good thing to add to your bucket list. Considered the Mecca of Punjabi music by some, it has featured some of the industry's biggest stars along with icons from other genres, ranging from the likes of Nucleya to DIvine. It attracts quite a diverse crowd with college students and families alike. At the end of the day though, you'll find all of them jumping and dancing. Get tickets here.

When: October 19 - 20
Where: Jaipur Exhibition and Convention Centre


A music festival full of adventure and compassion!

Mahindra Open Drive is a music festival, road trip and social movement all rolled into one. It's quite a journey you go on - folks from across cities take their gang and drive down a fixed route to Goa. There, they get to catch the best of India's musicians. Festival-goers also help with a number of fundraising activities for social change-makers. It's all about celebrating the power of community. Get tickets here.

When: November 8 - 9
Where: Bhausaheb Dayanand Bandodkar Ground, Panjim

Music festivals you can experience every year!
Bacardi NH7 Weekender:
The big daddy of music festivals in India! The happiest festival in India boasting of a multitude of artists and activities for a memorable weekend. Celebrated over a span of three days (Pune) and two days (Meghalaya), it also features multiple one-day Express editions in cities across India. One of the most storied and famous festivals, it usually brings with it some of the biggest names from rock, metal, dance, folk, regional music from around the world and has definitely been a trailblazing festival in many ways. Now also known for its emphasis on women's safety, recycling waste and security, along with that unmistakable vibe, it's no surprise that Weekender is one festival which sees massive interest even before the lineup is announced. The Weekender hits its tenth edition this year, so you can expect something extra special!

Genres: Rock, metal, indie, EDM, hip-hop, singer-songwriter, folk, Bollywood, classical and more (it's truly multi-genre!)
Headliners: Varies across cities
Past headliners: Steven Wilson, Joe Satriani, Steve Vai, José González, Mark Ronson, Mogwai, Flying Lotus, The Wailers, AR Rahman, Megadeth, Rodrigo y Gabriela, Chase & Status, Asian Dub Foundation, Basement Jaxx, Fear Factory, MUTEMATH, Karnivool, Zero, Swarathma, Pentagram, Shankar Mahadevan, Vishal Bhardwaj, Amit Trivedi, Anoushka Shankar, Meshuggah, TesseracT, God is an Astronaut, The Dillinger Escape Plan, Textures and so many more!
When: October - December
Where: Pune & Meghalaya
Tickets: Starting ₹2,000
Kasauli Rhythm and Blues Festival (Kasauli, Himachal Pradesh)
The flagship annual music festival is running in its 8th edition this year. It sports the most amazing acts from the music scene who will amaze you with their tunes amidst scenic views. Spend this year's Easter weekend with a lot of fun and memories.

Past Headliners: Shubhangi Joshi Collective, Parikrama, Thaikkudam Bridge and more.
Genres: Indie pop, Rock, Folk, Soul, Progressive and more.
When: April
Where: Baikunth Resorts, Kasauli
Tickets: Starting ₹3,000
SulaFest (Nashik)
Who doesn't love music and wine together? The SulaFest in its 12th edition, brought along a weekend full of some delicious wine, exciting music and all of this at the gorgeous Sula Vineyards' open-air amphitheatre.

Genres: Rock, ska, EDM, house, blues, country-swing, soul and more.
Past Headliners: Nucleya, Infected Mushroom, Bloc Party, The Tripp, The Ska Vengers, Jungle, Spencer Maybe, Divine, Shankar Mahadevan among others.
When: February
Where: Sula Vineyards, Nashik
Tickets: Starting at ₹2,199
Gaana Crossblade Festival (Jaipur & Chandigarh)
Crossblade Music Festival brings the fusion of global Punjabi music with Indian Punjabi music for over 2 days to the country. It is also the first regional music festival in India. Through a combination of music genres with multiple artists along with 2 dedicated music stages for different forms and eras of music, it aims to bring alive the spirit of beautiful Punjabi culture and Punjabi culture.

Genres: Multiple genres
Past Headliners: Diljit Dosanjh, Gippy Grewal, Jassi Gill, Babbal Rai, Jazzy B, Gurdas Maan, Guru Randhawa, Amit Trivedi, Shirley Setia, Nucleya among others.
When: Around January, February or October
Where: Jaipur & Chandigarh
Tickets: Starting at ₹300
Subscribe to receive our newsletter!
Find the best experiences happening out there in your city or enjoy handpicked content while sitting comfortably at home. Paytm Insider is your go-to place to figure out what to do today!