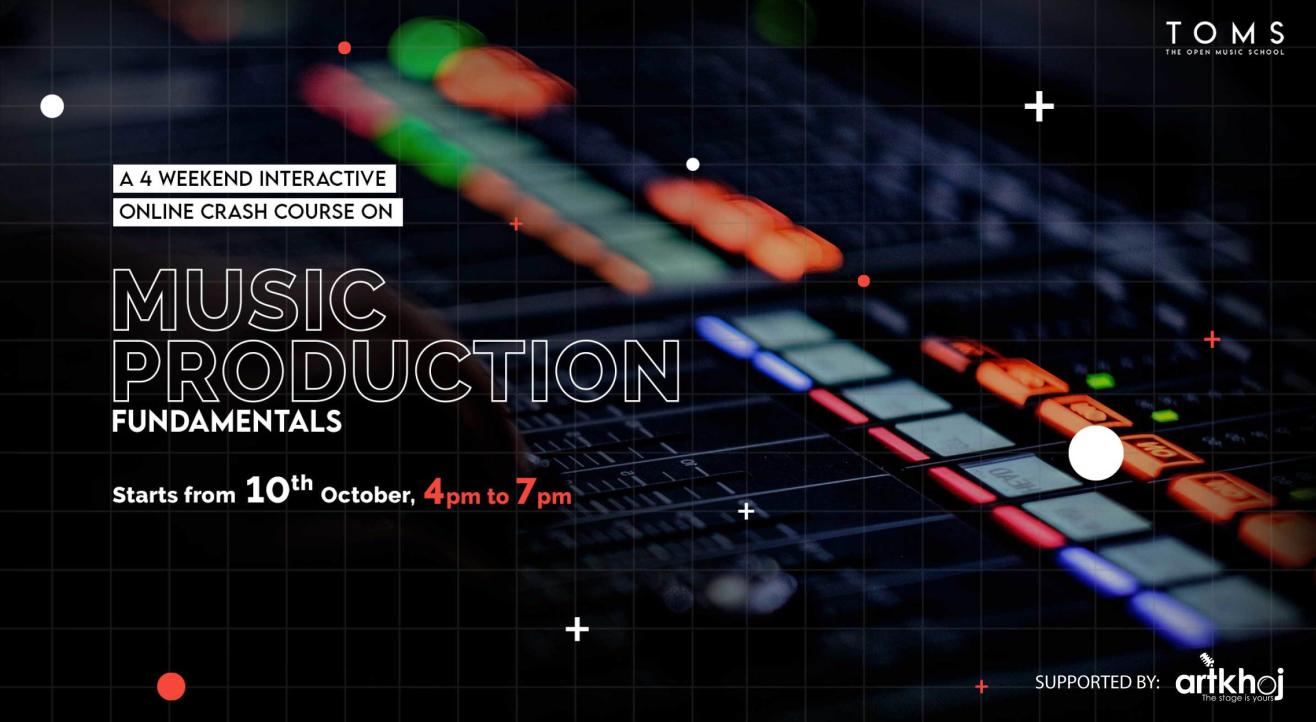 Music Production Fundamentals - 4 weekend online course
October 10 | 4PM - November 1 | 7PM
Invite your friends
and enjoy a shared experience
Invite your friends
and enjoy a shared experience
About the Event
The Open Music School has put together a 4 weekend intensive interactive online course over the weekends on the fundamentals of music production.
Kick-start your music production journey with absolutely no prior experience or expensive gear coming into this course.
Who is this for?
- Instrumentalists and vocalists looking to learn about all the other elements that go behind making a song complete.
- Passionate music listeners interested in exploring all the nuances that are incorporated in the music production process.
- Audio engineers and composers who want to train their ears and sharpen their musicality.
Million dollar studios, acoustic treatment, specific plug-ins and software - there are a hundred myths when it comes to producing music. This weekend crash-course will show you that you can make a 'radio-ready' song with just a laptop and a pair of earphones/headphones from the comfort of your homes.
About the course -
-> All sessions will be conducted online.
-> Sessions from 10th October - 1st November (weekends only)
-> Every class will be recorded for future referencing.
-> No prior experience required.
-> This course is not specific to any single DAW or software.
-> Assignments and projects every weekend.
-> Constant interaction with the tutor throughout the week.
.
Course Curriculum -
Week 1 : (10th & 11th October)
- Genres in music
- Time signatures and note values
- Song structure and arrangement
- Ear training
- Signal chain and signal flow
Week 2 : (17th & 18th October)
- Basics of the DAW
- MIDI and Drum programming
- Quantizing
- Note velocity and MIDI editing
Week 3 : (24th & 25th October)
- Session prep
- Clean-up and sorting the tracks
- Groups and bussing
- Editing
Week 4 : (31st Oct & 1st November)
- Introduction to mixing
- Introduction to plug-ins
- Group and buss processing
- Introduction to mastering
- Social media, promotions and branding
About The Open Music School (TOMS):
The Open Music School from Bangalore is a mobile on-the-go music school that came into existence for the sole reason of making music learning more affordable and accessible.
After mentoring over 800 students across 6 different countries, it is safe to say that the TOMS' (The Open Music School) method of approaching music education is not only efficient and tested... but is also getting better by the day as we continue to rope in numerous talented and extraordinary musicians to be a part of the TOMS family.
For queries:
In case of any queries feel free to reach out to us on +918971492903
Please note:
Refunds will not be provided.