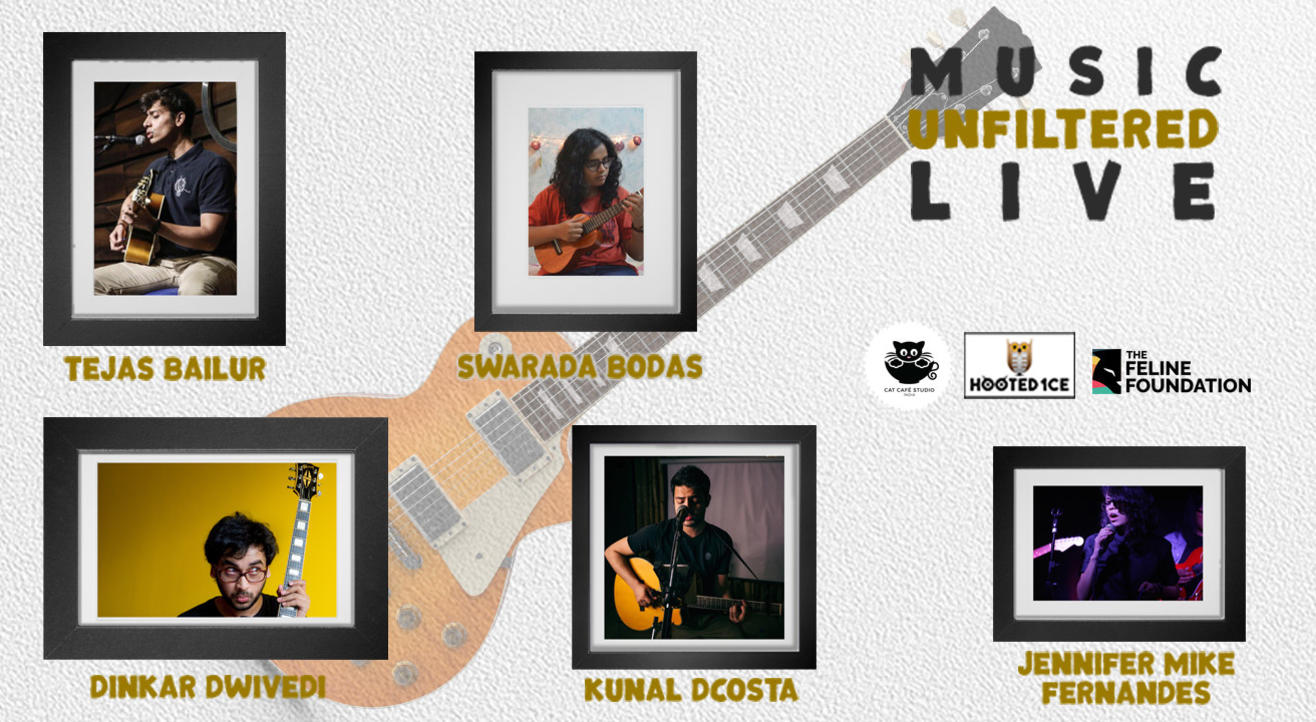 Cat Café Studio, Versova, Mumbai
Invite your friends
and enjoy a shared experience
Cat Café Studio, Versova, Mumbai
Invite your friends
and enjoy a shared experience
Invite your friends
and enjoy a shared experience
Hooted1ce is coming for the first time with a Charity event in collaboration with Feline Foundation and Cate Café studios for the welfare of Cats.The Music Unfiltered Live will bring to you the freshness of Live Music and you will get a chance to experience the Live Music in the cat area with the cats.This Monsoon season you can enjoy your food while seating with cats with the live Music and
you will be entitled for a 15% discount on food and beverages with every Ticket.There will featured artists, who will mesmerized you with the with their music and amazing personas.
We will have featured artists - Dinkar Dwivedi , Tejas Bailur , Kunal Dcosta , Swarada Bodas and Jennifer Fernandes.
Tejas Bailur is a singer-song writer based in Mumbai.His passions include thinking up end-of-the-world scenarios and writing about what would happen if humanity was dominated by animals.Expect his music to have you swaying enjoying and questioning the accepted notions of society in no time!
Kunal Dcosta is a singersong writer from Goa.He creates,composes,sings and teaches music,and has an experience for over 6 years in the field.He is the Voice of Goa -2014 Winner and has trained in Western Vocals and Guitar at the True School Of Music.His main music influencers include John Mayer,James Bay,George Ezra and Eric Clapton.Last Year, Kunal lent his vocals for two advertisments of popular brands.
Dinkar Dwivedi is a Singer song writer.
Cat Café Studio, Versova
63, Harminder Singh Road, Aram Nagar Part 1, Aram Nagar, Versova, Andheri West, Aram Nagar Part 1, Aram Nagar, Versova, Andheri West, Mumbai, Maharashtra 400061
GET DIRECTIONS
Cat Café Studio, Versova, Mumbai
Invite your friends
and enjoy a shared experience