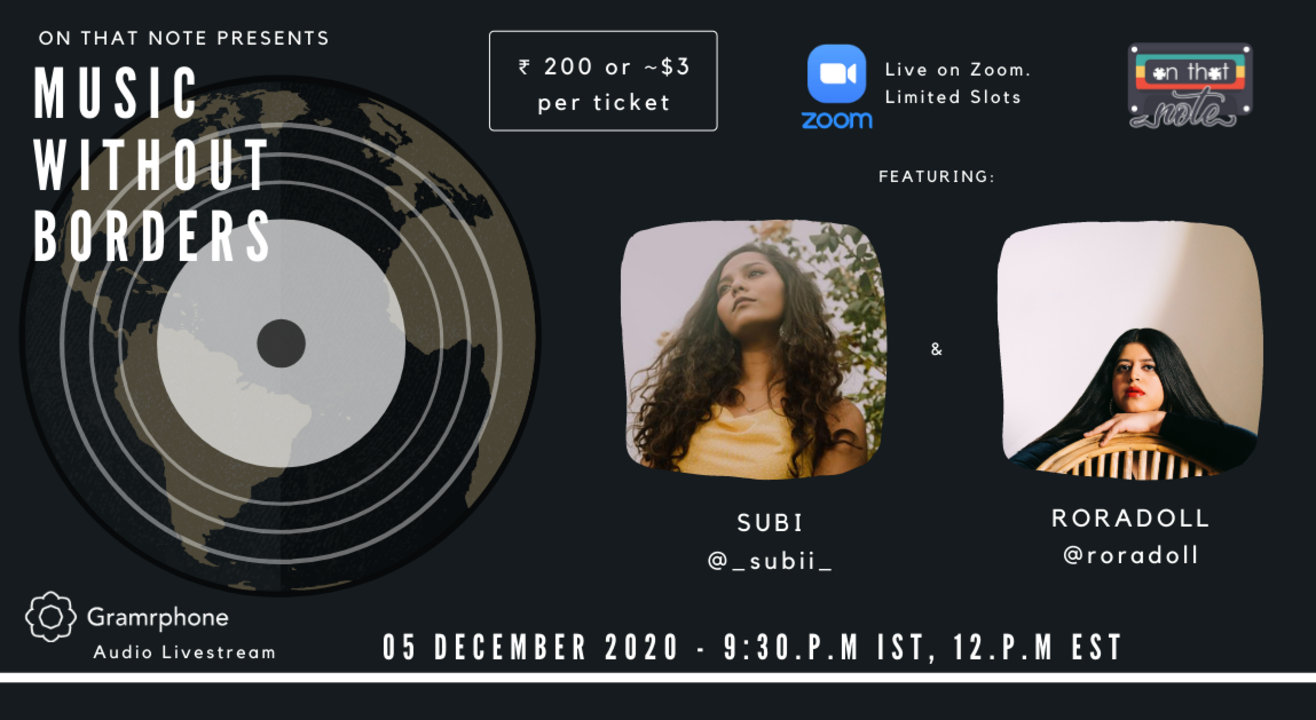 Music Without Borders | Live Indie Music Acts from around the World
Enjoy this event from your home
Invite your friends
and enjoy a shared experience
Invite your friends
and enjoy a shared experience
About the Event
About the Event:
An event that started as a result of the pandemic, "Music Without Borders" is an initiative aimed at taking advantage of a more connected world and bridging the gap between music and distance. We feature independent artists from all around the world and connect them to what we hope is a global audience. Our focus on sound quality will ensure that your online concert experience will be as close to the real thing as possible! Join us to find out and listen to some amazing artists from around the world.
Follow us https://www.instagram.com/onthatnoteofficial/
About the Artists:
SUBI (Los Angeles):
SUBI is an indie singer-songwriter who weaves tales of love and loss, sorrow and joy, encapsulating all the wonderful contradictions that are the human condition. Originally from Chennai, India, SUBI's artistic journey began with a Carnatic Music background. She trained in contemporary music for six years at the Institute of Music Technology, then attended KM Music Conservatory for three years, where she expanded her technique in the Western Classical genre.
Based in Los Angeles, California, SUBI balances her burgeoning music career with her Neuroscience studies at UCLA. She has worked with Kira Fontana, a film composer, singer and songwriter based in Los Angeles and is currently working with Micah Plissner, a celebrity vocal coach and producer from New York City.
SUBI manipulates point of view to emote both herself and mentally created amorphous characters, exploring the universality of emotion.
Follow SUBI on https://www.instagram.com/_subii_
RORADOLL (Delhi):
RORADOLL is a singer-songwriter based out of Delhi. Her interest lies mainly in the genres of jazz, folk and alternative, which shine through her original compositions. Having performed at venues across Delhi, Mumbai, and London, RORADOLL is set to release her first single in December. She is quite familiar with the workings of the industry and has been involved behind the scenes for several years now.
Follow RORADOLL on https://www.instagram.com/roradoll