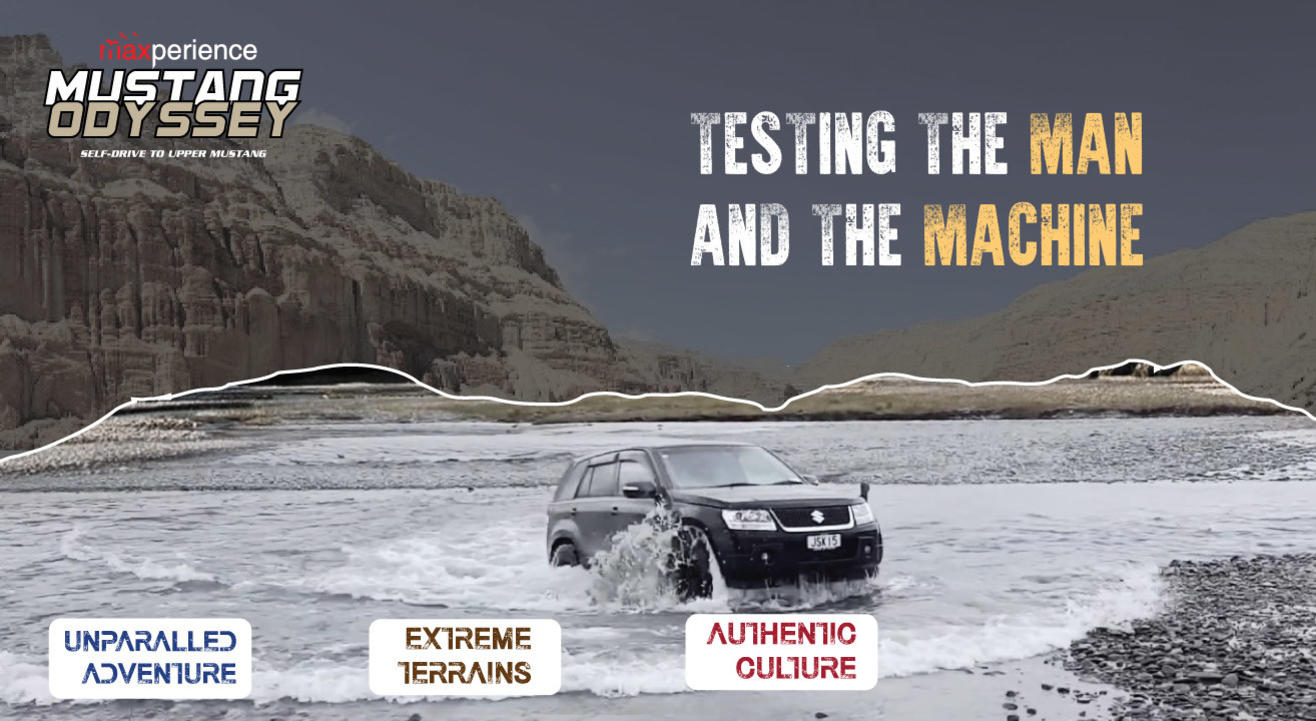 Adventure
About
Delhi to Nepal (10 Day Expedition). Self Drive Self Vehicle Road Expedition to Upper Mustang in Nepal
Inclusions:
Branding & essential merchandise.
Radio equipment for essential communication inside SUVs where ever possible.
Full meals, beverage & comfortable accommodation on sharing basis.
A professional expedition management team to manage the convoy, experiences, permissions etc.
Service crew to manage the expedition and to ensure health of the vehicles.
Back up driver on an emergency.
Comprehensive documentation.
On board experienced doctor with essential supplies.
Local cultural experiences.
Toll Taxes
Exclusions
Car**
Fuel
Flight tickets & additional permit/ visa expenses
Personal insurances
Personal emergency evacuation expense
Any additional repair caused to the vehicle due to negligent driving
Extras ordered in the room other than the package
FAQs:
I can't drive. Would you provide a driver?
We do have back up drivers for emergency purposes only. Maxperience Adventure drives are for driving enthusiasts only.
I do not have a partner. Can I still participate?
The self-drive Expedition & the accommodation is on twin sharing basis. We would do our best to pair you with another single supplement.
Are the expedition's family friendly?
Yes! Although it is not advised for pregnant women, people with serious medical problems, and children below the age of 3 years and senior citizens above 70 years of age to go on this expedition due to the harsh terrains and unpredictable weather. Please contact organizers in case of further queries in this regard.
We are a set of women driving enthusiast. Are the expedition's women friendly?
We have scores of women drivers participating in our events and we normally have more than 5 women on each trip. The expeditions are managed by professionals and are safe to attend.
Would there be clean toilet facilities Enroute?
Every effort is made to carefully choose the bio-break stops at the cleanest place available. However, since the adventure events go to remote places there could be a situation where in one has to use a desolate area.
What type of accommodation do we get?
We provide best available hotel accommodation at any given location. If the accommodation is not 4/5-star, rest assured there isn't one available around
Do you cater to special dietary requirements on the expeditions?
We do cater to veg & non veg requirements. Special Dietary Requirements can be taken care of if there are shared with the organisers at the time of Register. However special dietary requirements lodged while in the duration of the expedition may not be possible as the expedition goes to some really remote places where getting basics itself sometimes a task.
What if my car needs Service in the midst of the Expedition?
We will have a resident Mechanic to provide on the go service to all the member of the expedition team. However, members are advised to carry spare parts for their vehicle.
What if I need a Medical Emergency?
The expedition will have a full time a resident Medic in all time of the course of the Expedition. Moreover, all members of the team will be insured for emergency evacuation as a part of the Expedition fee.
Can my 4x2 Do This?
Yes, Although it's entirely subjective to the ground clearance and sturdity of the vehicle.
Maxperience highly recommends only 4x4 vehicles for these self-drive expeditions.
Additional information:
(Restricted Entry Zone Permit Pass)* Upper Mustang https://www.upeverest.com/trekking-in-nepal/trekking-permits-and-fees/permits-and-fees-in-upper-mustang
** Cars can be provided with the additional Rental Cost.